Easy Pakistani Qalaqand Kheer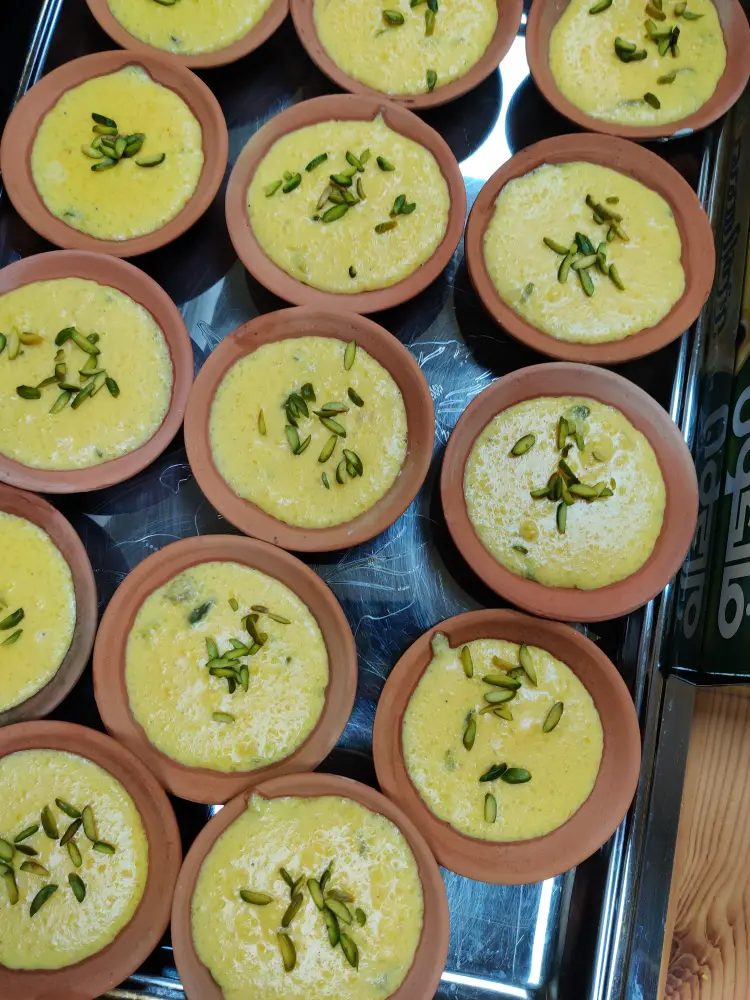 An Easy Pakistani Qalaqand Kheer – a luxuriously creamy rice pudding recipe! Loaded with rich and decadent goodness, and served in the tradition clay mud pots, this make-ahead dessert is perfect for any dawat!
One of my favorite memories from childhood is snapping the rubber band off the cute little mud pots holding kheer…
There is no comparison to the flavor of claypot-chilled kheer, period.
Walking past a traditional mithai shop, where kheer is packed in cute little clay mud pots, stacked one on top of the other….
The sweet aroma of that kheer…
As your spoon dives into the kheer, the richest and silkiest interior welcomes you…
The mellow layers of flavors…
Just melt away on your tongue..
And the best part?
Scraping the sides of the clay bowl where kheer is slightly hardened!
Aah..nostalgic!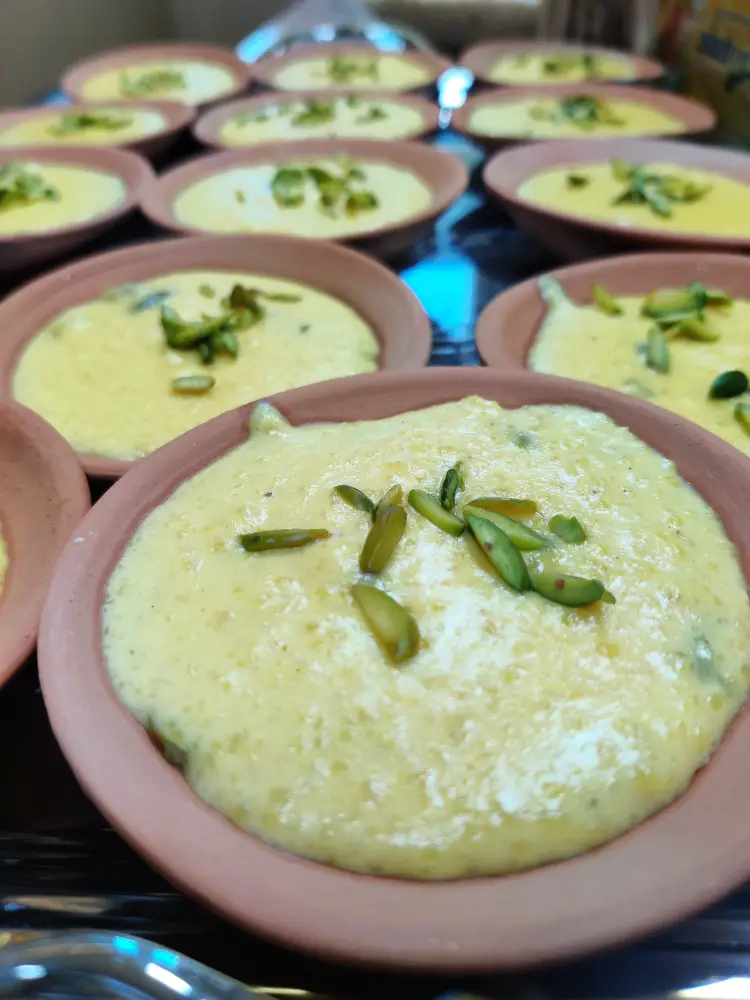 In memory of that, I present a similar homemade qalaqand kheer served in traditional matti ke pyalay!
This qalaqand kheer recipe is derived from my fool-proof basic kheer recipe- it's so forgiving you can't get it wrong!
If you like my popular Anday aur Sooji Ka Halwa
Pakistani Rice Pudding
Rice pudding is a pretty much International Dessert. Every country has developed their own version of it.
If you are from Pakistan, then you knew about kheer from about the time you came into this world…
So while I may have had my fair share of kheer…
I've never had a qalaqand kheer as rich and creamy as this one!
Kheer 101
1) What is kheer?
The Pakistani version of wet rice pudding is what we refer to as kheer, a classic dessert in the Indian subcontinent. Milk and rice act as the base of the recipe, while flavorings and sweeteners may vary. Slow cooking milk, rice and sugar gives you the basic kheer.
Rice kheer is commonly flavored with cardamom or saffron. And most frequently topped with nuts!
2) What is Qalaqand?
Kalakand or Qalaqand is a Pakistani sweet fudge made with milk, and flavored with cardamom.
This sweet dish is a very popular Pakistani mithai, found in all mithai shops!
With a rich, scrumptious flavor and texture, kalakand can even be made at home.
However in this easy pakistani qalaqand kheer recipe, we are using store-bought qalaqand mithai.
3) What is Qalaqand kheer?
Qalaqand kheer is when qalaqand mithai pieces are added to the regular kheer mixture to create a rich, flavorful kheer. Kicks it up a few notches!
Why I love this recipe
Budget friendly dessert
So easy to make (You really don't have to be an expert to get kheer right as long as you keep an eye on the pot)
Perfect make-ahead dessert
Loved by all
A people pleaser (the one place where that's a good thing)
Contains a perfect ratio of milk to rice- so it's not all stiff and starchy but also not running all over the place!
An unbelievable texture that makes you think it contains heavy cream
How to make Qalaqand kheer?
Making qalaqand kheer is quite easy. You start off by boiled rice, milk and sugar like you would in a classic kheer recipe, but you add qalaqand mithai in it somewhere near the end. However, in my recipe, we will be using condensed milk for sweetness, and so will skip white sugar all together.
Everything goes in one pot- making kheer a perfect one pot rice pudding.
Ingredients You Need
Rice: Use basmati rice!
Water: You may need around 2 cups or more
Full-Fat Milk: Use only the full fat version, not low and not skimmed. If you have double cream milk available, that would be amazing.
Cardamoms: I love the flavor and aroma of cardamom in kheer. But be careful not to over do it.
Condensed milk can: This makes the kheer sweet and creamy.
Sliced almonds and pistachios: Mix in or just use for garnish.
Kewra essence 3 drops: It's optional but I would really recommend NOT skipping.
Cardamom powder: For extra flavor
Qalaqand: I used loqi kalakand here, but you may use whichever you have. Depending on the size, you can add 2-4 pieces of loqi kalakand.
Chandi ka warq 1: I never have that but it makes the kheer look truly traditional
Tips to nail this easy pakistani qalaqand kheer
1) Wash your rice: You need to wash your rice properly to remove whatever starch that can be removed this way. While starch if needed to give structure to your rice kheer, too much of it will result in a stiff kheer. And we don't want to compromise on that oh-so-creamy goodness, do we?
2) Choose the right type of rice: For the perfect aroma, use basmati rice. However, if you use fragrant rice, long grain rice, small grain rice or the regular kind, that is still okay!
3) Gentle cooking: For a velvety, dreamy kheer consistency, know that the secret lies in the cooking technique. Continuous stirring and long, gentle cooking will give you the result you are so desperately looking for. So yes, while it is easy to make, you do have to attend to the pot while making this kheer for around 30 minutes or so…but the result is totally worth it!
Other Pakistani Recipes You'll Love
If you like this Easy Pakistani Qalaqand Kheer, you can try:
Types of Kheer
Rice Kheer
Pineapple Kheer
Lauki Kheer
Saffron Kheer/ Zaffrani Kheer
Apple Kheer
Paneer Kheer
Vermicelli Kheer (Seviyan Kheer)
Orange Kheer
Wheat Kheer
Sabudana Kheer
Soya Kheer
Rava Kheer
Makhane Kheer
Coconut Kheer
Different Versions of Kheer
Kheer Flavors
Saffron
Cardamom
Nutmeg
Kewra water
Rose water
Vanilla essence
Garnish For Kheer
Saffron
Almonds
Pistachios
Raisins
Rose petals
Cashews
FAQs
1) Is qalaqand kheer served hot or chilled?
Well, it depends. My family always has it chilled, but I do enjoy a few spoonfulls of warm kheer before I pop it in the refrigerator for setting and chilling.
2) What can be served with rice kheer?
Some people love it with roti, but I just need a spoon to devour this one!
3) When can kheer be served?
At parties, dawats, festive occasions, as a weekend dessert, kheer is always loved.
With breakfast, after meal dessert, or just a bowl as a sweet snack.
4) What are the main ingredients in kheer?
Rice, milk and sugar. That's it!
5) How do I store this easy pakistani qalaqand kheer?
Whether you are making kheer in individual serving bowls or a large serving dish, just wrap cling-wrap on the top tightly and keep refrigerated.
Ridiculously good, luxuriously creamy kheer awaits you!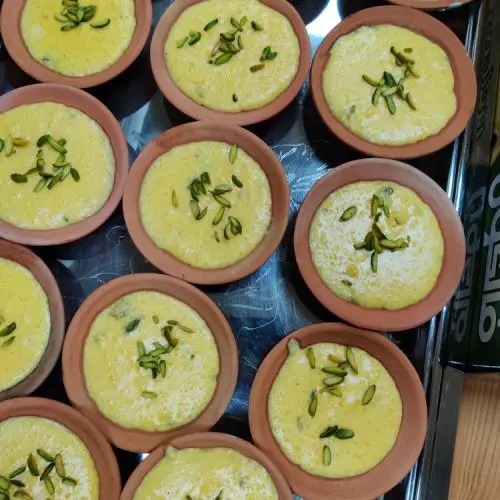 Easy Pakistani Qalaqand Kheer
An Easy Pakistani Qalaqand Kheer – a luxuriously creamy rice pudding recipe! Loaded with rich and decadent goodness, and served in the tradition clay mud pots, this make-ahead dessert is perfect for any dawat!
Ingredients  
¼

cup

+ 2 tablespoons of Basmati rice

2

cups

Water

1

Litre

full-fat milk

4

green cardamoms

¾

can of condensed milk

3

drops

kewra essence

1-2

tablespoons

Sliced almonds and pistachios

¼

teaspoon

green cardamom powder

2

pieces

qalaqand

I used Loki Qalaqand
Instructions 
Wash rice very well then soak in water. Drain this water.

Boil rice in 2 cups of water. Some water should be left behind. Use the back of spoon o mash the rice really well.

Add 1 Litre of full fat milk, 4 pieces of cardamom and bring to a boil. Once it comes to a boil, low the flame and let it reduce. Stir frequently to prevent sticking.

Once your kheer gets thick, add the condensed milk and 2 pieces of loqi qalaqand and cook till the qalaqand is well combined with the kheer and you are happy with consistency. Kheer does get thick as it sets, so keep it slightly towards the runny side.

Remove from stove, add kewra essence, cardamom powder and slivered nuts.

Spoon into clay mud pots or a medium serving dish. till the consistency is thick enough.

Sprinkle with more almonds and pistachios.
Notes
Without the kalakand, it's a basic kheer recipe.
VARIATIONS:
You can add 2 tablespoons of khoya, different flavor of qalaqand or gajar ka halwa.
# easy pakistani qalaqand kheer
---
---