Creamy Chicken Tikka Pizza-California Pizza's Copycat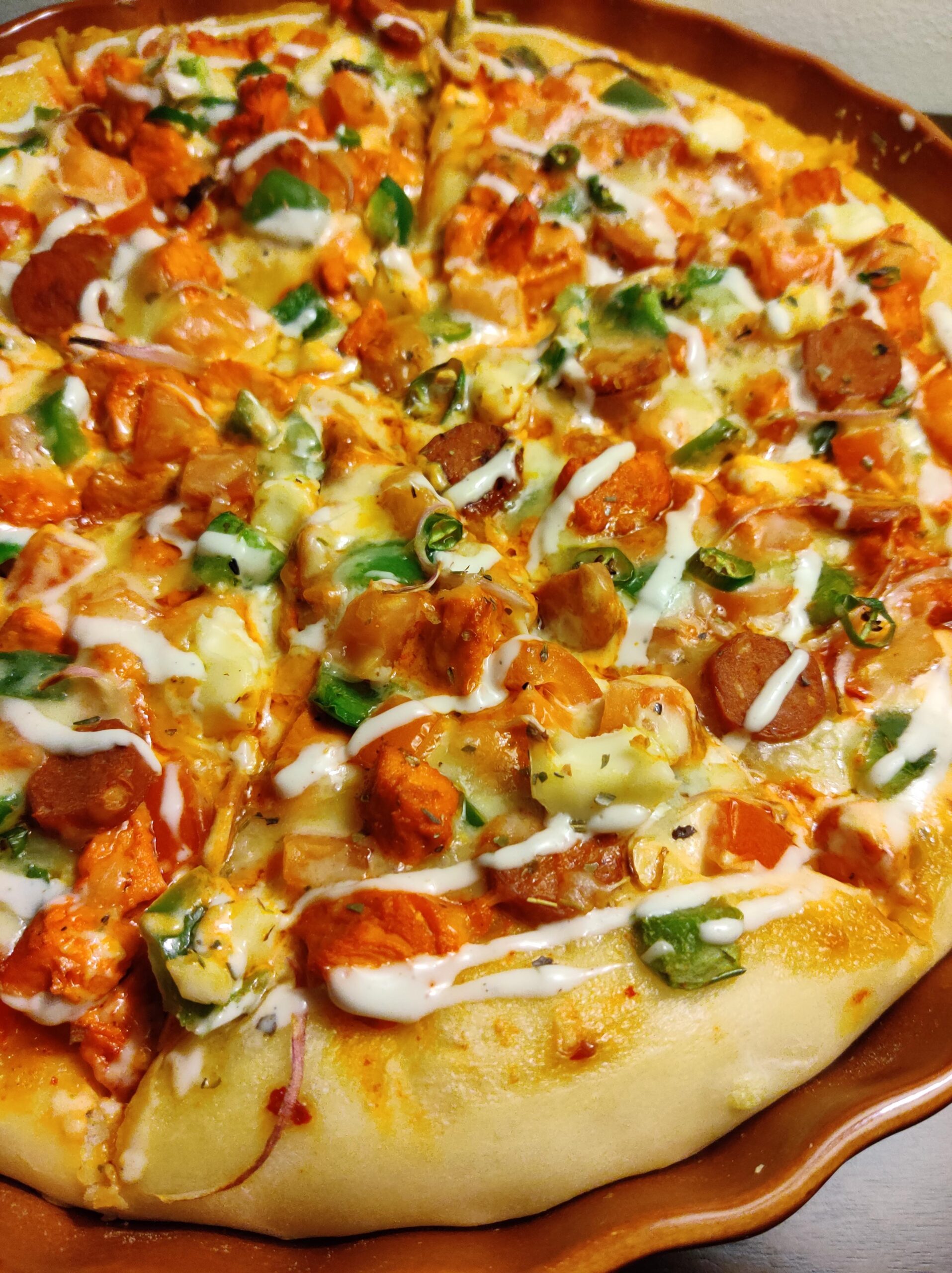 Creamy version of the ever-so-favorite Chicken Tikka Pizza. With the spiciness of smoky chicken tikka and richness of the sauce, I bring you the most irresistible creamy cheesy pizza!
How often do you come across someone who does not like pizza? Not very often I bet! Although originally being of Italian origin, it has long been among the world's favorite foods.With countless flavors and numerous toppings, the variations are truly endless.
Chicken Tikka Pizza is a type of Indian Pizza; a spin on the classic pizza and a flavor loved by many.
It's definitely great as is, but I was looking for a creamier version; something with all the fiery spices of tikka amped up with the additional richness of a creamy sauce.
After a couple of tweaks and trials, this recipe turned out to be a copycat recipe of the currently top-selling 'Creamy Tikka' flavor from California Pizza! And it has since become an absolute family-favorite.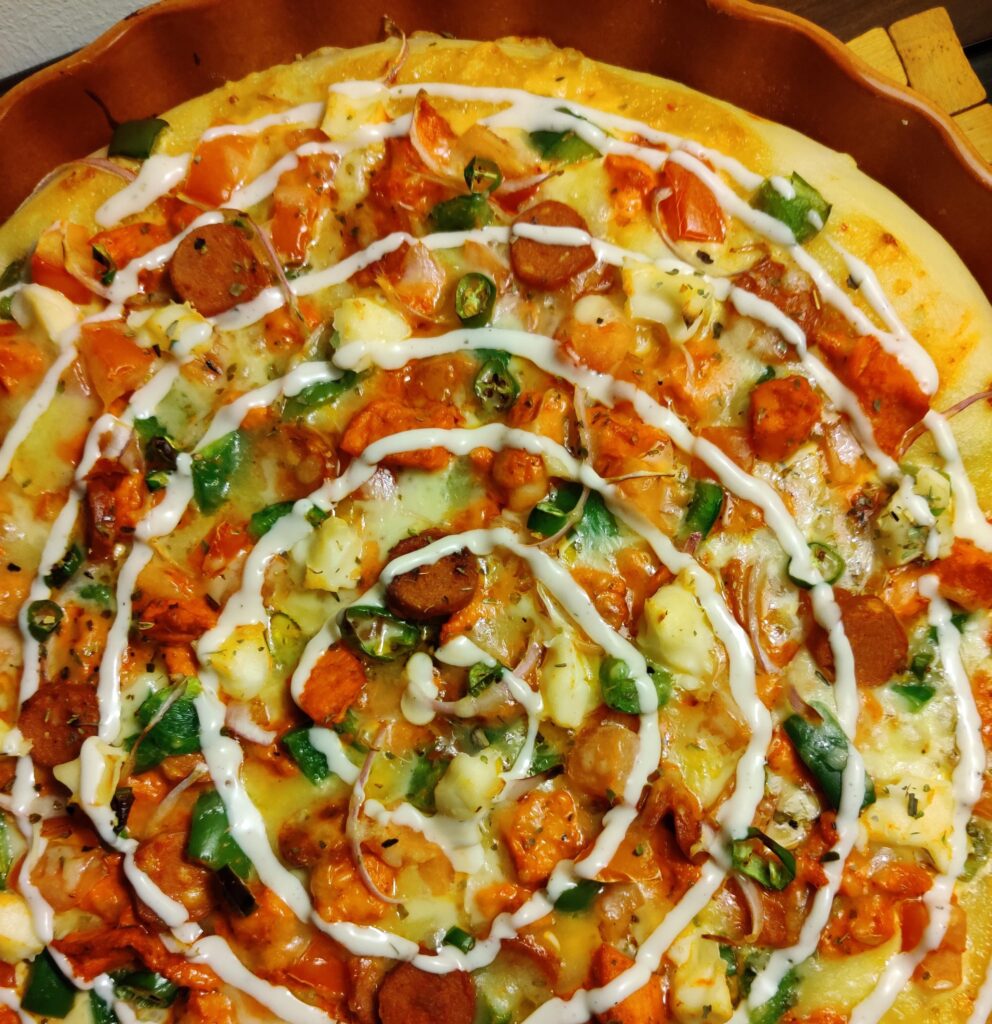 Fun fact: The most expensive pizza in the world is found in Italy and costs a whopping $12,000! Crazy, right? But my naïve heart only yearns for the flavors of pizzas I would find in Karachi.
I have yet to find a favorite pizza in UAE, and it's been 16 years since I've been here! I often order from Pizza Hut or Papa John's, but when I crave the sort of pizza that warms my soul, this will forever be the recipe I turn to!
How do I make Creamy Chicken Tikka Pizza?
This simple pizza dough comes together pretty quickly and produces a pizza base which is just the right combination of fluffy and chewy.
For the chicken tikka recipe, I use ready-made Shan Chicken Tandoori Masala, which saves time and gives the perfect flavor.
The creamy sauce is just a matter a mixing and would take you hardly a minute.
Then you just have some vegetables to chop and you have all you need to make this super easy chicken pizza.
Looking for a different flavor? Try this chicken fajita pizza or BBQ chicken pizza. This Keto Pizza is also great!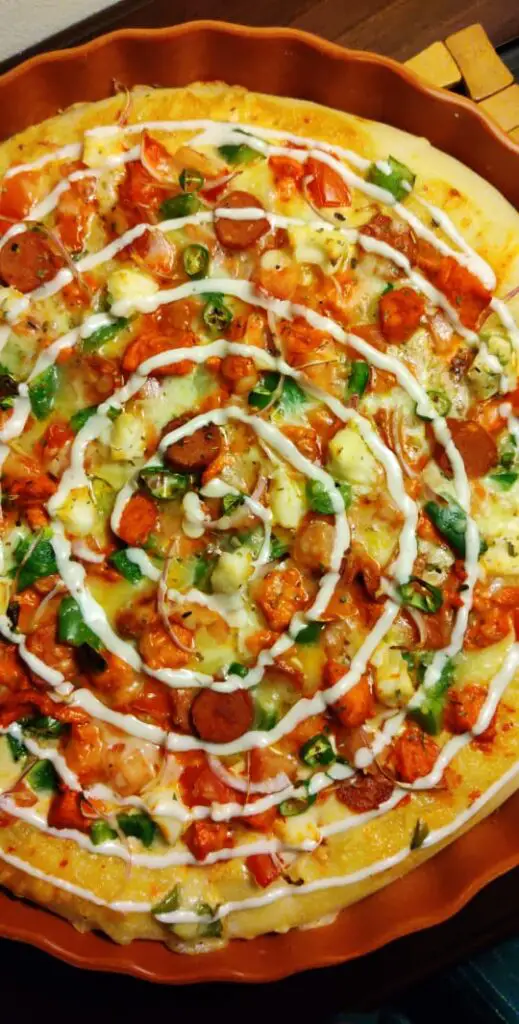 The warm earthy flavors of chicken tikka, the creaminess of the sauce and the melting mozzarella and cheddar cheese is the party your taste buds NEED.
Do you having trouble with your pizza dough recipe?
One of the main reasons homemade pizza dough does not come out right is due to yeast gone bad.
I often activate my yeast in a separate bowl with some slightly warm water and a little sugar (using some sugar and water from the recipe itself, not extra!).
This is always done when using dried active yeast but you can do this step even if you are using instant yeast. This way you can be sure your yeast is good and if something goes wrong with the resulting pizza, you can at least strike out yeast as the trouble factor.
A bubbly yeast is the gateway to a beautifully risen dough and ultimately a good pizza.
If you are a beginner, I would especially recommend you to proof your yeast before using it in the recipe.
What variations can I try?
Creamy Sauce variations
Topping Variation
Pepperoni
Olives
Red, yellow or orange bell peppers
Mushrooms
Crust Variation
Alright! Let's get to the recipe of creamy chicken tikka pizza!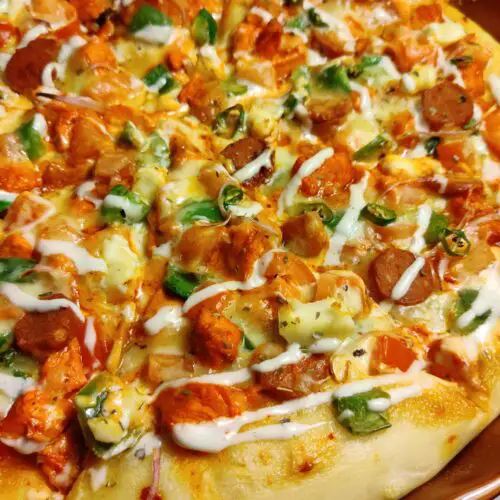 CREAMY CHICKEN TIKKA PIZZA
Creamy version of the ever-so-favorite Chicken Tikka Pizza. With the spiciness of chicken tikka and richness of the sauce, I bring you the most irresistible creamy cheesy pizza! One of the best homemade pizza recipes ever. Recipe yields two large fluffy pizzas or 3 regular pizzas.
Ingredients
DOUGH
800

g

All-purpose Flour

2

tablespoons

instant yeast

2

tablespoons

milk powder

1

teaspoon

salt

2

tablespoons

caster sugar

½

teaspoon

bread improver

optional

2

tablespoons

canola oil

or any other vegetable oil

400

ml

water

i used just little more
Chicken Tandoori Tikka
6

pieces

chicken breast

around 500g

3

tablespoons

Shan tandoori masala

2

tablespoons

fresh lemon juice

¾

cup

whipped yogurt

Pinch/drop orange-red food color

3

tablespoons

oil
Creamy Pizza Sauce
6

tablespoons

chili garlic sauce

200

g

Mayonnaise

Salt

to taste

Red pepper flakes

to taste

Garlic powder or fresh minced garlic

to taste
Pizza Toppings:
1-2

large tomatoes

cut into small squares

1-2

green capsicums

cut into small squares

1

medium onion

sliced thinly

Mozzarella & cheddar shredded cheese

as needed

Green chilies

chopped, as required

Triangle cheese chopped

optional, but I love it

Two sausages sliced

I like to mix it in the cooked chicken tikka masala so it too becomes flavorful

Oregano

for sprinkling on top

Ranch

for drizzling at the end
Instructions
FOR THE DOUGH
For the dough, mix all the ingredients except water. Then add water gradually, and slowly knead the dough till its smooth. It should take around 15 minutes by hand. Make the dough into 2 balls, and place each dough ball into a large greased bowl. Lightly brush the top of the two dough balls with oil. Cover the bowls with cling film/plastic wrap. Let it rise till doubled in size. This should take 2 hours but it can take more.
FOR THE CHICKEN TIKKA
For the chicken tikka, cut the chicken breast into medium sized squares. Marinate the chicken with tandoori masala, lemon juice, whipped yogurt and food color for 30 minutes. Put oil in a wok, heat it, then add the chicken and cook on HIGHEST flame and keep stirring just till it's cooked. Don't overcook and don't cover it. I don't dry the chicken completely, I like it to be a little saucy. Finally, give smoke using a piece of coal and keep aside. This last step is optional, but I never skip it.
FOR THE CREAMY SAUCE
In a small bowl, mix together chili garlic sauce and mayonnaise. Flavor with a little bit salt, chili garlic flakes and garlic powder.
ASSEMBLING
When you are ready to use the dough, punch down the two balls of risen dough, combine both dough balls and knead it for 1 minute again. At this point, I weigh the dough. Divide the total weight of the dough into 2 if you are make 2 large pizzas. Divide the total weight of the dough by 3 if you are making 3 pizzas. You can just eyeball it, but I like to be accurate.

Roll out the pizza dough into 3 large pizzas or 2 large (extra fluffy) pizzas. Remember to lightly brush the pizza pans with oil. Let the rolled out pizza bases rise for 30 minutes-1 hour.

Finally, divide the sauce among the pizzas and put the toppings (except ranch). Sprinkle with oregano. Bake the pizzas at 220c for 25-30 minutes. Drizzle ranch over the pizza in zigzag or round pattern. Enjoy!
LEFTOVERS
Storing Leftovers: Place the remaining pizza slices in an airtight box and keep refrigerated.
MAKE-AHEAD TIPS
Sauce: Can be made 1-2 days before and stored in an air-tight container and refrigerated

Chicken Tikka Topping: Can also be made 1-2 days in advance and stored in an airtight container and refrigerated

Dough: Can be made a night before. Place cling wrap over the two bowls of dough and keep in the refrigerator to rise till ready to use.

Toppings: You may cut the vegetables earlier in the SAME DAY and store them in a large plate/tray. Place cling wrap over it and keep in refrigerator till ready-to-use.
Notes
Try to use dark pizza pans as they assist with the browning of the pizza base.
Did you try this recipe?
I would love to know how it turned out for you! Leave me a comment below and share a picture on Instagram with the hashtag #theovenist
Looking For More Delicious Recipes?
---
---