The Best Pakistani-Style Chicken Yakhni Pulao (Easy Recipe)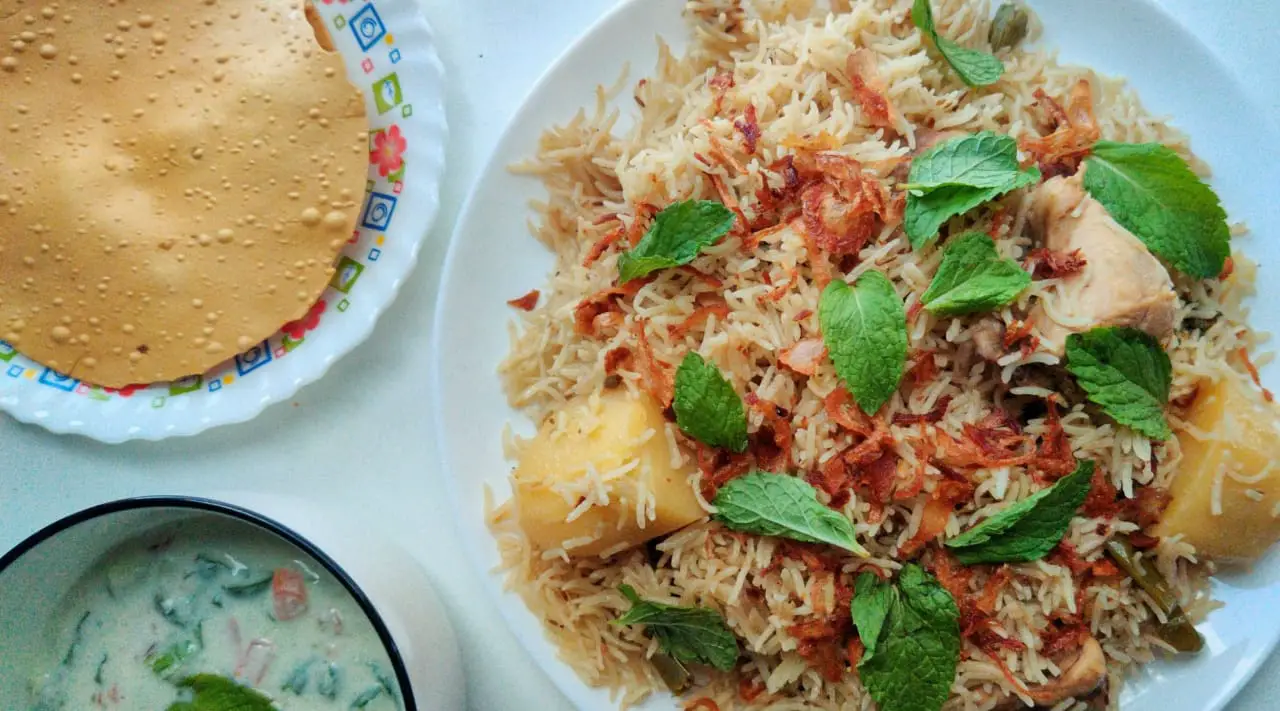 An easy recipe of The Best Pakistani-Style Chicken Yakhni Pulao. Being one of mom's most popular recipes, this pulao is jam-packed with flavor and among my family's most cherished foods.
Yakhni pulao lovers: you are in for a treat!
Are you tired of me uploading truly Pakistani recipes?
I am so not!
Because there isn't a person I know who does not love a comforting plate of freshly made chicken yakhni pulao.
It's easy to see why yakhni pulao is a Pakistani comfort food with its soothing heat, rich aromatic smell, and classic flavor profile.
It has captured the hearts of every guest who walked has into our home for years and years.
If you liked my other pakistani chicken dishes, like restaurant-style chicken handi, or the best chicken nihari, then you will surely love this!
ABOUT YAKHNI PULAO
Yakhni Chicken Pulao owes its distinct flavor and aroma to the myriad of whole spices and bone-in chicken that go into it. It is famous in many areas, especially Pakistan and North India (Awadh and Kashmir region).
It is prepared by first making the yakhni and keeping it aside. From then on, everything's cooked in one pot. The rice absorbs the chicken juices as it cooks, adding loads of flavour.
Despite being much milder in taste compared to biryani, this has long beenmy family's favorite.
And this coming from a family that loves BIG flavors and obsesses over perfect masalaydar Pakistani biryani, is really something.
This chicken pulao was among the very first recipes I learned from my mum. I remember trying so hard to not let her get away with "a little bit of this" "a little bit of that!" If your mom is anything like mine, you know exactly what I'm talking about.
Call me biased but I have never had a yakhni pulao as flavorsome as this! While subtle in fragrance and taste, every bite oozes with flavor.
Chicken pulao never loses its stardom in desis; people just cant seem to get enough of it 🙂
Here's what you get in the best pakistanti style chicken pulao recipe:
Juicy tender chicken
Fluffy flavorful rice
Nutritious yakhni flavor-base
Gentle and mild spice levels
Authentic taste
DECIPHER THE NAME : CHICKEN YAKHNI PULAO
1. What is Pulao?
Pulao is popular in pretty much the whole subcontinental world, with every country, or rather, every household having their own special version. With practiced technique and meticulously measured ingredients, every household has developed their own type of Pulao. This is what makes it an indigenous dish that also goes by the names pilaf, or pilao.
2. What is yakhni?
'Yakhni' is a Persian word which means stock, soup, broth or even shorba, light curry. It often refers to chicken, mutton or beef stock when mentioned in Pakistani homes.
Traditionally, the yakhni is simmered over a long period of time to bring out all the flavors- a sacrifice worth making before you relish the slow-cooked dish.
However, lucky for you, the yakhni in this recipe tastes super flavorful even with as little as 20 minutes of cooking!
BENEFITS OF YAKHNI : Is bone broth as healthy as our elders say? Is chicken broth really good for health? As a dietitian, I can tell you that there's limited research on bone broth/yakhni itself. However, plenty of evidence still suggests benefit. Read benefits below.
3. Why is this Pulao called Chicken Yakhni Pulao?
Since yakhni means broth, chicken yakhni pulao means rice cooked in stock with chicken. Basically, yakhni pulao is made by simmering bone-in meat to create a broth which can include plenty of vegetables and whole warm spices too. This is then drained and the stock is used to cook the rice.
So yes, yakhni takes center stage here with it's role in flavor and nutrition, hence the name!
WHY IS THIS THE BEST PAKISTANI-STYLE CHICKEN YAKHNI PULAO
Quick: The secret to the tender, flavor infused pulao is long simmering time of yakhni. To make a delicious yakhni, all you need is time—not only for flavor, but also for heightening the medicinal quality of the broth. Fortunately, this pulao tastes incredible even with just as little as 20 minutes of simmering! Active prep time is under 20 minutes.
Easy: So simple it was among the first recipes I learnt from my mum! Pulao is much easier to cook compared to biryani, especially amongst by biryani-judging-family (read snobs). Just follow the technique to the T and you are good to go.
Kid-Friendly: Okay, so I don't know what exactly it is about this pulao, but even the pickiest of eaters sweep their plate clean!
So incredibly Aromatic: If there's anything my mum's pulao is known for, is it's ridiculous aroma that wafts through the home. It's loaded with flavor and imparts an aroma that's to die for!
Very, very delicious: Each spoonful you take will be busting with flavor!
DIFFERENT TYPES OF PULAO
Name some popular types of pulao, you say? (at least I imagine you say)
Mutton Pulao
Beef Pulao
Matar Pulao
Kabuli Pulao (Afghan Pulao)
Vegetable Pulao
Tahiri
Kashmiri Pulao
A GLIMPSE INTO THE HISTORY OF PULAO
Many people believe that pulao is a predecessor of biryani, existing long before the traditional south asian biryani did. According to legend, plov was invented in the 4th century BC by Alexander the Great who instructed his cooks to prepare a light but filling rice dish for his army with what was on hand. It helps to know a bit of the history that connects all the rice dishes of this region and traces the history behind our pullau and biryani.
PULAO 101
1. What are the characteristics of a perfect pulao?
An incredibly rich and flavorsome dish, Chicken Yakhni Pulao, that will delight the appetite perfectly.
The rice grains should be cooked, but the grains should be fluffy and separate and not mushed up at all.
Juicy with every grain of rice moist and rich but not oily
Almost pale rice but full of flavor (at least this is how my family likes it)
2. Which kind of rice is used in chicken pulao?
The rice best suited for pulao is fragrant, long-grain Basmati rice. As is with biryani and other rice dishes, rice should either be al dente or soft but never overcooked, broken and mushy. If you soak the rice beforehand, and using the correct water to rice ratio in your pulao ensure perfectly cooked pulao rice. Got to strike the right balance which can be a bit tricky if you are new to the rice business.
3. What cut of chicken is used in chicken pulao?
Bone in chicken is essential as the bones give the stock a lot of the flavor that is essential to this dish.
4. What should the color of pulao be?
The color of the pulao depends almost entirely on the caramelization of onions. In this pulao, i prefer only sautéing but not browning for a lighter color.
5. Is it necessary to use a 'bouquet garni' or 'spice potli'?
No, not necessary. While some people use a potli or muslin cloth to tie the whole spices (making them easier to discard), this recipe uses a strainer to separate the yakhni/stock.
Difference between Chicken Pulao and Chicken Biryani
1) Chicken pulao tends to be mildy spiced, and biryani definitely belongs on the spicier end of the spectrum.
2) In a chicken pulao, uncooked rice is added to the chicken stock mixture, and the rice is fully cooked in that stock (no layering required). On the other hand, rice in biryani are boiled (or par-boiled), separately then layered with the biryani masala. Both are put on dum (covered tightly, and left on low flame for 10-15 minutes at the end).
HEALTH BENEFITS OF YAKHNI: A DIETITIANS VIEW
While there is limited research on yakhni (bone broth) itself, it does not discredit hundreds of years of tradition. It has been used for it's medicinal properties for ages. Having bones as the main ingredient, evidence suggests yakhni has plenty of beneficial effects because:
Rich in many vitamins calcium, magnesium, potassium, phosphorus
Rich in minerals that are needed to build and strengthen bones
Contains amino acids that help fight inflammation and protect against diseases and help support joint health
Contains essential fatty acids
The gelatin from bones helps support healthy digestion and promotes feelings of fullness, making it an excellent option when following a weight-loss diet.
Contains glycine which promotes sleep, mental health and memory!
Contains collagen, an easy-to-absorb essential protein that aids in healthy skin, hair, nails and joints.
When it comes to bone broth, the method of preparation is pretty much the same world wide: boil down animal bones in plenty of water. But did you know adding some vinegar to yakhni as it cooks helps draw out all the valuable nutrients from the bones into the water. Also, the longer you simmer, the more minerals are transferred to the broth, and the more nutrient dense the broth becomes.
Popular ways of consuming this nutrient-dense stock around the world is in soups, sauces, gravies, braised veggies/meat and as health drinks/protein beverage. It seems to me that our traditional yakhni pulao is an excellent way to consume yakhni as the rice soak up all the healthy nutrients during the cooking process. However, mutton yakhni or chicken yakhni are highly nutritious on their own and can be taken as a meal.
Can I double this recipe?
Yes, this recipe can easily be doubled.
Make Ahead Tips
One of the best, best things about yakhni pulao is that you can do almost all the prep before hand making it a fantastic options for guests and parties. You can do the following a day in advance:
Prepare the yakhni, strain and store in an airtight container till needed. You can even freeze yakhni a month in advance if you are expecting busy days ahead or guests coming to stay over for a couple of days.
Prepare the complete yakhni-chicken masala mix in the pot (like making just the salan before) and refrigerate a day ahead! (only step remaining will be adding the rice when it's time to cook.)
How do I store yakhni pulao?
Store leftover yakhni pulao in an airtight container in the refrigerator. Will be fine up to a week.
When can I serve chicken yakhni pulao?
Parties: With the right kind of sides and starters, chicken pulao is grandiose enough for parties: an ideal Pakistani feast! A good yakhni pulao is more than a perfect option for parties! I have had it in many dawats at my in-laws, and seen my mom serve it to guests on a variety of occasions. I think it's fair to say, that if someone is not feeling creative, desi households switch between these two options. If it's not biryani, it's pulao. If it's not pulao, it's biryani.
Recovering from illness: The lightness of chicken yakhni pulao makes it an excellent choice for people recovering from illness and lacking appetite. Even when you're feeling well, yakhni recipes are a great choice for a healthful, low-calorie meal. 
Lunch Box Item: Yes guys, if you haven't tried it already. My baby sister loves it in school as much as my husband loves it as an office lunch box item.
Weekend meal or Weekday Meal: Really perfect for anytime!
What to serve with pulao?
Green Chutney: It would be unusual if I didn't have a jar of green chutney lurking in the depths of the refrigerator on any day. I mix it up with some yogurt for an instant green raita!
Raita

Regular Raita: Yogurt that is thinned out a bit with water and contains minimum spices.
Vegetable raita: This is when the regular raita is mixed with small chopped veggies (cucumbers, tomatoes, onions) or boiled potatoes (aloo ka raita).
Mint Raita

Kababs

Shami Kababs: got to be the most popular combination.
Aloo ke kabab
Chapli Kababs
Seekh Kabab
Kachay Keemay ke Kabab

Salad: Any of your favorite salad will do.

Or you can just serve it with thinly sliced cucumbers, tomatoes and carrots with a lemon wedge to top it off.
Kachumber

Other

Papar (papadums)
Chutneys
Achaar

Simple salan/curry

Handi
Butter Chicken
Qorma
Kofta Curry
Aloo Gosht
Ready to try the best chicken pulao of your life? Lunch got real easy- enjoy!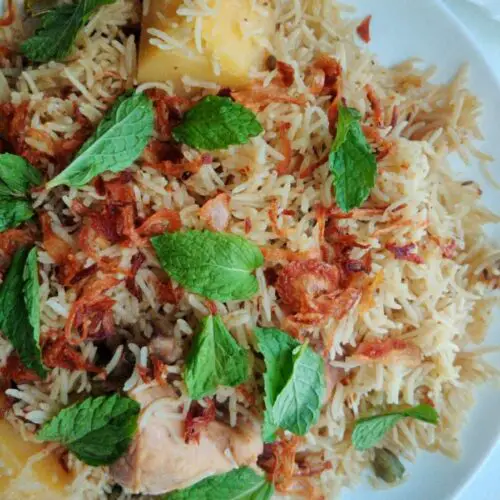 CHICKEN YAKHNI PULAO
Chicken Yakhni Pulao: A traditional dish that is aromatic, jam-packed with flavor and among my family's most cherished foods.
Ingredients  
YAKHNI INGREDIENTS
4

tablespoons

Whole coriander

(sabut dhanya)

3

tablespoons

Fennel seeds

(sonf)

1

tablespoon

Cumin seeds

(safaid zeera)

1

Large onion

5

Star anise

(badian ke phool)

8

Black peppercorn

8

Black pepper cloves

(long)

12

Green cardamoms

2-3

sticks

Cinnamon sticks

( dar chini)

2

Bay leaf

2

big

Black cardamom

5

cups

Water

Bones

if available

4

green chilies

1

teaspoon

Salt

2

inch

Piece of ginger

5

cloves

Garlic
PULAO INGREDIENTS
1

cup

Oil

2

Onion

sliced

1

whole

Chicken (12 pieces)

(1kg)

2

Potatoes

each cut into 4 pieces

1

tablespoon

Ginger Garlic Paste

1

tablespoon

Shan pulao masala

heaped

2

Chicken stock cubes

2

Cinnamon sticks

5

Black pepper cloves

5

Black peppercorn

2

Bay leaves

10

Green cardamoms

5-6

green chilies

½

cup

Yogurt

2

teaspoons

Salt

or as needed

1

cup

Fresh mint leaves

1/4

teaspoon

All spice powder

garam masala

1/4

teaspoon

Green cardamom powder

1/4

teaspoon

Nutmeg and mace powder

mixed

3

cups

Rice

Washed and soaked
Instructions 
FOR YAKHNI
Put all the ingredients of yakhni into a medium pot. Bring to boil. Then cover and simmer for 30 minutes on medium-low flame. Strain the yakhni and keep liquid aside. You may prepare this a day before.
FOR PULAO
Put oil in a large pot. Add sliced onion to it, and cook till translucent. Add chicken and cook for two minutes. Now add ginger garlic paste, chicken cubes, salt, pulao masala, black peppercorn, black-pepper cloves, cinnamon sticks, bay leaves, green cardamoms, green chilies and potatoes.

Cook, stirring continuously for 10 minutes. Then add yogurt and mint, and continue to stir till oil comes up.

Pour strained yakhni into the pot, cover and cook for 15 minutes on medium-low flame.

Add all spice powder, green cardamom powder and nutmeg mace powder.

Now, add rice to the pot and cook. Add salt 2 teaspoons or as needed. Water should be an inch above rice. Cook it till water is at the level of rice and there is some bubbling. Place the pot on heated tawa. Put extra mint and fried onions on top. Cover and cook for 15 minutes (for dum).
Notes
Don't forget to garnish your Yakhni pulao with fried onions and mint leaves.
You can also add a combination of dry fruits and raisins if you prefer a royal tasting Yakhni pulao.
You can switch chicken with mutton or beef. 
---
Did you try this recipe?
I would love to know how it turned out for you! 🙂 Leave a comment below, and post a picture on Instagram with the hashtag #theovenist.
Looking For More?
---
---