Edamame Hummus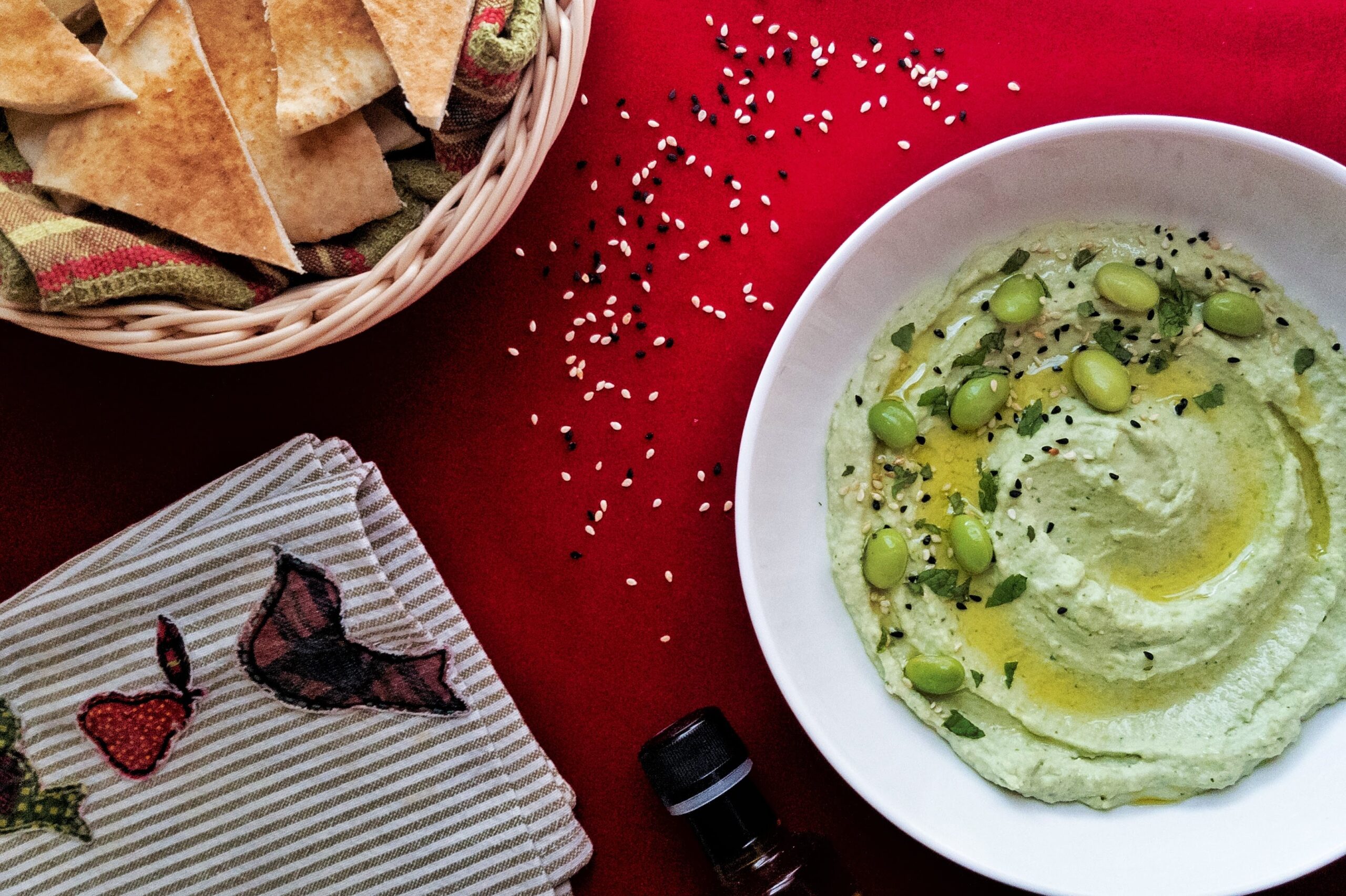 Hummus has long been a staple food for many in the Arab countries but almost everyone around the world has tried it. While the classic hummus will always be our favorite, there are countless variations to try. Edamame hummus is one such chickpea-free, nontraditional hummus.
Healthy, packed with protein and downright delicious!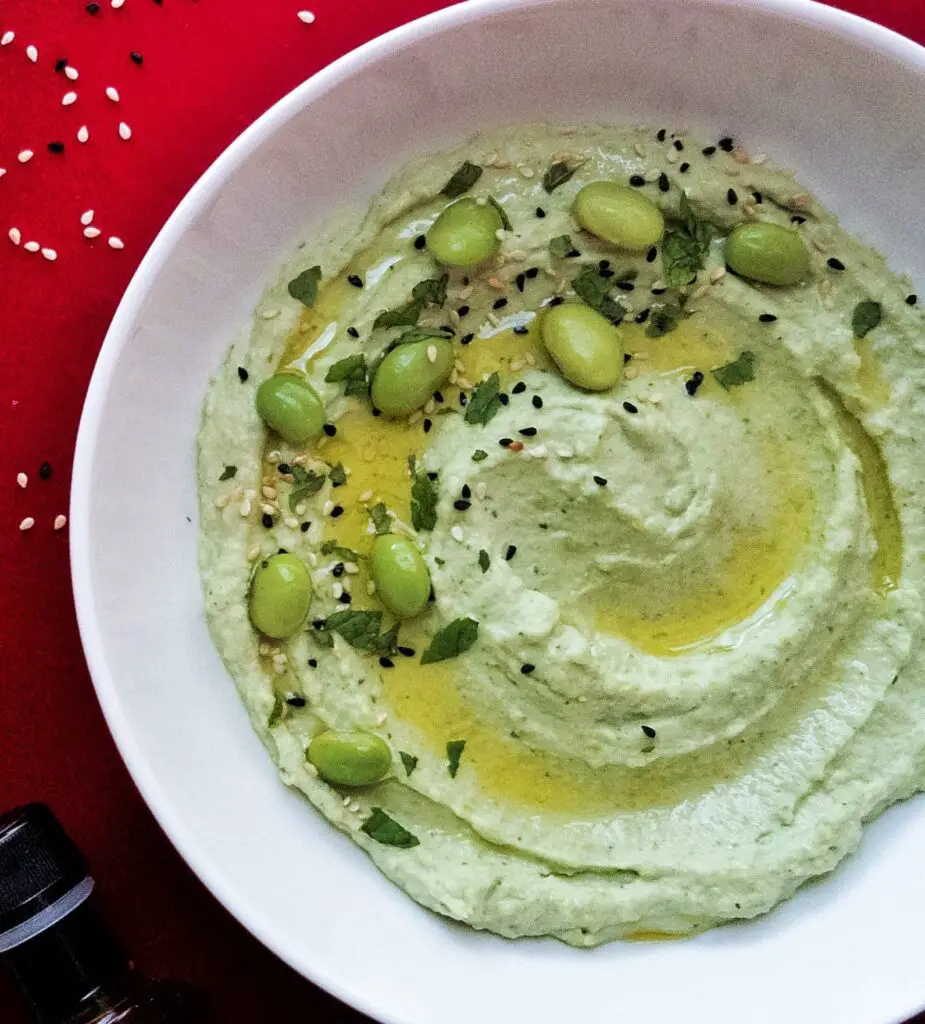 I've never really enjoyed beans that much, and didn't even know something called edamame existed until my roommate in university made me try them. Gotta say she was more of a healthy-eating inspiration than my field of study itself, haha! 🙂
Needless to say, now I love these beans so much that I mostly just sprinkle salt over plain boiled edamame, and dig in.
Coming from a person who loves throwing spices into everything, you should begin to realize how good they are, just as they are.
What is edamame?
Edamame are basically immature soybeans and literally mean "stem beans". Although traditionally eaten in Asia, they're now gaining popularity all around the world.
They are rich in several vitamins and minerals, especially vitamin K and Folate. In soups, salad or snacks, flavored with garlic & seasonings, or made into a dip, they're great either way!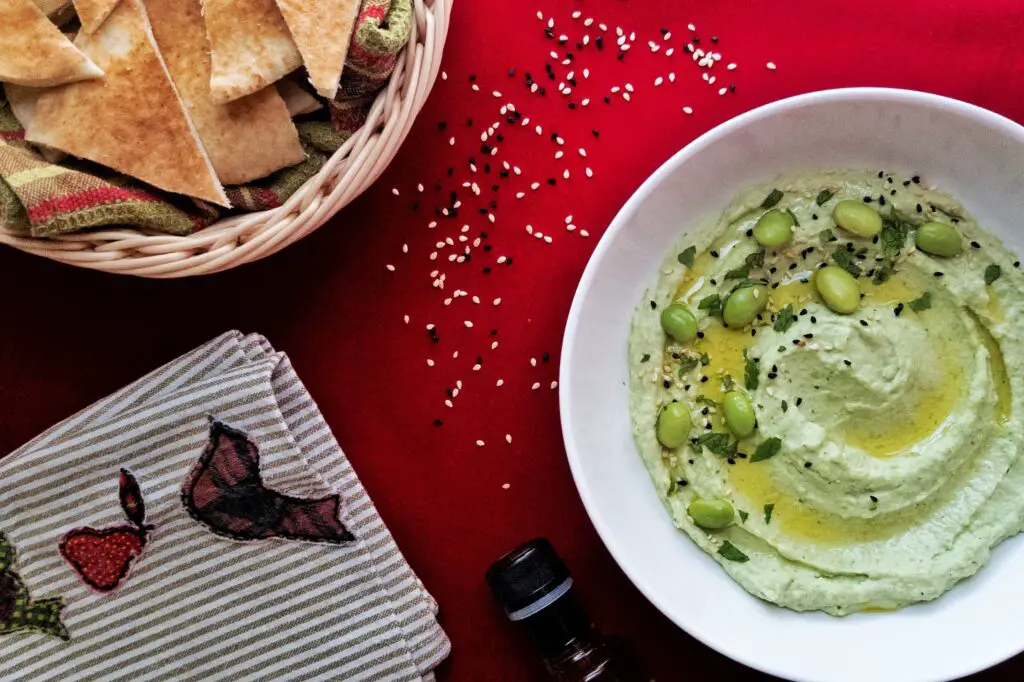 One day, as I see a packet of frozen edamame sitting in my freezer, I decided its fate be different than the two other packets that came with it. Hummus, was the verdict.
Super creamy and full-of-flavor, this edamame dip goes really well with crackers and toasted pita, making it great for game nights.
On the healthier side, you may opt for carrots and celery! I have even served it alongside grilled chicken/meat a couple of times for dinner.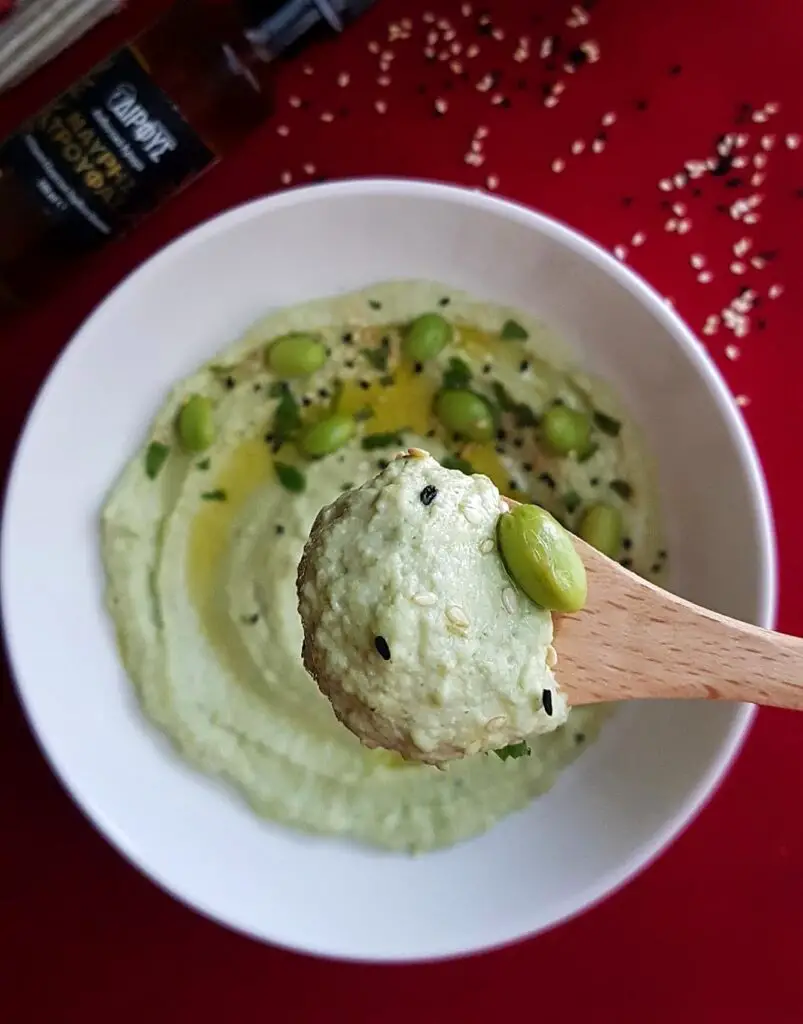 How to cook edamame?
I get frozen edamame beans from my local store and I've noticed with different brands, the boiling time seems to vary.
Unlike when you eat edamame beans whole (where you keep a certain level of bite to them), it's important here that you boil them till they're quite soft. This will give you a smooth dip, instead of a gritty chunky hummus.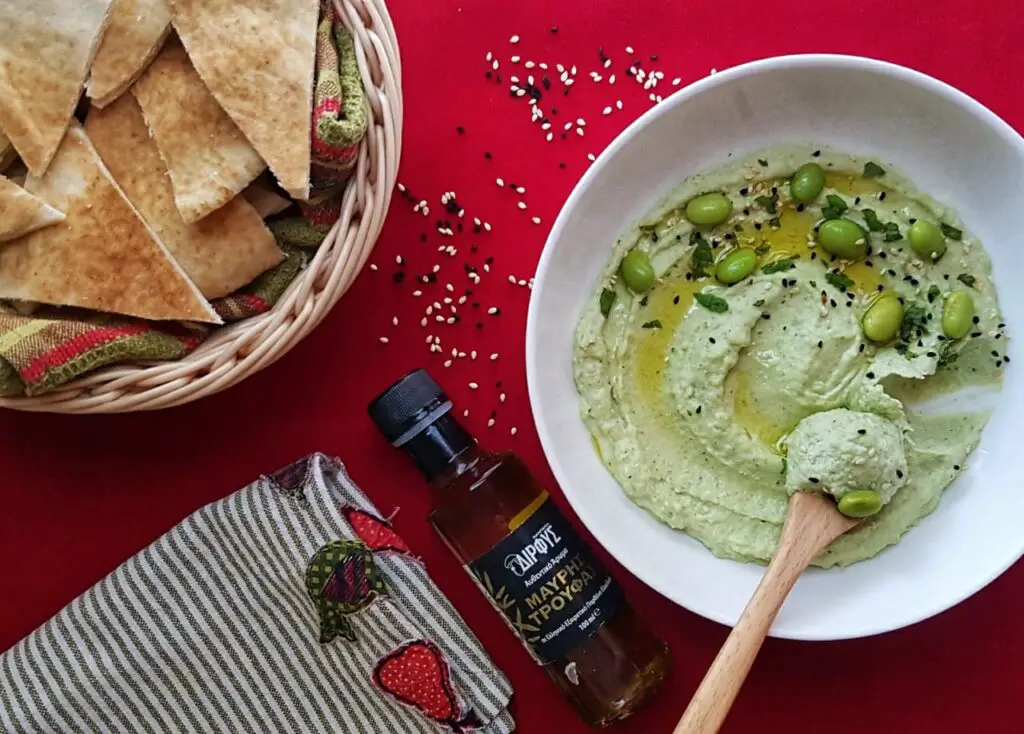 This edamame hummus recipe is quite straightforward, using just a handful of ingredients. P.S A food processor basically does all the work for you. If you love trying out new things, this one's for you!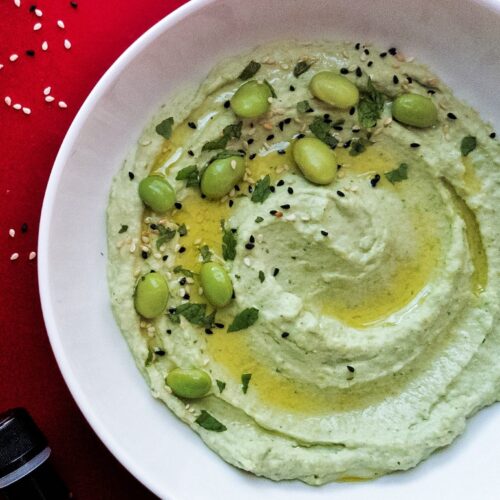 Edamame Hummus
A chickpea-free, nontraditional version of the classic hummus. Healthy, packed with protein and downright delicious!
Ingredients  
400

g

frozen edamame packet

(soybean in pods)

2-4

tablespoons

freshly squeezed lemon juice

as preferred

3

medium cloves of garlic

⅓

cup

78g sesame seed paste/tahini

¼

cup

extra-virgin olive oil

½

teaspoon

of salt

or to taste

½

cup

heaped fresh mint

10g

2

tablespoons

ice-cold water

as necessary

Sesame seeds

black seeds, olive oil, mint for garnish
Instructions 
Boil the edamame (soybean in pods) in water with 1 tablespoon of salt on high flame for 20-30 minutes or until very soft. Drain the edamame and remove the soybeans from their pods. You should have around 1 cup (190g) of edamame beans. Keep aside.

In a high-powered blender or food processor, combine the lemon juice, garlic, tahini, olive oil, salt and 1 tablespoon of ice-cold water. Blend for 1 minute, scrape down the sides, and blend again for 1 minute. Now add the mint and blend again till the mixture is creamy. Add the boiled edamame beans with 1 tablespoon of ice cold water into the blender and blend again until the mixture is well combined and smooth. You may add a little more water if your hummus is too thick, just be careful not to add too much.

Place the edamame hummus in a small serving plate or bowl, make a swirl using a spoon, drizzle olive oil and finally sprinkle some sesame seeds. Serve with crispy pita bread or crackers!
Did you try this recipe?
I would love to know how it turned out for you! Leave me a comment below, and post a picture on Instagram with the hashtag #theovenist.
Looking For More?
---
---