Chinioti Mutton Kunna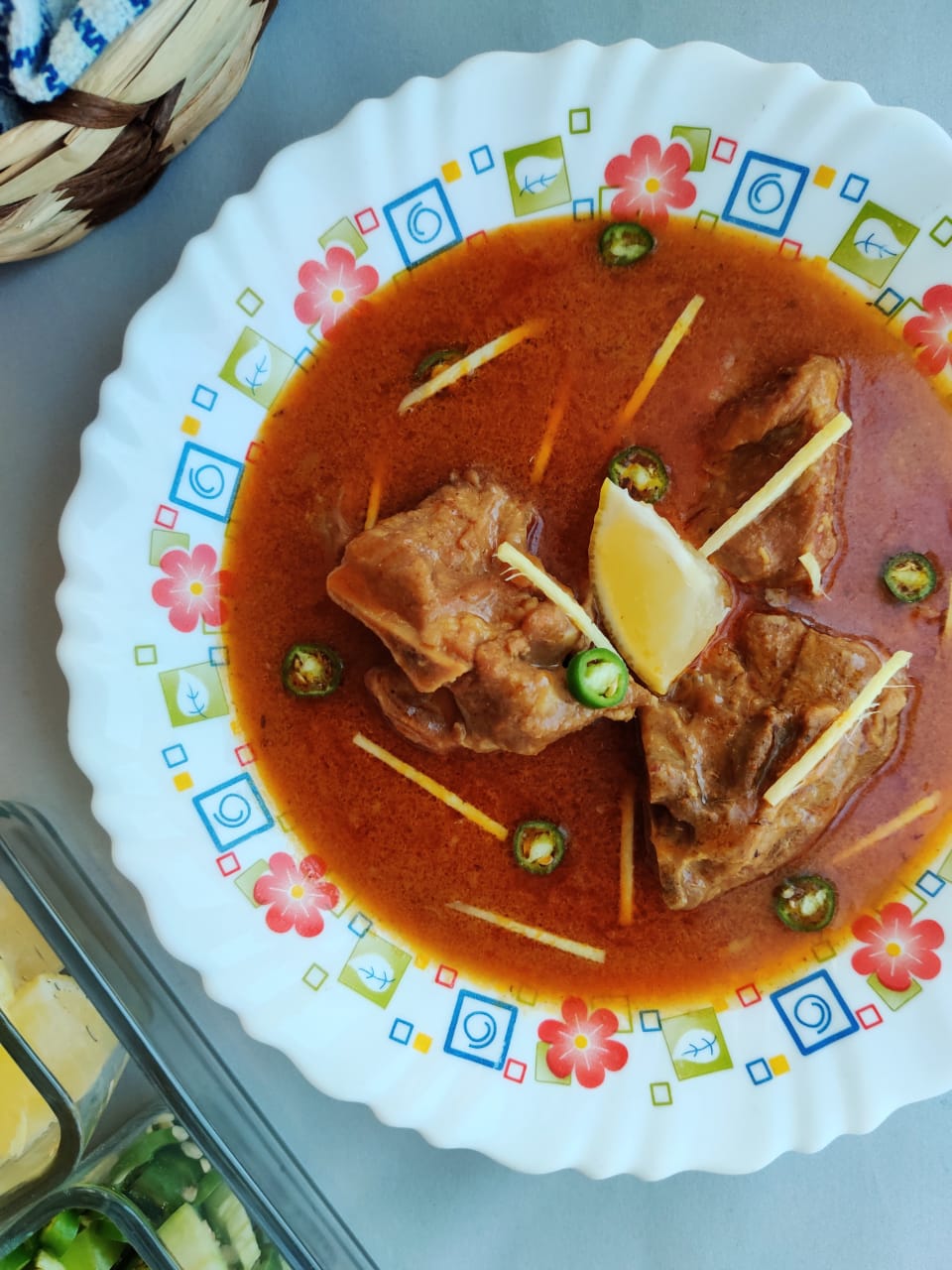 Bakra Eid has you google-ing recipes? I've got your back. This recipe is SO easy, as any kunna recipe should be, and it tastes amazing! Impress your guests (or just your family because stay home stay safe?) with this truly mouthwatering Chinioti Mutton Kunna.
CHINIOTI MUTTON KUNNA FOR EID
The ongoing pandemic means there's only so much we can do on this Eid al Adha, so I have to admit that food inevitably makes up most of the Eid Entertainment 😛
Chinioti Kunna is a rich, flavorful mutton curry and an escape from the regular meat dishes, often served on Eid al Adha, weddings, and other special occasions.
It's safe to say that this dish is always welcome at our Eid table, and no one can deny it's simple decadence.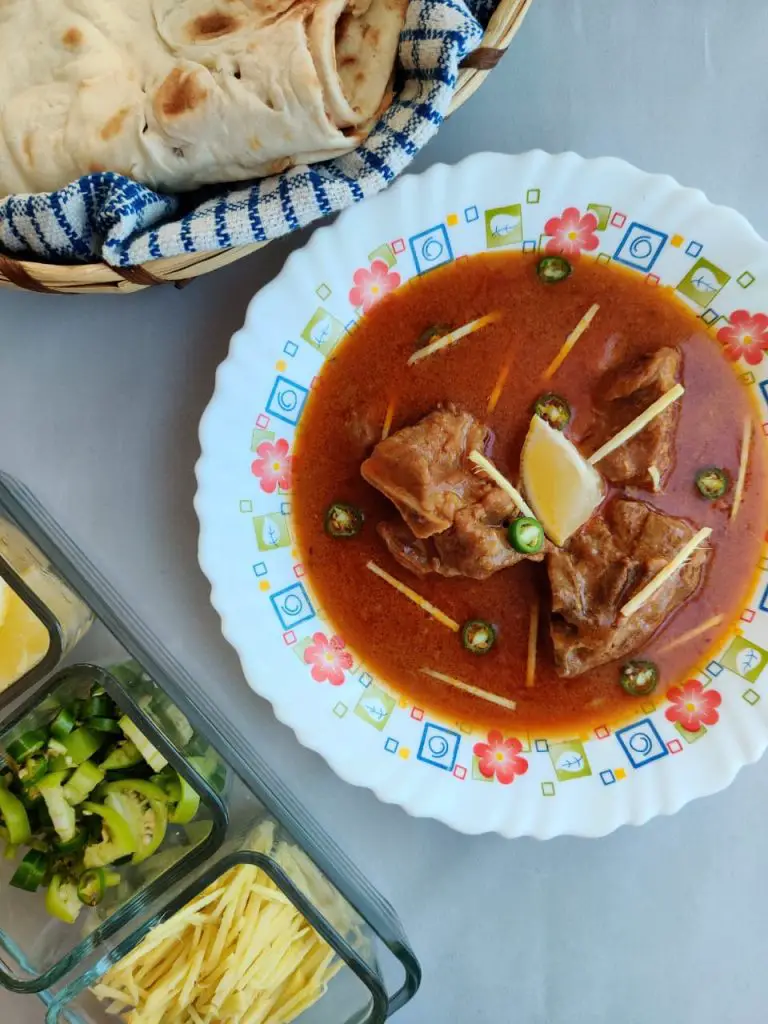 ORIGIN OF CHINIOTI MUTTON KUNNA
Mutton Kunna is a traditional Punjabi dish, originating from and a specialty of Chiniot, a city in the province of Punjab, Pakistan. It lies somewhere between Lahore and Faisalabad.
Chiniot has long been known for it's intricate wooden furniture, among other things. But those who enjoy cooking (or eating!) Pakistani foods have most definitely heard of the famed Chinioti Mutton Kunna. This dish also goes by the names 'Kunna Gosht' or 'Matka Gosht'.
TRADITIONAL TECHNIQUE
Chinioti Mutton Kunna is traditionally slow cooked (for four to six hours!) in an large earthen clay pot placed under ground. This round-based clay pot is called 'kunna' in Punjabi and is what gives the amazing earthly aroma inherent to kunna gosht.
The process of slow cooking gives you that super tender, melt-in-the-mouth meat.
Originally, Kunna Gosht was made with just a couple of spices. With time though, as it became known in other cities of Pakistan, people started enjoying it with a lot more spices than authentically used.
Kunna is similar to Nihari, in terms of the slow cooking process, appearance and even a bit in flavor!
The basic ingredients in authentic mutton kunna are:
Oil
Onions
Meat
Green chilies
Ginger
Garlic
These ingredients are placed into a clay pot and the clay lid is sealed shut in order to trap the steam. The sealed pot is placed under the ground and a fire is lit on the soil above the clay pot. The meat is braised and simmered with the other ingredients for several hours, allowing the hearty flavors and irresistible aroma to slowly infuse into the meat.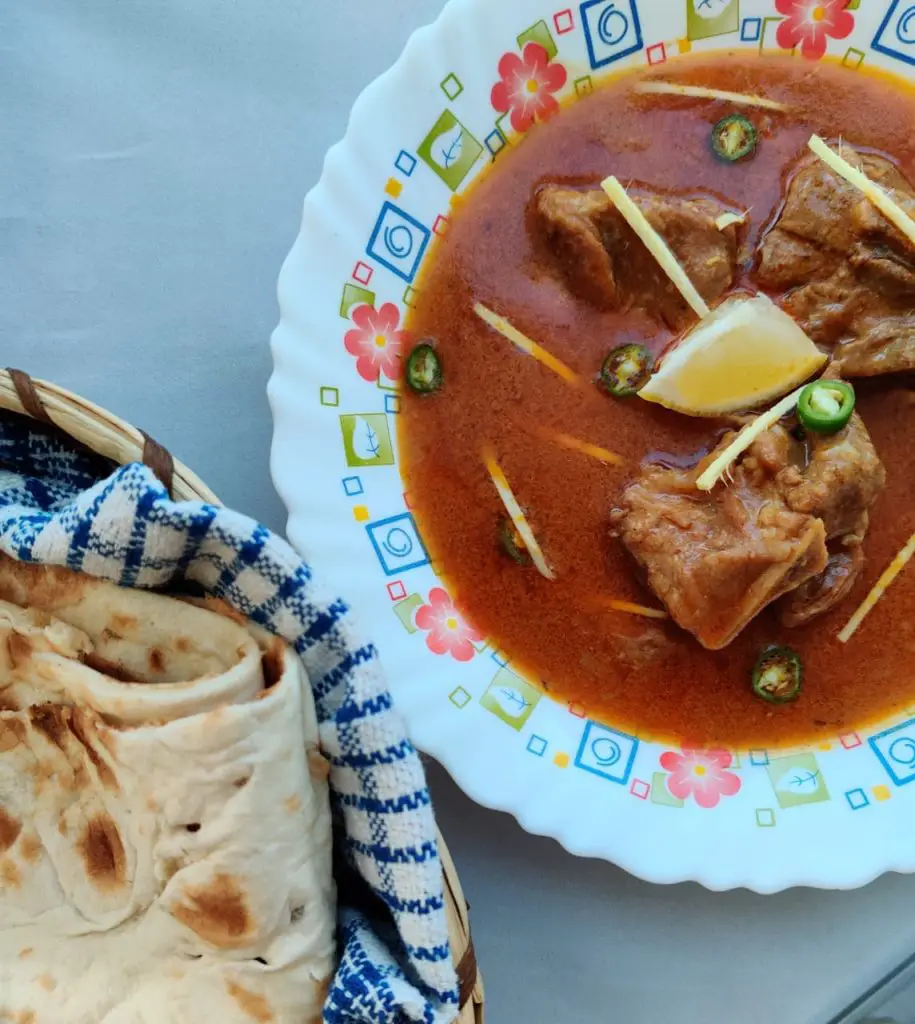 Chinioti Mutton Kunna Recipe
The mutton kunna recipe I am sharing with you today is simple, easy and quick. It's for those of us who appreciate delicious Eid food that's not too time consuming.
It can be slow cooked (as traditionally is), but let's be honest, most of us don't have that kind of time on our hands. I generally use an Instant Pot or pressure cooker and sometimes a regular pot on stove. Either way, it is still very delicious!
I've also used a little bit of Shan Kunna Gosht Masala in this recipe, to further enhance the kunna flavor and for the same reasons we keep boxed masalas in our kitchens: to make life easier! If that's not your thing, by all means, skip the boxed masala 🙂
Which mutton cut should I use?
Chinioti Mutton Kunna is best made with goat/lamb leg meat (also know as hindquarter).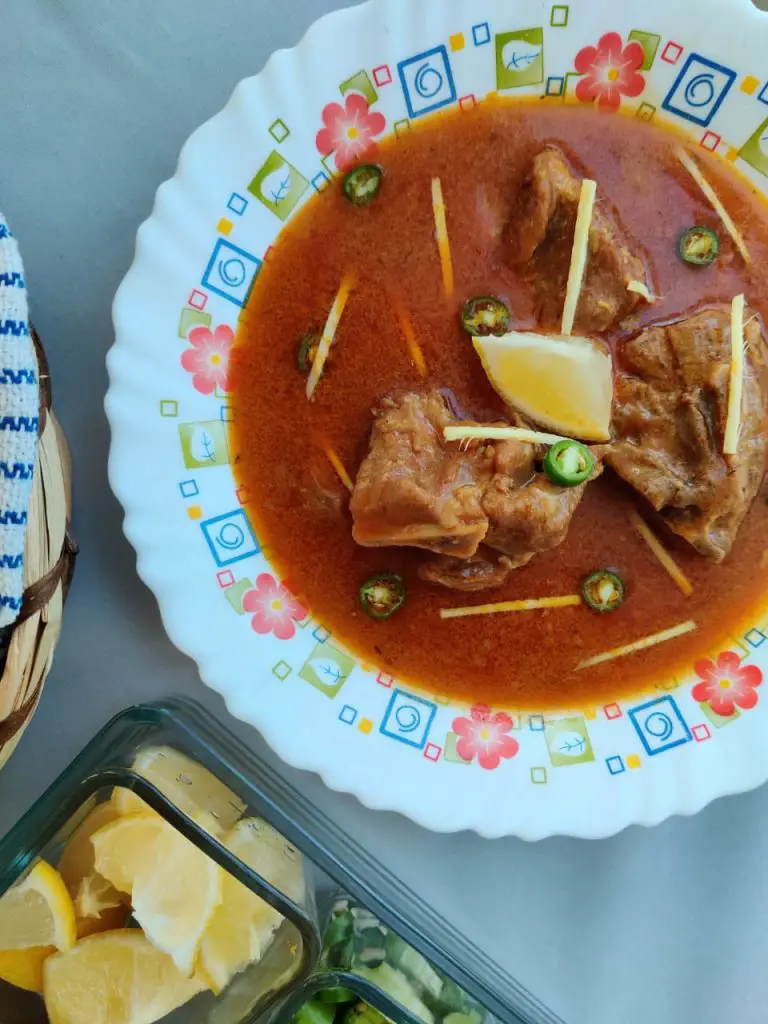 Can I use chicken or beef in this kunna recipe ?
Chicken Kunna and Beef Kunna recipes do exist, but there's no doubt that goat meat gives the most delectable flavor.
Alright, now what's stopping you from making this hearty, delicious meal? Here goes the my favorite recipe of chinioti mutton kunna.
Garnish with lemon wedges, sliced green chilies and sliced ginger! Serve with hot tandoori roti (or even steamed rice)!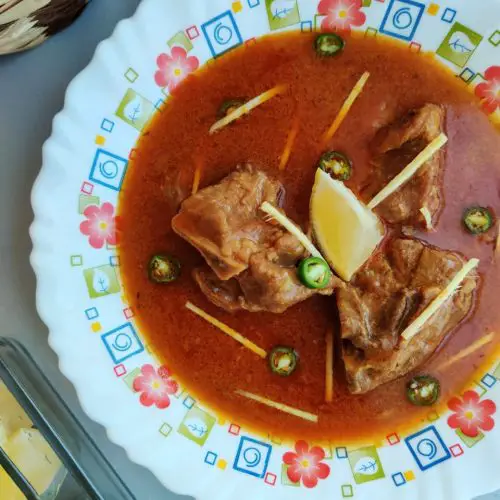 CHINIOTI MUTTON KUNNA
A delicious Chinioti Mutton Kunna recipe for bakra Eid. It is so easy, as any kunna recipe should be, and it tastes amazing! Impress your guests (or just your family because stay home stay safe?) with this truly mouthwatering Mutton Kunna.
Ingredients  
½

cup

ghee

½

cup

oil

1

large onion sliced

2

tablespoons

ginger garlic paste

1½

kg

mutton

big pieces

2

teaspoons

salt

or to taste

3-4

teaspoons

Kashimiri red chili powder heaped

¼

teaspoon

turmeric powder/haldi

4

tablespoons

Shan kunna gosht masala

3

teaspoons

coriander powder/dhanya powder

1

teaspoon

black cumin/kala zeera

Crush by hand

6

tablespoons

Whole wheat flour/aata dissolved in 1 cup water
GARNISH
Ginger sliced

Lemon wedges

Green chilies sliced
Instructions 
Heat oil in a large pot, add sliced onion and fry for 5 minutes. Add ginger garlic paste and fry for 2 minutes.

Next, add mutton, salt, Kashmiri red chili powder, turmeric powder, Shan kunna gosht masala, coriander powder, and bhunofy (yes, I'm using this word 😀 ) for 10 minutes. Cover and keep on low flame for 20 minutes.

Then, uncover and bhunofy for 10 minutes. Add water gradually as required. Cover again and let it cook till mutton is ¾th cooked.

Now, add whole wheat flour dissolved in water and cook for 5 minutes. Add water as required for gravy. Cover and cook till oil comes on the surface and meat is fully cooked. Add crushed black cumin. Garnish with coriander leaves, sliced ginger and lemon wedges.
Did you try this recipe?
I would love to know how it turned out for you! Leave a comment below and post a picture on Instagram with the hashtag #theovenist.
Looking For More?
---
---