Tandoori Chicken Club Sandwich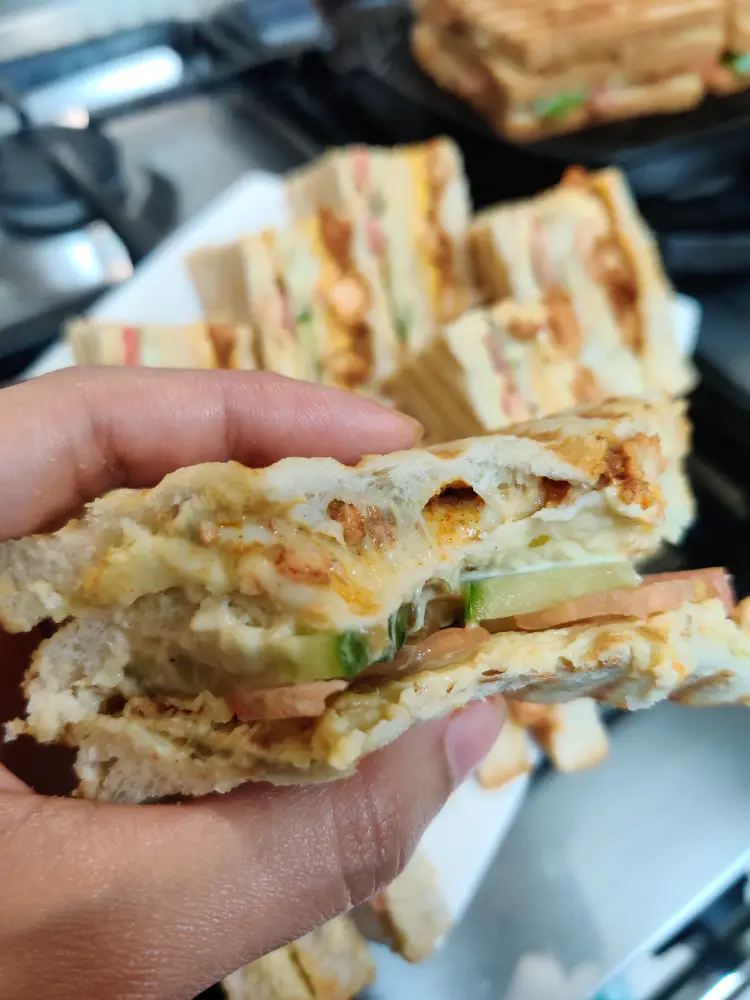 If you love chicken tandoori, you're gonna go nuts over this tandoori chicken club sandwich. Crispy toasted bread, encasing spicy, succulent tandoori chicken, creamy, roasted green chili sauce, and fresh, crunchy veggies.
You'll be amazed how something this easy can taste this good!
The star ingredient is not only the perfectly smoked tandoori chicken, but also the roasted green chili sauce- which makes this sandwich mindblowing-kinda-good.
If I could eat one sandwich for the rest of my life, it would have to be this one.
It is hands down my favorite!
And my family's too…
And pretty much anyone who tries it.
Let's face it…
Club sandwiches will always reign supreme over regular sandwiches.
Speaking of club sandwiches, I'm even fond of a good grilled vegetable club sandwich…
but this one…
there's no topping it!
Crusty toasted bread, sandwiching an oozy layer of sauce and cheese, spicy tandoori chicken adding the burst of flavor…the crunchy veggies adding a variety of textures…
One bite and you'll never choose another club sandwich over this.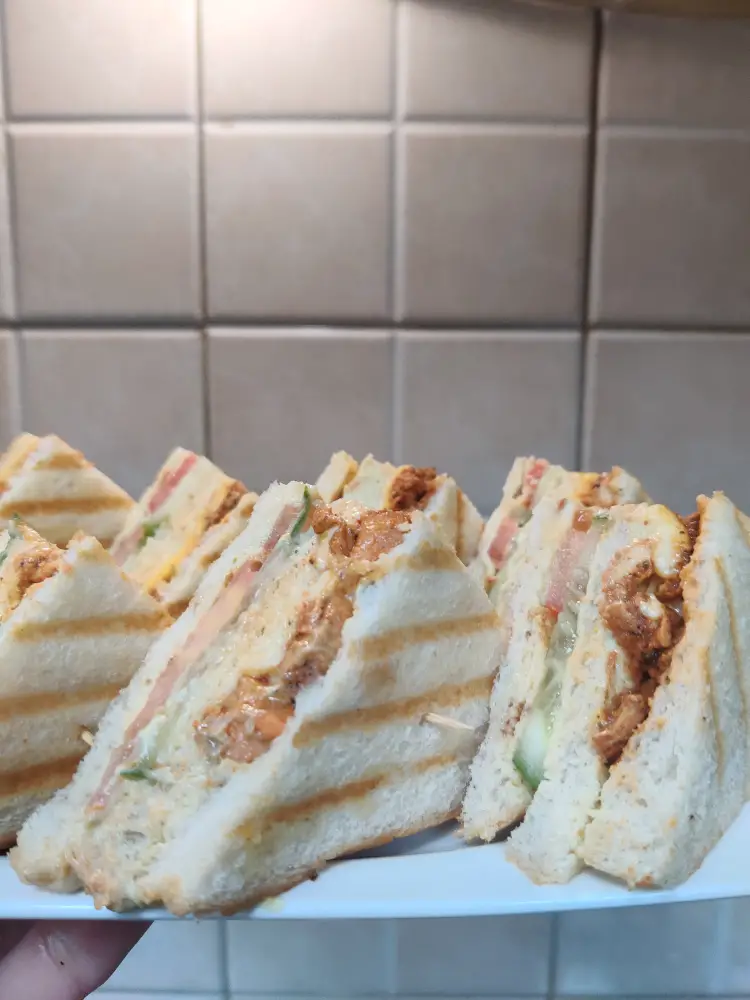 What is a Club sandwich?
Like a regular club sandwich, you have stacked layers of fillings between slices of bread, toasted, cut into quarters and then secured with a toothpick/cocktail stick.
Club sandwiches have been around for generations and are also known as clubhouse sandwiches.
Basically, what makes it stand apart from other sandwiches is an extra slice of bread acting as a separator between fillings.
A classic club sandwich is made with white bread and contains chicken, ham or turkey, lettuce and tomatoes, and mayonnaise as the sauce.
It is served is almost every restaurant, so it's safe to say every one has developed their own version of it.
About Tandoori Chicken Club Sandwich
Tandoori chicken sandwich is a Pakistani-style club sandwich. It contains the ever-loved smoked tandoori chicken pieces, spiced to perfection.
Among the infamous snacks and appetizers in Pakistan, desi style club sandwiches are almost always on this list.
This sandwich is a merger of my favorite chicken club sandwich and chicken tikka sandwich.
It is inspired by a tandoori club sandwich recipe by chef Shireen Anwar.
Hands down the best tandoori chicken sandwich recipe out there. Loaded with chicken, veggies and cheese and a homemade mayonnaise sauce…
So appetizing! So filling!
your taste buds will do a happy dance 🙂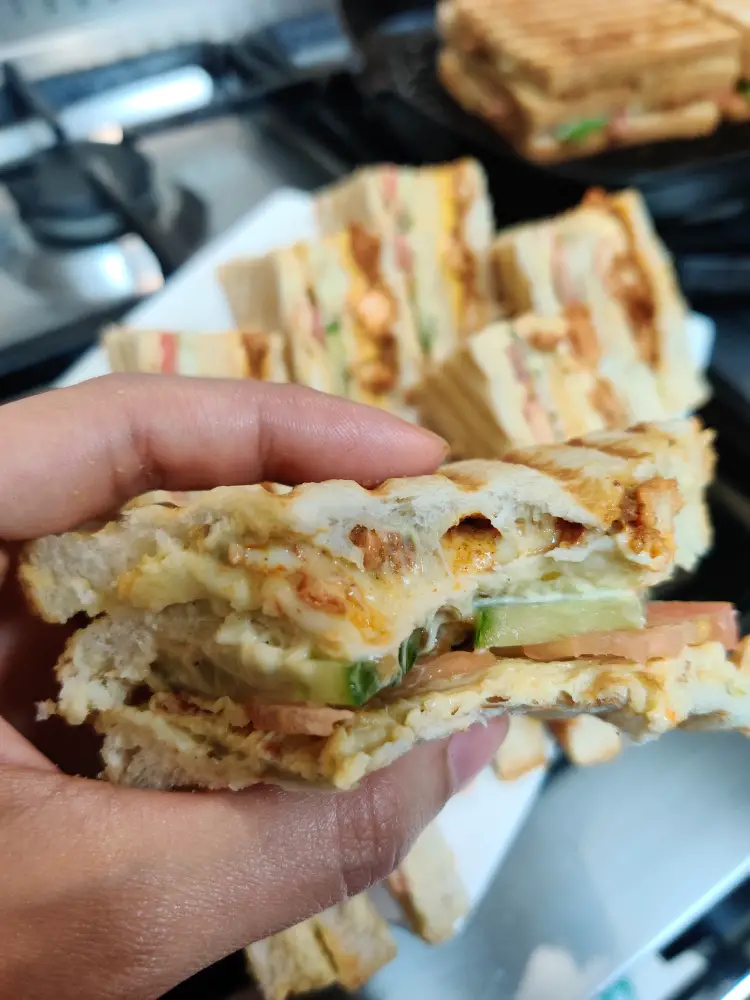 Why I love this Tandoori Chicken Club Sandwich Recipe
Super easy to put together
Tastes amazing
Has a fantastic presentation- a scrumptiously stacked beauty!
Perfect as a make-ahead item. The sauce and sauce can easily be prepared ahead of time, or the whole sandwich and you can grill it at the time of serving.
Can be served pretty much any time…sudden craving snack or in a party platter!
Fairly quick
Beginner friendly
Kid friendly recipe (as long as you reduce the spice level!)
No fancy ingredients needed
Customizable: meaning you can swap out any ingredient with any other of your choice.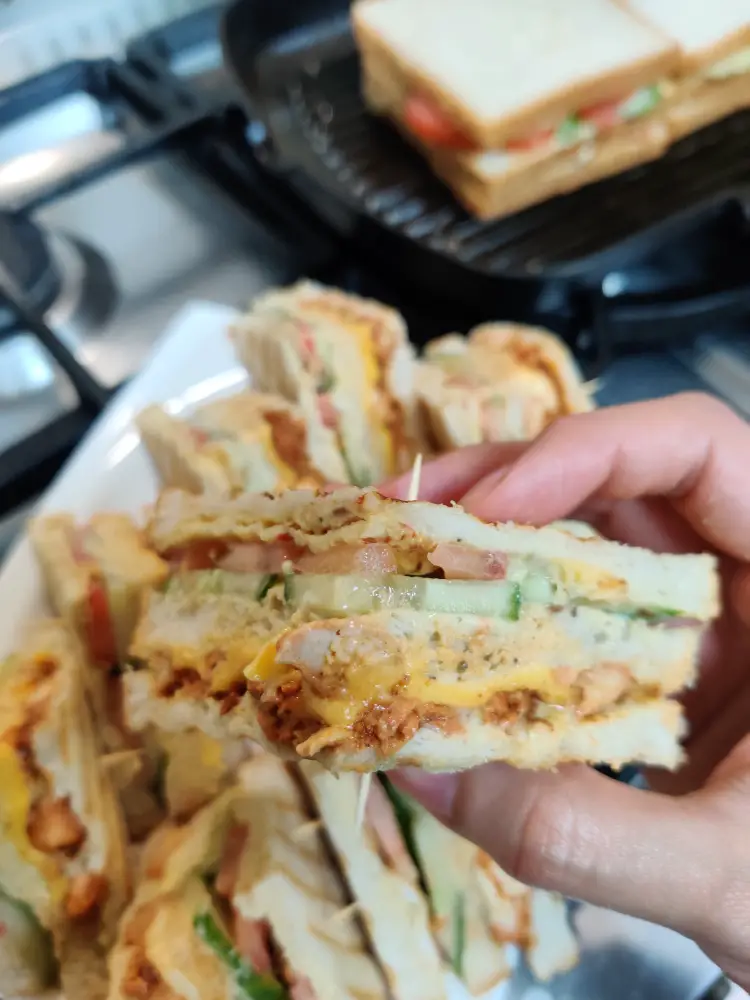 INGREDIENTS FOR TANDOORI CHICKEN SANDWICH
To make a good tandoori club sandwich, you really only need some basic ingredients:
1) ROASTED GREEN CHILI SAUCE
Mayonnaise (I use Heinz)
Garlic clove, minced (Or use garlic powder instead)
Green chilies (spicy and non-spicy)
Freshly squeezed lemon juice
Olive oil
Salt (I usually do not add salt here, because mayonnaise is already has it. Taste and add if you desire)
Freshly cracked black pper
Roasted and crushed cumin seeds
If you do not have time to make this sauce, I have also given substitute sauce options in this post.
2) TANDOORI CHICKEN BOTI
Boneless, skinless chicken breasts (or chicken tender breasts or thighs for juicier chicken )
Garlic paste
Lemon juice as needed
Red chili powder
Black pepper
Whole spice powder
Oil
Yogurt
3) TO ASSEMBLE THE SANDWICH
Sliced tomatoes
Sliced Cucumber
Lettuce (optional)
Processed cheese slices: or any of your favorite cheese
Omelet
Bread slices: White bread is most popularly used in club sandwiches. You may use brown, rye, sourdough or whole wheat bread.
Butter or garlic butter to grill: gives a nice flavor and a beautiful golden crust
Toothpicks
HOW TO MAKE TANDOORI CLUB SANDWICH
Before you make this tandoori club sandwich, let me walk you through the steps.
1) HOW TO MAKE ROASTED GRILLED CHILI SAUCE
First, roast your green chilies, either in a frying pan or airfryer. I prefer airfryer most of the time.
Then throw all the sauce ingredients into your food processor and process till well combined and smooth
Keep aside
2) HOW TO MAKE TANDOORI CHICKEN BOTI
Marinate your chicken with seasonings for 15 minutes before cooking. You can marinate for longer if you have time. Marination gives you a soft, juicy and flavorful chicken.
Cook on high flame till done
Keep aside
3) HOW TO ASSEMBLE TANDOORI SANDWICH
Slice up you veggies
Line up the bread slices, stack the fillings, and grill to perfection!
WHEN CAN YOU SERVE CLUB SANDWICHES?
Road trips
Breakfast
Snack
Tea Time Snack
School lunch box item
Office lunch box item
Appetizer
Simply when you can't decide what to cook for dinner!
Parties
Potlucks (Yes! Using club sandwich quarters, you can even make a colorful and festive platter for parties and potlucks.)
Add Ons For Club Sandwiches
If your kids are picky, club sandwiches are a great way to hide away all the veggies – with all that flavor going around they won't even notice!
EGGS
Sliced Boiled Eggs
Whole fry egg
Omelette
VEGETABLES
Colorful cabbage
Onions
Bell peppers or sweet peppers
Beetroot
Avocado slices
Zucchini slices
Roasted sliced eggplant
CHEESE
Shredded or sliced mozzarella
Shredded or sliced Cheddar
Cumbled Goat Cheese
Gouda Cheese
Colby Jack Cheese
Emmental Cheese
Monterey Jack
OTHER
Bacon
Mushrooms
Turkey slices
Cooked turkey slices
Mortadella
Sliced sausages
Where can you find club sandwiches?
Chicken club sandwiches are quite popular almost everywhere these days.
Restaurants
Diners
Country clubs
Cafeterias
Hotels
Types of Club Sandwiches
Zinger club sandwiches
Paneer club sandwiches
Cheese club sandwiches
Vegetable club sandwiches
Tikka club sandwiches
Tuna club sandwich
German club sandwich
Classic BLT
TIPS FOR THE BEST CLUB SANDWICH
Don't rush the grilling process on the griddle. Remember, taking time and care with grilling the sandwich is the secret to a perfect golden crust and a crunchy bite.
Slice the cucumber and tomatoes as thinly as you can.
Use flavorful cheese.
Place fancy toothpicks for a prettier presentation
FREQUENTLY ASKED QUESTIONS
1) How many pieces does this recipe make?
This recipe makes four full club sandwiches, so 16 quarters.
2) What can I use instead of roasted green chili sauce?
If you are in a rush and don't want to make the roasted green chili sauce, just switch it up with any of these easy options:
| | | | | |
| --- | --- | --- | --- | --- |
| Mayonnaise | Mustard | Ketchup | Hollandaise Sauce | Garlic Aioli |
| Cheese Spread | Sriracha Sauce | Cream Cheese | White Sauce | Chipotle Sauce |
| Pesto | Labneh | Ranch | Butter | Pizza sauce |
3)What side dishes go with tandoori club sandwiches?
A side of baked French fries or cold potato salad and you have the perfect little meal right there.
Here are some other side dish ideas that you can try:
Tomato Soup
Potato Chips
Coleslaw
Baked Beans
Sweet Potato Fries
Macaroni Salad
Potato Soup
Green Salad
Onion Rings
Roasted Veggies
Pickles
Macaroni & Cheese
Chili
Potato Wedges
Mashed Potatoes
4) Can I make this sandwich using leftover tandoori chicken?
Yes, definitely. If you have cooked chicken boneless pieces, then you can use them as they are. If you have whole chicken pieces (with bone) you can shred them.
5) How to make a low calorie club sandwich?
Incase you want to enjoy a low calorie tandoori club sandwich, that tastes amazing but without the extra calories, use these tips:
| | |
| --- | --- |
| INSTEAD OF | FOR LOW CALORIE OPTIONS, USE |
| Regular white bread | Reduced Calorie bread |
| Roasted green chili sauce | Use non-fat mayonnaise and skip the olive oil |
| Cheddar Cheese slices | use non-fat cheddar cheese slices or skip the cheese |
| Butter for grilling | Grill on a non-stick griddle without butter |
6) How do I store club sandwiches?
This makes 4 chicken tandoori sandwiches, so 16 small triangles. I'd say you won't be left with leftovers, but if you do, just store in an air-tight box, and be sure to re-toast them. (I love using an electric toaster for reheating!)
7) Can I freeze club sandwiches?
This, I heard, IS possible, but I've never tried it. If you do, do let me know how to turns out!
8) Can I make this into a tandoori chicken panini?
Just leave the slice of bread that is in between the outer slices, and you've got a tandoori chicken panini!
9) Are club sandwiches served warm or cold?
They are mostly served warm, so toast before serving.
10) How can I prepare club sandwich in advance?
You can marinate or cook the chicken in advance and store it in an airtight container in the refrigerator. Let it come to room temperature before you assemble.
You can also prepare the sauce 2-3 days in advance
You can assemble the sandwich early in the day, and toast on a grill pan at time of serving.
11) What can I use instead of tandoori chicken?
Chicken tikka
Shredded chicken
Sausage,
Turkey
Kabab
Chicken burger patty
Zinger chicken
Grilled chicken
Check Out My Recent Posts
The best chicken tandoori club sandwich awaits you!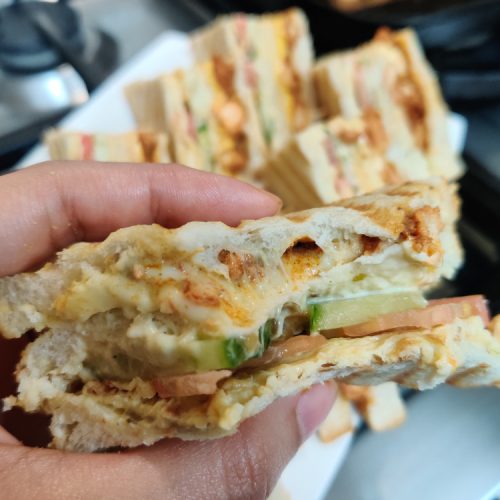 Tandoori Chicken Club Sandwich
If you love chicken tandoori, you're gonna go nuts over this tandoori chicken club sandwich. Crispy toasted bread, encasing spicy succulent tandoori chicken, creamy roasted green chili sauce, and fresh, crunchy veggies.
Ingredients  
FOR THE SAUCE
½

cup

mayonnaise

1

clove

of garlic, minced

3

large non-spicy green chilies

3

spicy green chilies

(reduce if preferred)

1

tablespoon

lemon juice

1

tablespoon

olive oil

Salt

to taste (you may not need it)

Freshly cracked pepper

(to taste)

¼

tsp

roasted and crushed cumin
FOR THE TANDOORI CHICKEN BOTI
300

grams

Chicken breast, boneless and skinless (or chicken tenders)

¼

tablespoon

Ginger garlic paste

2

tablespoons

Lemon juice

1

tablespoon

Kashmiri Red chili powder

(or to taste)

¼

teaspoon

Black pepper

¼

teaspoon

Whole spice powder

2

tablespoons

Oil

1

tablespoon

Yogurt

Orange-red food color

as desired
FOR OMELETTE
3

large

Eggs

Red pepper flakes

to taste

Salt

to taste

Black pepper

to taste

Oil

as needed
FOR ASSEMBLING
1-2

Cucumbers

sliced

1-2

Tomatoes

sliced

Cheddar Cheese Slices

Lettuce

(optional)

Butter

(for grilling)

12

White bread slices
Instructions 
To make tandoori chicken, chop chicken breast into very small pieces, and marinate with garlic paste, lemon juice, kashmiri red chili powder, black pepper, whole spice powder, oil and yogurt. Add orange-red color if desired. Leave for 15 minutes. Then on high flame, cook the chicken till done. Give coal smoke if desired.

To make the omelette, whisk 3 large eggs in a bowl. Season with red pepper flakes, salt and pepper to taste. Make 4 omelettes and keep aside.

To make the sauce, drizzle green chilies with oil and roast them in a frying pan, air fryer or oven, until browned. Stir as needed. If they splatter in a frying pan, cover with a lid. Once done, move to a food processor and blend with the remaining sauce ingredients.

To assemble, spread sauce on one slice of bread, top with chicken and a cheese slice, spread sauce on 2nd slice of bread and place over the cheese slice. On top of 2nd slice, spread sauce again and layer sliced tomatoes, cucumbers and cooked omelette. Spread sauce on 3rd slice of bread and top the sandwich.

To grill the sandwich, brush butter on a griddle at medium heat and place the sandwich. When golden and crisp, turn carefully and grill the other side. Move to a cutting board and cut each sandwich into 4 quarters. Secure with toothpicks or cocktail sticks. Serve hot.
chicken tandoori club sandwich # tandoori chicken club sandwich # tandoori chicken sandwich # tandoori club sandwich # pakistani style club sandwich # tandoori club sandwich shireen anwar # tandoori chicken panini # leftover tandoori chicken sandwich recipe # tandoori chicken sandwich recipe # chicken tandoori sandwich # pakistani club sandwich
---
---