Chicken Chapli Kababs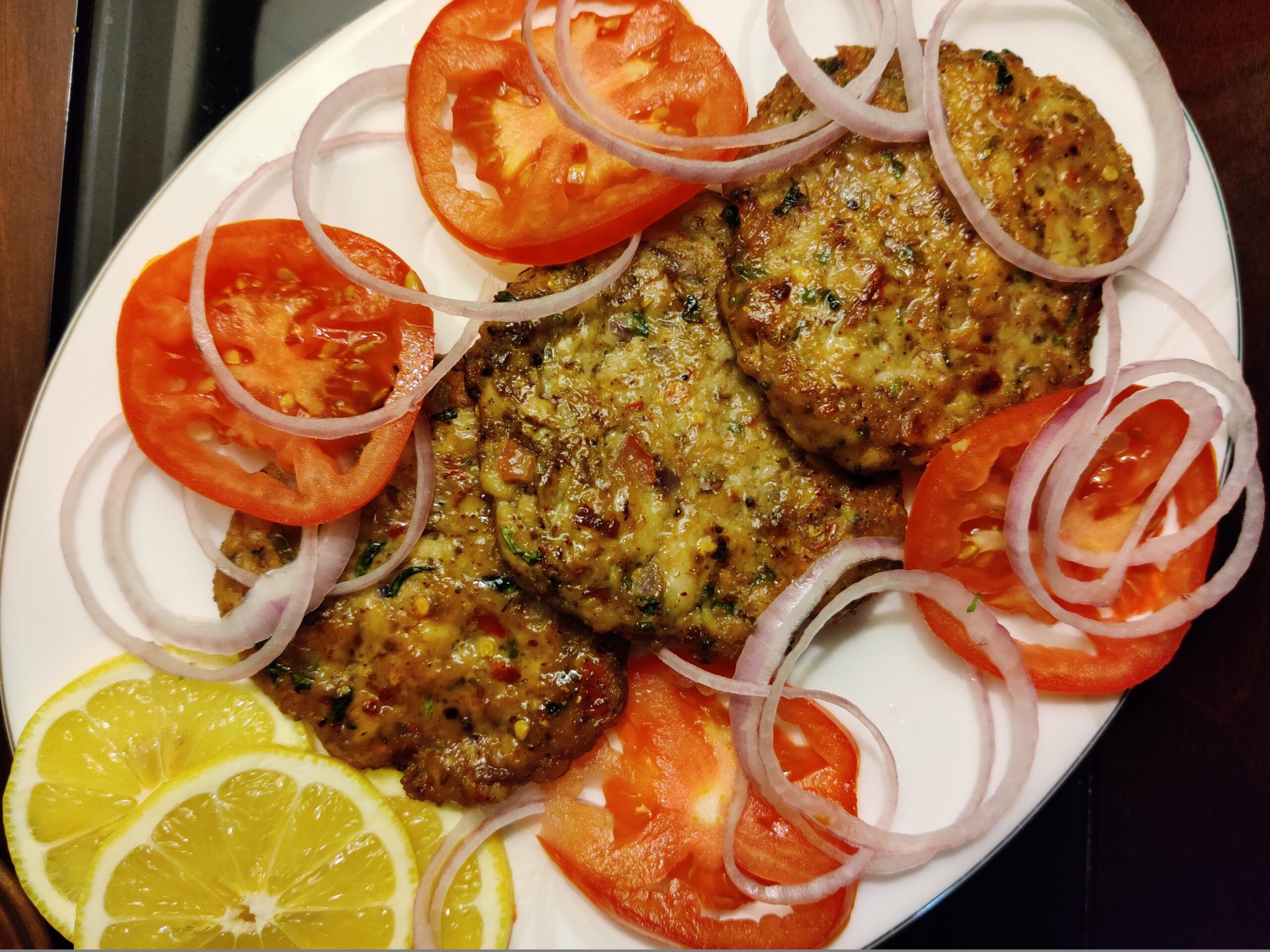 Juicy and tender, loaded with flavorful spices, these chicken chapli kababs are an all time favorite.
Chapli kababs are traditionally flat, round kababs and that is where they get their name from. A perfect chapli kabab should hold it's shape well, and still be juicy and tender.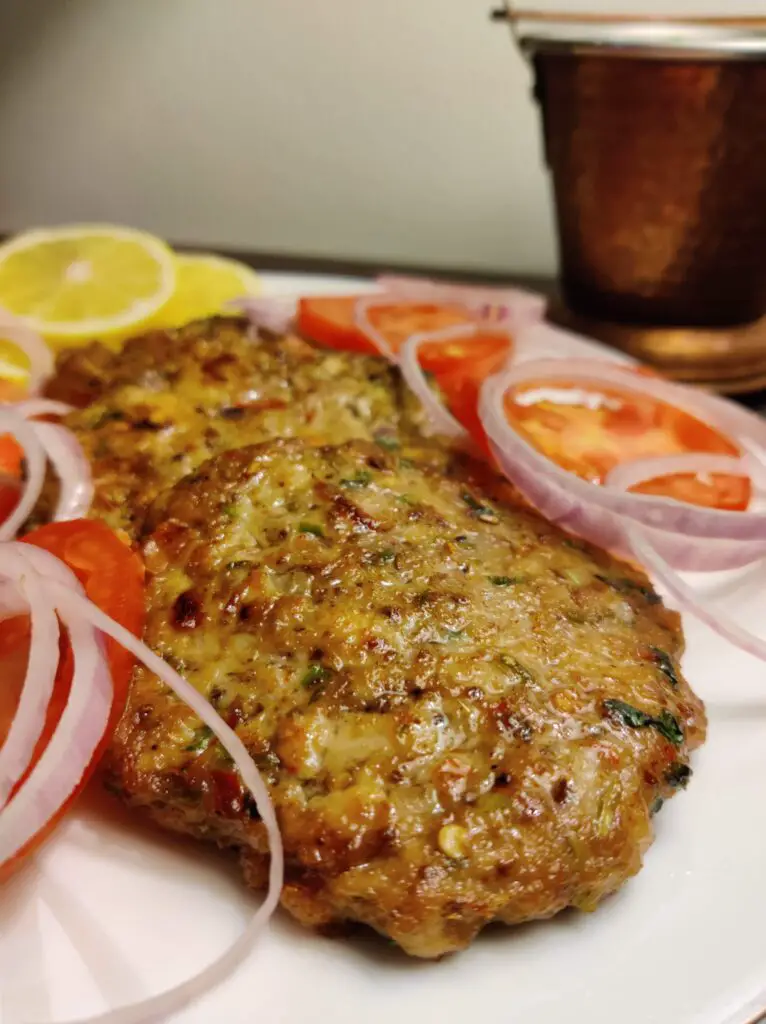 Best thing about kababs is that they are super quick to make (in terms of prep and cooking time, both).
You throw all the ingredients in one bowl, and just shape & fry!
How do I ensure juicy chapli kababs?
To make chicken kababs succulent, you have to take certain steps.
First off, try to use ground thigh chicken mince, which is more tender and flavorful compared to chicken breast mince. This is the secret to make any chicken kababs juicy.
Secondly, be extra cautious about the cooking time; taking them out within 7-9 minutes. Since chicken mince cooks pretty fast, any extra time will give you dry and stiff kababs, and no one likes that!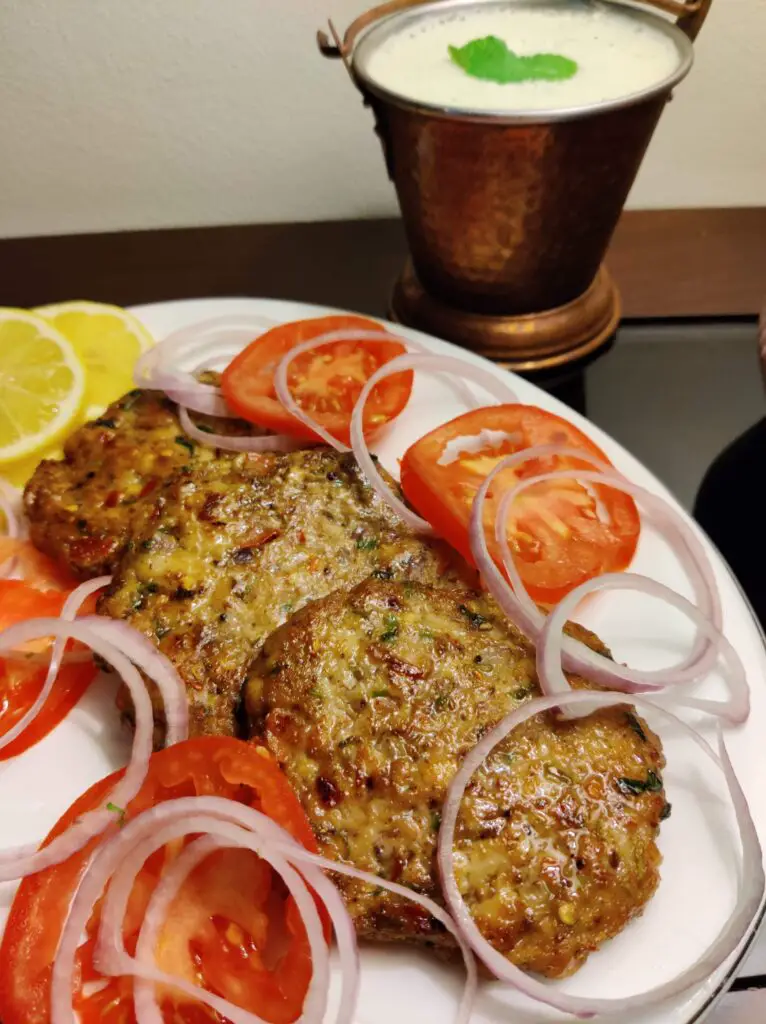 How and when can I serve chicken chapli kababs?
You can make them before-hand for parties and BBQs, serve them for a quick dinner, use them in sandwiches or desi style burgers, or just keep them for a rainy day.
I mostly serve them with parathas and yogurt dip (raita), and it's safe to say that is many people's most enjoyable combination.
How can I make these healthy?
You may brush the kababs with oil and pop them in the air-fryer or oven. You'll be getting the amazing flavors of the chicken chapli kababs without any extra calories.
You may also cook them on stove with just a brush of oil. That being said, I will warn you, the perfect kababs are shallow fried and that's what really makes them juicy.
If you are willing to compromise a little bit and go with the healthier option….I am proud of you!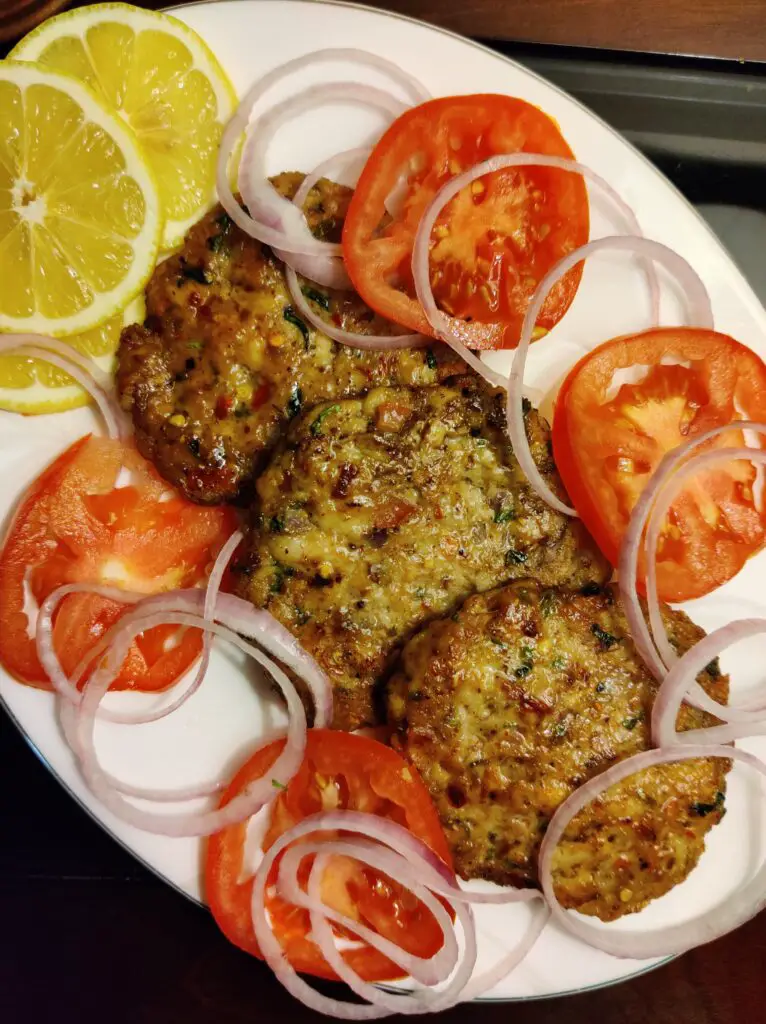 Can I use beef or mutton instead?
Yes, definitely. In fact, traditionally, chapli kababs are made of beef and/or lamb. Those tend to have a higher fat content compared to chicken, which gives them the tender, succulent texture; the uncompromisable trait of any perfect kabab.
Alsooo, I will soon be putting up a beef/lamb chapli kababs recipe for you guys 🙂 Till then try these amazing beef chapli kababs.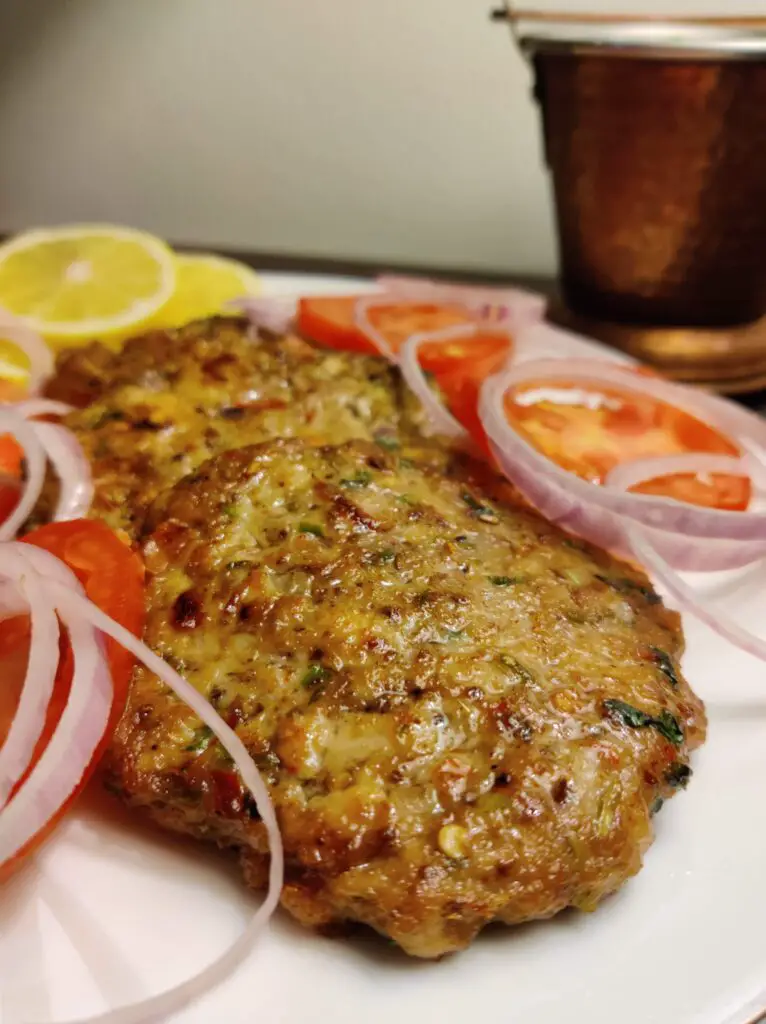 Can these chicken chapli kababs be frozen?
Absolutely. Once you shape them, place them onto a large (lightly oiled) tray with a little gap between each, cover with cling wrap and leave them in the freezer overnight.
In the morning, take the tray out of the freezer, let it thaw for just a minute, and using a butter knife take the kababs off. They should come off quite easily.
Next, quickly place them into a large airtight box, or a zip-lock bag, and back they go into the freezer. They keep well for 2 months in the freezer and you can take them out as needed.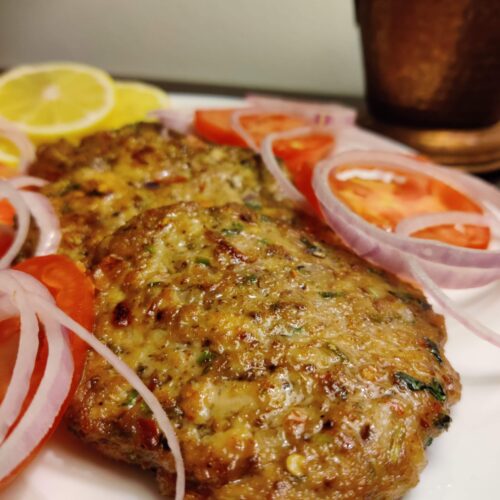 Chicken Chapli Kabab
Juicy and tender chicken chapli kababs that are exploding with flavor.
Ingredients  
½

kg

ground chicken

preferably thigh

1

tablespoon

heaped butter/ghee

1

tablespoon

ginger garlic paste

levelled

1/2

beaten egg

½

tablespoon

coriander

Roasted and crushed

½

tablespoon

cumin

Roasted and crushed

1½

tablespoons

red chili flakes

2

teaspoons

salt

or to taste

1

tablespoon

dried seeds of pomegranate (Anar dana)

Crushed or powdered

½

tablespoon

all spice powder

1½

tablespoon

mango powder

heaped

3-4

green chilies

chopped

1

tomato

small, chopped after removing seeds

½

small onion

chopped

¼

cup

fresh coriander leaves

chopped

¼

cup

fresh mint leaves

chopped

¼ cup + ½ tablespoon

tablespoon

corn flour

(add 1-2 tbsp more only if needed)

1/3

cup

canola oil (or other)

for frying
Instructions 
In a large bowl, add all the ingredients and mix really well. Marinate for 2 hours or overnight for more flavorful kababs. If you are in a rush, you may make the kabab patties immediately. If you are having trouble shaping the kababs, just place the mixture into the fridge for 30 minutes. Lightly oil your hands, shape a patties.

In a large frying pan, heat 6 tablespoons of oil (or as needed) for frying. Carefully place the kababs (3 or 4 at one time) in the frying pan. It is best to shape each patty and place directly into the pan, then shape another patty, place into the pan and so on.

On medium flame, cook for 5 minutes on one side and 2-4 minutes on the other side on.

Serve them with parathas, yogurt dip, sliced onions, tomatoes and lemon.
Notes
If your kababs are breaking, add another 1/2 tablespoon of corn flour.
You can fry them in a mix of ghee and oil for an even better flavor.
You may substitute roasted gram flour (besan) for cornflour.
Use fine chicken mince for this recipe. If your chicken mince in not fine, put it in a food processor/chopper and process it a couple of times.
Did you try this recipe?
I would love to know how it turned out for you! Leave me a comment below, and post a picture on Instagram with the hashtag #theovenist.
Looking for more recipes?
---
---