Sheesh Tawook By Shireen Anwar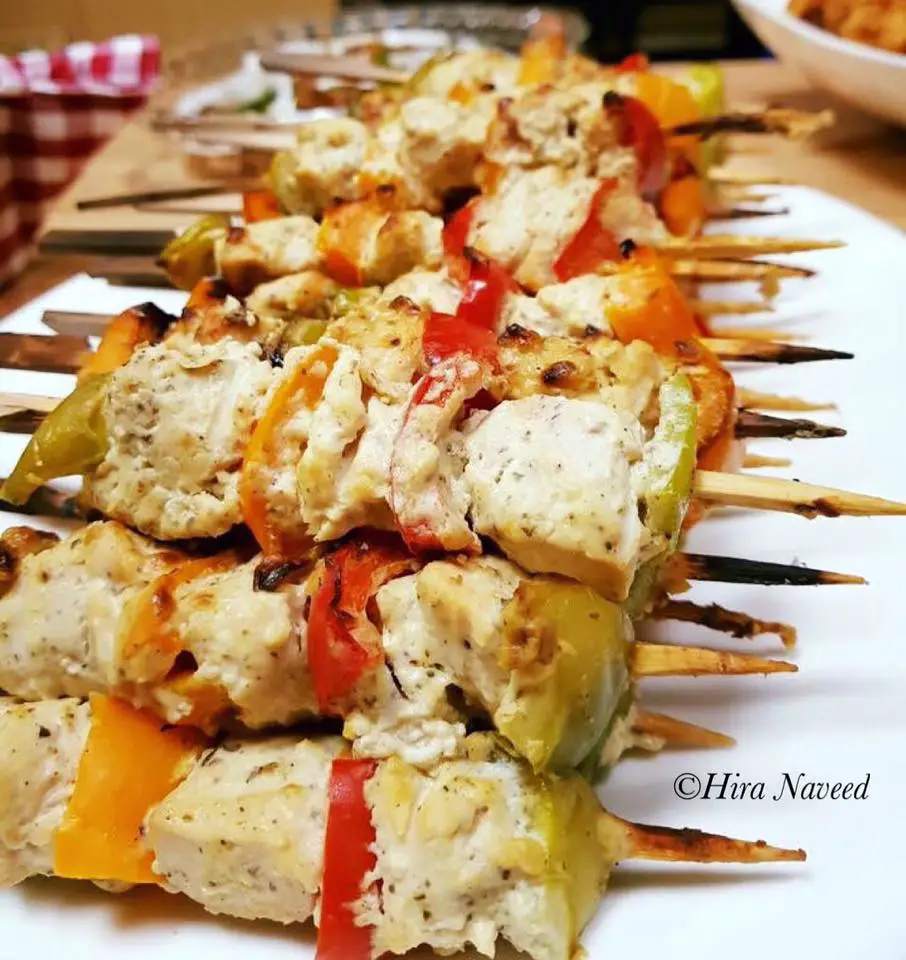 This recipe of Sheesh Tawook by Shireen Anwar consists of creamy, tender chicken pieces skewered with mixed bell peppers.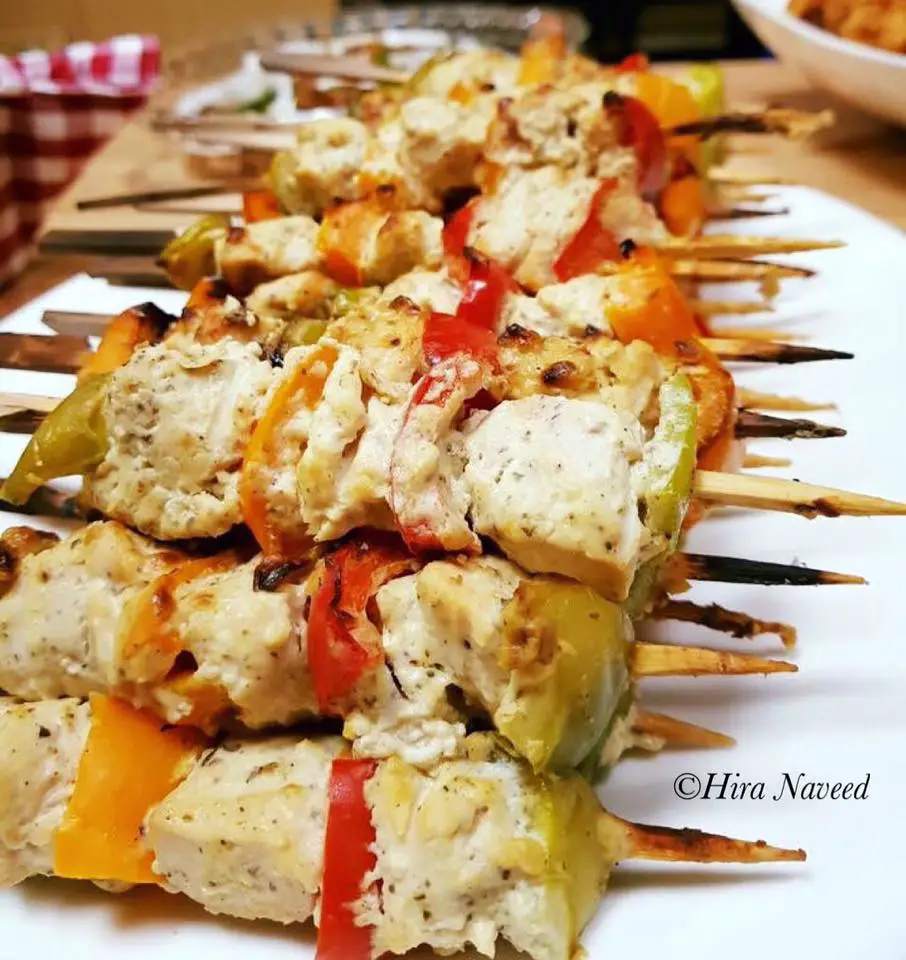 It has been my-go-to since so long, for a casual weekday dinner or as an appetizer for parties. It even makes an amazing item for BBQ outdoors.
What is sheesh Tawook?
The word "shish" means skewer, and "tawook/taouk" means chicken. These chicken skewers, popular in Middle East, contain chunks of tender chicken, which are marinated in yogurt, garlic, lemon and spices.
Is this a Lebanese Shish Taouk recipe?
I have to warn you though; Since this is a Pakistani recipe of Sheesh Tawook by Shireen Anwar, it is by no means the classic Lebanese sheesh tawook ( or shish taouk or shish tawook, however you guys like to spell it), but it's an amazing recipe nevertheless.
Why I love this Pakistani recipe of Sheesh Tawook
This version of sheesh tawook, although not original, has the perfect ratio of spices and creamy ingredients. Hence, the chicken pieces are super soft, tender and flavorful.
Skewered with colorful capsicum/bell peppers and onions, and grilled to perfection, this sheesh tawook looks quite presentable at the dinner table.
I have always loved this Sheesh Tawook recipe, for how quick, easy and perfect it is. And anyone who has eaten it or tried it can vouch for this!
Ingredients you need to make Sheesh Tawook By Shireen Anwar
FOR MARINATION
Chicken boneless cubes: I have used tender chicken breast in this recipe. If you use thigh boneless pieces, you will get the most juicy sheesh tawook ever!
Garlic paste : A must-add ingredient. Try to use freshly minced garlic or freshly made garlic paste.
White pepper: Seasoning
Mustard powder or mustard paste: any brand would do
Mayonnaise: For extra creamy richness
Thick Yogurt/Curd or Labneh : Gives flavor and acts as tenderizer, which also quickens the cooking process
Tahini sauce: Added for its flavor and creaminess.
Lemon juice : Gives flavor and acts as tenderizer
Salt : You can add this to taste
Dried oregano leaves
FOR SKEWERS:
How to make Sheesh Tawook By Shireen Anwar
Just two steps and your delicious sheesh tawook is ready!
Marinate chicken with all the ingredients for 2 hours. Overnight marination will give you an even tastier sheesh tawook! 🙂
Skewer the marinated chicken pieces with onion and bell peppers. And grill in oil!
You can give coal smoke if you like. This sheesh tawook recipe tastes great either way!
How long do I have to marinate Sheesh Tawook
It should go without saying that the longer you marinate, the more tender and flavorful the sheesh Tawook is going to be. But if you are reallyyyy in a rush, marinate for 30 minutes. Otherwise, minimum marination time is 2-4 hours. And it is best to marinate overnight.
And of course, marination makes this sheesh tawook recipe a perfect make-ahead one!
How long do I need to grill the Sheesh Tawook
Generally, because the yogurt and lemon juice act as tenderizers, the cooking process is fairly quick. Any where between 12-15 minutes. It is very important that you do not overcook the chicken.
Which pan should I use for grilling Sheesh Tawook?
While this recipe of Sheesh Tawook is best made for BBQs outdoors, you can also grill it in a grill-pan or even a normal frying pan. Whether you give it coal smoke when preparing indoors, is upto you.
Should I use metal skewers or wooden skewers?
There are two types of skewers you can use for sheesh tawook:
Metal: Metal skewers are reusable and are a better choice for meat that takes longer to cook.
Wooden/Bamboo: Wooden skewers need to be soaked for at least 20 minutes before chicken is skewered onto it to prevent them from burning or getting burnt woodchips in the chicken skewers.
Who is Shireen Anwar?
If you do not know already, she is one of the most popular Pakistani chefs, with her own cooking program on TV since as long as I can remember. She has been my mom's and my favorite chef since so many years! I have got plenty of foolproof recipes of hers in my collection.
Today, I decided to share one of her recipes with you. I selected this Sheesh Tawook recipe by Shireen Anwar because it's the easiest recipe ever!
Recipe of Sheesh Tawook By Shireen Anwar for 1 kg chicken
If you want to make shish tawook for 1 kg, just double the recipe. You can even half the recipe for a smaller quantity.
Is this sheesh tawook healthy?
Yes, can be. Here are some tips for a low-calorie, lower fat version of sheesh tawook:
Brush the sheesh tawook lightly with oil before cooking or baking. Or skip the oil all together.
Use Lite mayonnaise
Use low-fat or skimmed/non-fat yogurt
Serving Sheesh Tawook
Sheesh Tawook is best while its hot and fresh! You can serve it alone as an appetizer, with naan or steamed rice, or how it's done traditionally; with pita bread.
Storing leftover Sheesh Tawook
Place it in an airtight container to prevent drying out and keep refrigerated for upto 3 days.
What do I do with leftover Sheesh Tawook
If there are leftovers, you can serve them with salad, or even make a sandwich or wrap out of it!
Can I freeze sheesh tawook?
While I would not recommend freezing sheesh tawook once it is cooked, you can freeze it after marination (as meal-prep) and take it out whenever you need it. You will of course have to defrost it first if you want to place the chicken pieces onto skewers.
You can find the recipe of Sheesh Tawook by Shireen Anwar below: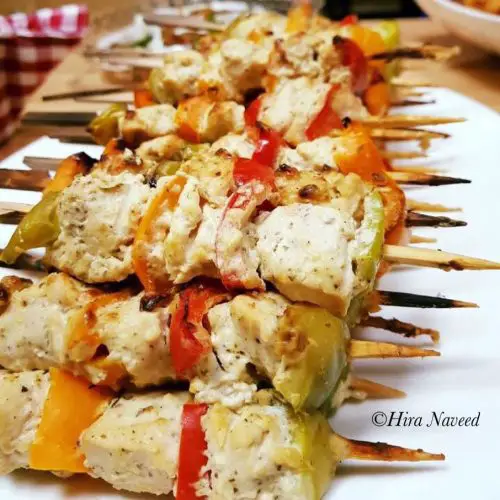 Sheesh Tawook By Shireen Anwar
This recipe of Sheesh Tawook by Shireen Anwar consists of creamy, tender chicken pieces skewered with mixed bell peppers. Easy, quick and extremely delicious!
Ingredients  
Mayonnaise 3 tbsp.

Labneh or thick yogurt/curd 3 tbsp.

Salt 1 tsp.

Oregano 1 tsp.

White pepper ½ tsp.

Tahini paste 2 tbsp.

Mustard powder or paste 1 tsp.

Garlic cloves 3 crushed or paste

Chicken cubes ½ kg

Lemon juice 2 tbsp.

Meat tenderizer 1 levelled tsp.

Oil as needed to cook and baste
Instructions 
Marinate chicken with all the ingredients for 4 hours or overnight.

Place the chicken pieces on skewers, alternating with bell peppers and onion.

Heat some oil in a grill pan/frying pan and cook for 12-15 minutes. Change sides halfway. Do not over cook.

If you want to give it coal smoke, put it in a pan then put a burning coal on a foil in the pan; drop some oil on it and cover.

Serve hot with naan, pita bread or rice.
Notes
Cooking in the oven: You can even bake the sheesh tawook in the oven at 200c for 30 minutes.
Did you try this recipe?
I would love to know how it turned out for you. Leave a comment below and post a picture on Instagram with the hashtag #theovenist.
You may also like:
#sheesh tawook by shireen anwar #shish tawook by shireen anwar #sheesh tawook recipe #pakistani recipe #pakistani #shireen anwar # chicken boti recipe #marinate #marination #samina jalil #recipe #easy #quick #sheesh tawook recipe #masala tv #neels corner #theovenist #shish taouk
---
---