Dark Chocolate Cake with Dark Chocolate Sour Cream Frosting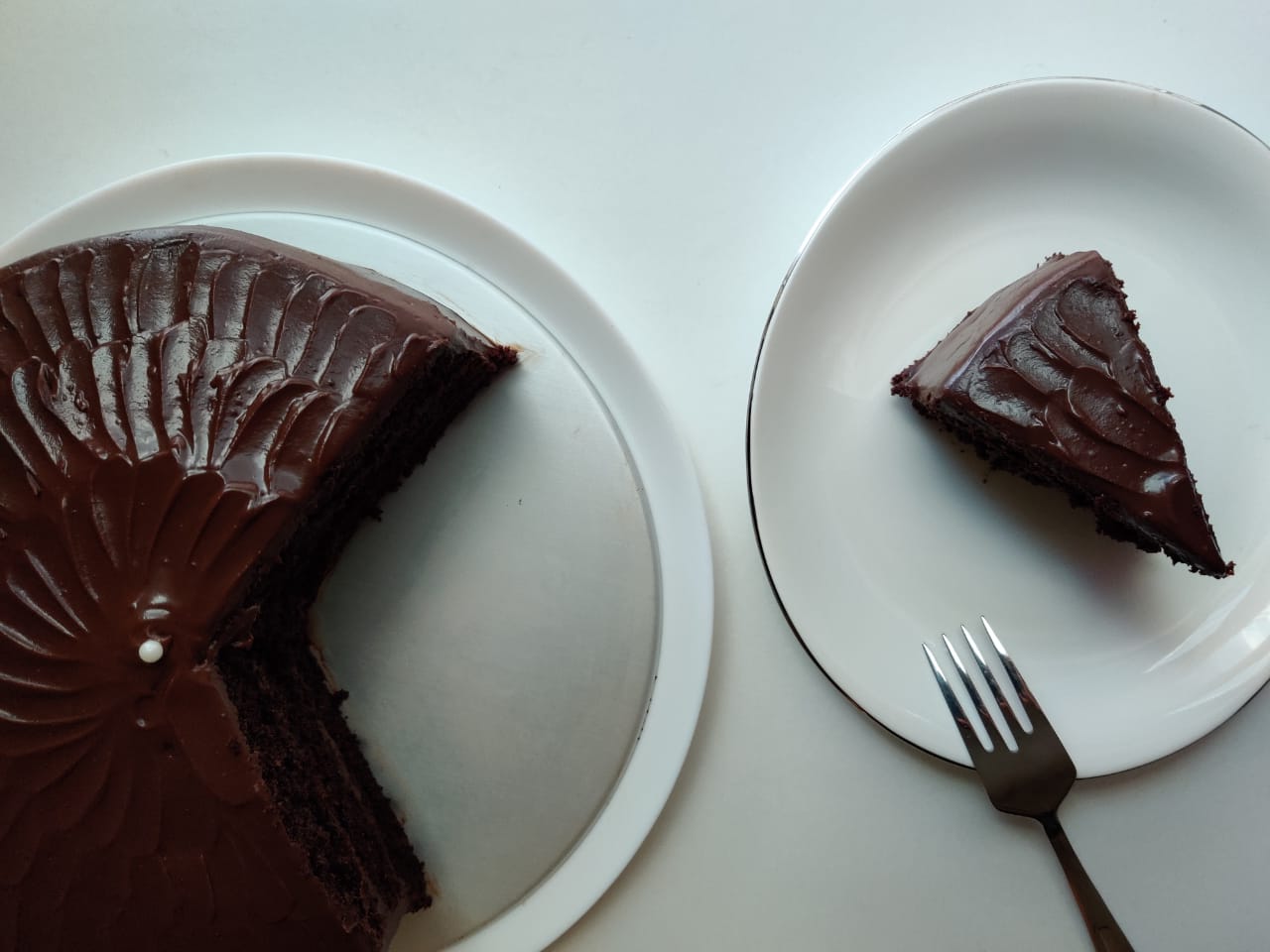 Irresistibly moist and incredibly easy, this dark chocolate cake wins hearts at the very first bite.
My brother was requesting for a dark chocolate cake for quite some time. So, over the weekend, I finally decided to make it only to realize that I did not have dark chocolate on hand. I did, however, have semi-sweet chocolate chips and dark cocoa powder.
I went in the kitchen, and whipped up this super easy chocolate cake and slathered it in a silky-smooth chocolate frosting.
The result was an irresistibly moist chocolate cake, that won hearts at the first bite and was quick to disappear.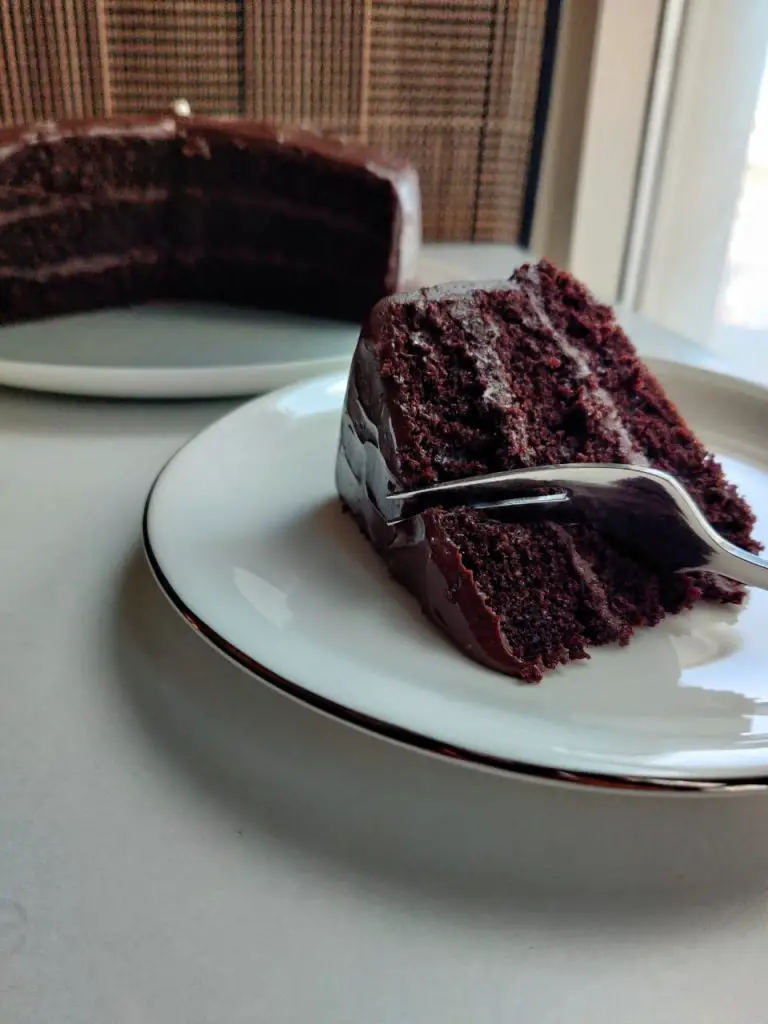 How do I make this dark chocolate cake?
The process? PRETTY SIMPLE!
1) Mix the dry ingredients in one bowl, the wet ingredients in another.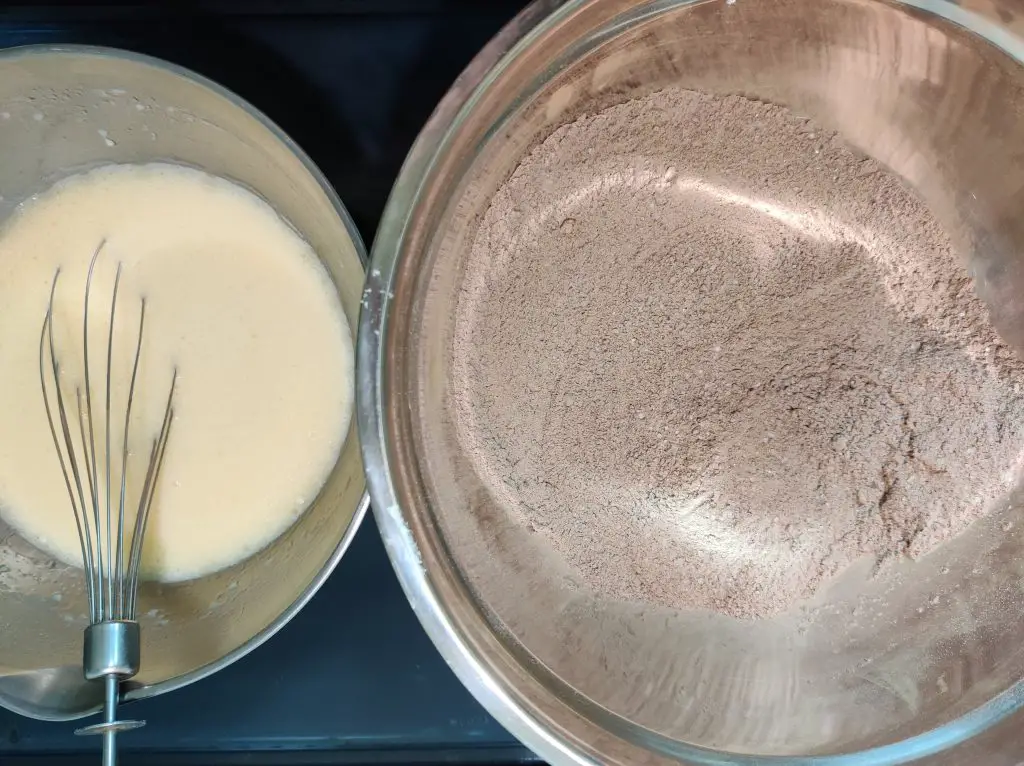 2) Dump the wet ingredients into the dry ingredients.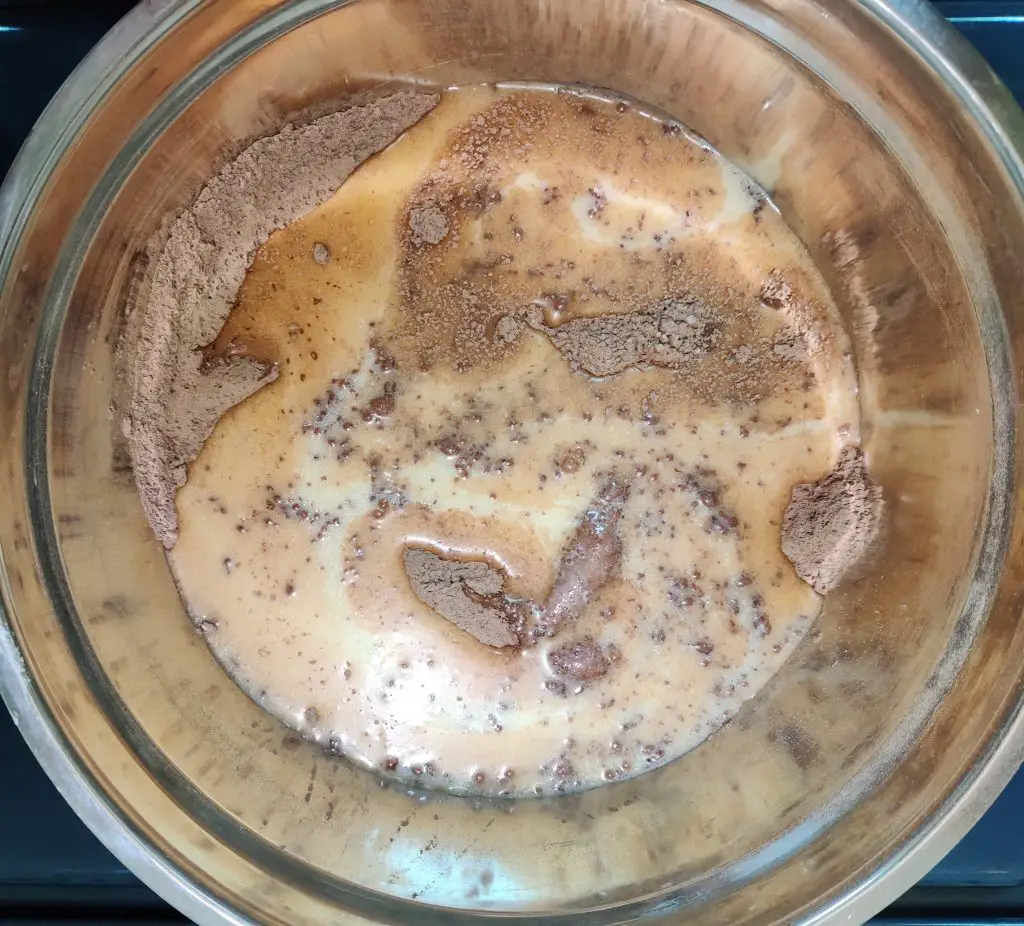 3) Give it a good whisk. Add boiling water, whisk again.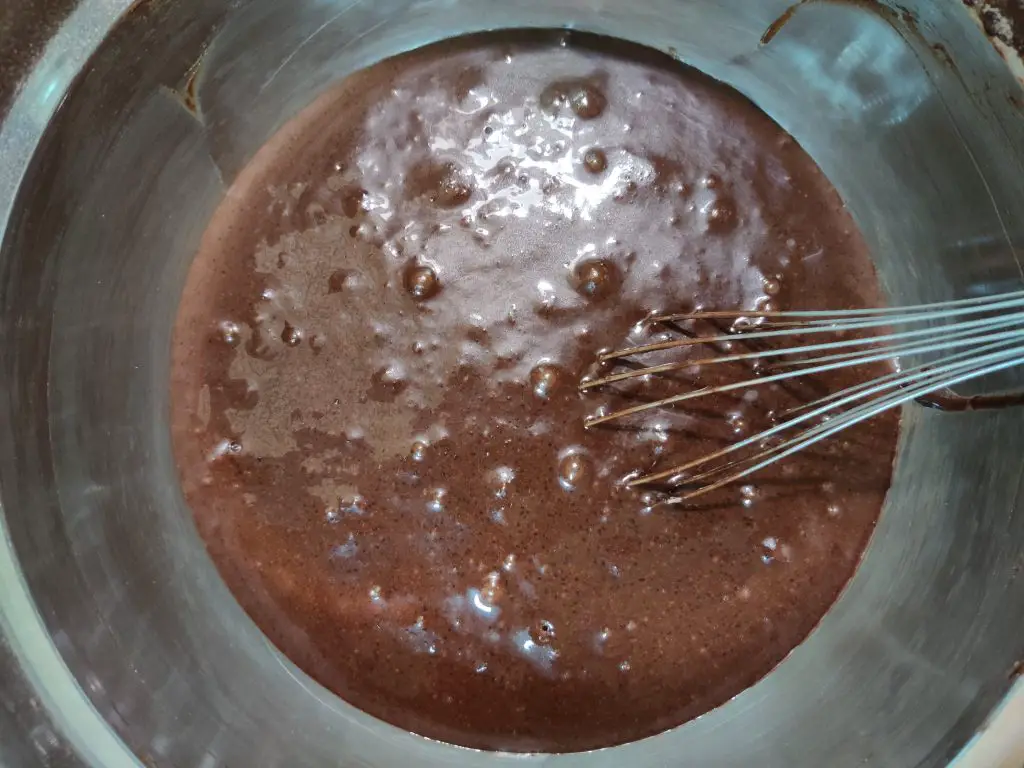 4) And in the oven they go!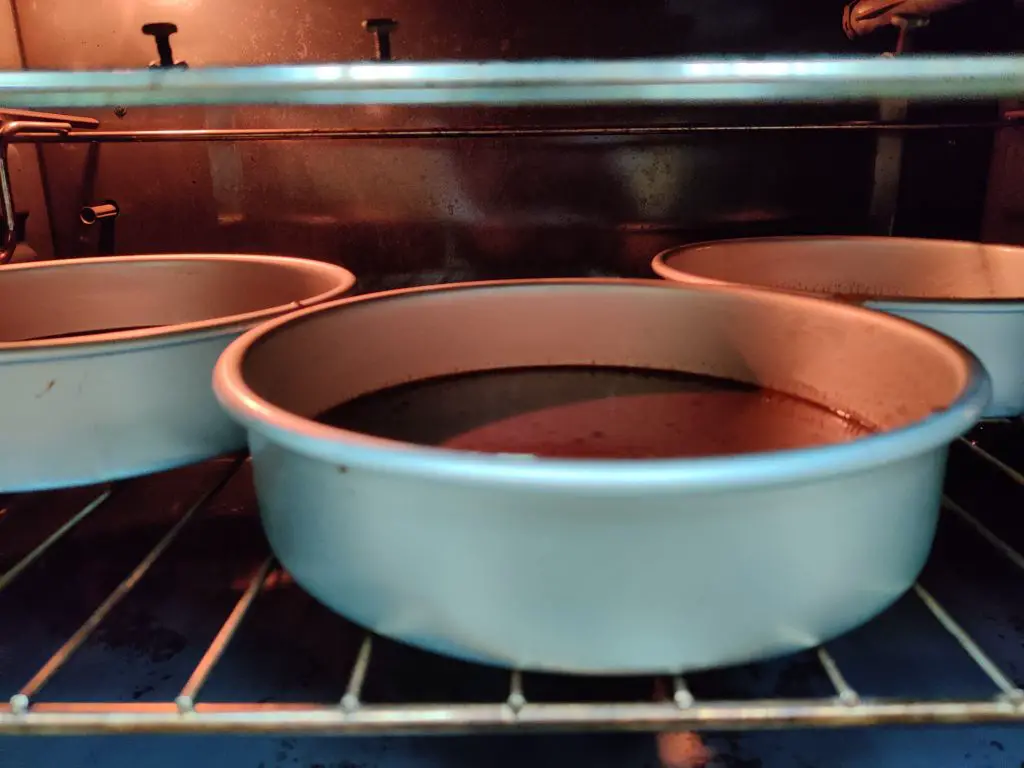 I apologize to you guys for not putting in the step-by-step pictures for the dark chocolate frosting, it completely slipped my mind. But here's how the cake looked.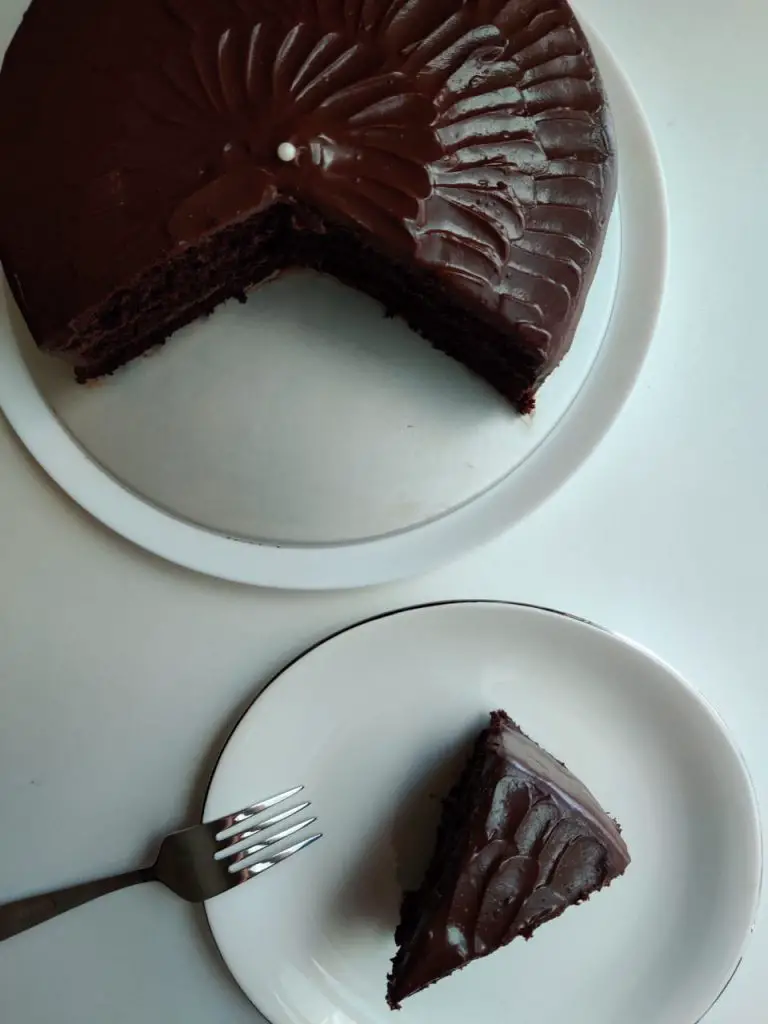 I threw in some chili powder and instant coffee for an extra kick. Don't worry, they accentuate the chocolate flavors but you don't even feel they're there.
Is this chocolate cake bitter?
No, it is NOT bitter like dark chocolate. I kept the sweetness just right, because while I (and my brother) can easily devour a dark, daaaark chocolate cake, I had to keep in mind the other family members who don't fancy bitter flavors like we do.
What if I do not have dark cocoa powder?
No problem. My recipe calls for a mix of equal amounts of dark cocoa powder and Hershey's cocoa powder.
But, you can swap out the dark cocoa powder for Hershey's cocoa powder and it will still turn out to be an EPIC cake. Just be sure to reduce the sugar to 2 cups (410g) and you'll be good to go!
Recipe in cups
While I always prefer to weigh the ingredients in baking recipes, I am providing this recipe in cups and spoons as I understand not everyone has a weighing scale on hand.
FOR THE DARK CHOCOLATE CAKE
2 cups Flour 242 gm.
5 tbsp Dark cocoa 37 g
5 tbsp. Simple Cocoa 37gm
2 cups .Sugar 425gm ¼ teaspoon red chili powder
1 tablespoon Instant coffee ( used Nescafe)
1 teaspoon Fine Salt
1½ teaspoon Baking soda
2 teaspoons Baking powder
1 cup milk
2 large eggs
¾ cup canola oil
2 teaspoons vanilla extract
1 cup boiling water
FOR THE DARK CHOCOLATE SOUR CREAM FROSTING
2 cups .363 grams semi-sweet chocolate chips
1 1/2 cup . 396 grams sour cream
¼ teaspoon vanilla essence
Pinch of salt
Pinch of baking soda
⅓ cup icing sugar
⅓ cup heavy whipping cream
3½ tablespoons dark cocoa powder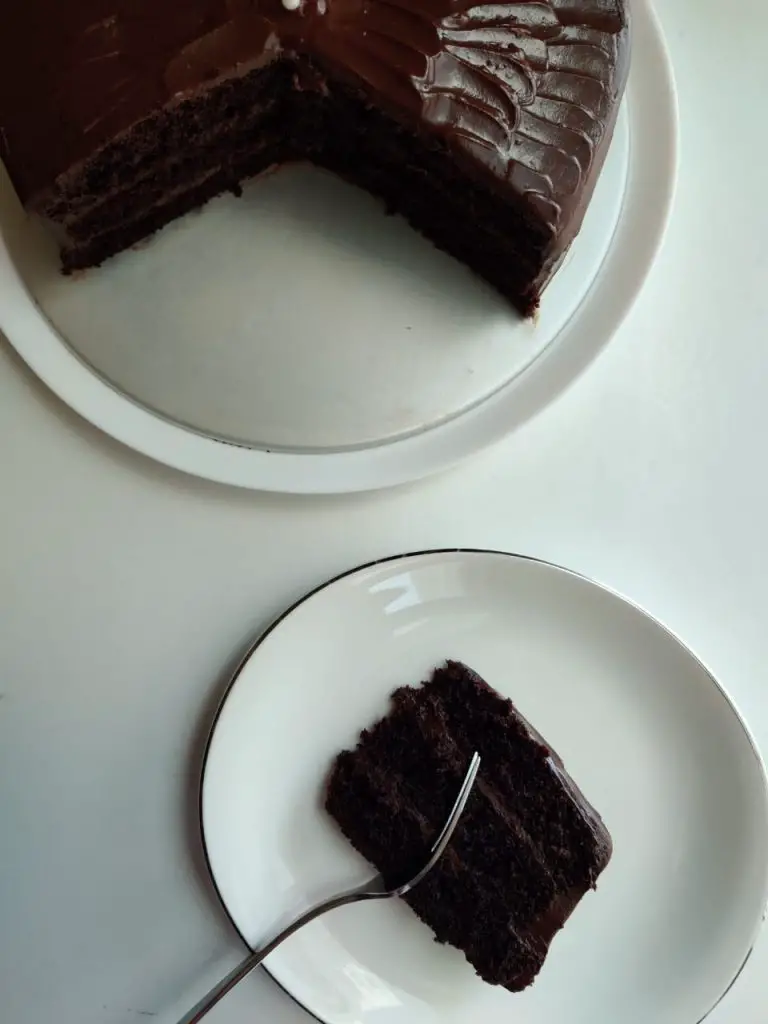 This dark chocolate cake recipe is a keeper, I guarantee you!
We enjoyed every bit of this cake. The question is, when will you?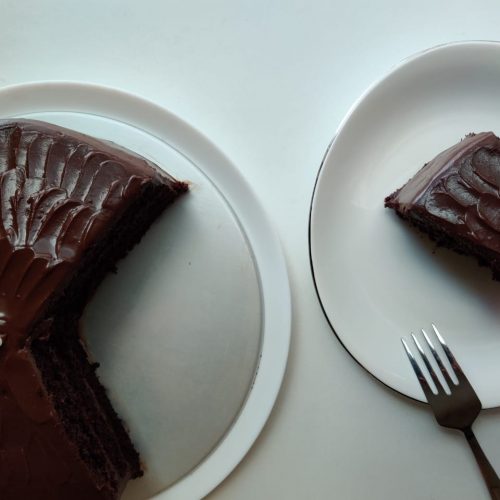 Dark Chocolate Cake With Dark Chocolate Sour Cream Frosting
Irresistibly moist chocolate cake that wins hearts at the first bite.
Ingredients  
FOR THE DARK CHOCOLATE CAKE
242

grams

All-purpose Flour

37

grams

Hershey's Cocoa Powder

37

grams

Dark Cocoa Powder

425

grams

Sugar

1

tablespoon

Instant coffee

( used Nescafe)

1

teaspoon

Fine Salt

1½

teaspoon

Baking soda

2

teaspoons

Baking powder

1

cup

milk

2

large

eggs

¾

cup

canola oil

2

teaspoons

vanilla extract

1

cup

boiling water

¼

teaspoon

red chili powder
FOR THE DARK CHOCOLATE SOUR CREAM FROSTING
363

grams

semi-sweet chocolate chips

396

grams

sour cream

¼

teaspoon

vanilla essence

Pinch

of

salt

Pinch

of

baking soda

⅓

cup

icing sugar

⅓

cup

heavy whipping cream

3½

tablespoons

dark cocoa powder
Instructions 
FOR THE DARK CHOCOLATE CAKE
Preheat oven to 180°c. Butter and flour four 8-inch pans and line the bottom with parchment paper. (See notes)

In a large bowl, whisk together the dry ingredients.

In a medium bowl, whisk together the wet ingredients except boiling water.

Pour the wet ingredients into the dry ingredients and whisk until combined. Add 1 cup of boiling water to it and whisk again. Adding water will thin out your batter. That is alright.

Bake in the oven for 30 minutes, or until a toothpick inserted into the center of the cake comes out clear. It might take more or less time depending on your oven.

Remove cakes from the oven, let cook for 2 minutes, run a butter knife along the sides to loosen the cake and invert carefully onto a wire rack. Let cool before frosting the cakes.
FOR THE DARK CHOCOLATE FROSTING
In a double-boiler, add the chocolate and cream and stir till all the chocolate has melted and the mixture is smooth.

Remove the bowl from the stove, and whisk in sour cream and vanilla.

Next, sift icing sugar and cocoa powder into the bowl. Lastly mix in salt and baking soda. Cover with cling wrap and keep it the fridge just until the consistency becomes spreadable. This took me only around 10 minutes.

Spread the frosting between the layers and around the sides and top of cake.

Serve at room-temperature or cold.
Notes
I baked four 8-inch layers, and only used 3 layers for the frosted cake. If you wan't thicker layers, you can divide the batter between two or three 8-inch layers. 
My family does not like too much frosting, so I used minimal frosting (little more than 1/2 cup) between the layers and used the rest to frost the sides and top of the cake. If you would like to use more, just double the frosting ingredients
Be careful while inverting the cakes and layering to prevent breaking, as this is a pretty moist and soft cake.
You can use sugar syrup between the layers to further increase the moistness. This helps especially if you are making the cake a day or two in advance, as it prevents the cake from drying out in the fridge. I did not use a sugar syrup as I prepared the cake at night and served it the next afternoon.
I prefer to serve this dark chocolate cake at room temperature.
Did you try this cake?
I would love to know how it turned out for you! Leave me a comment and post a picture on Instagram with the hashtag #theovenist.
More Cakes For You To Try! 🙂
---
---