Dark Chocolate Walnut Brownie Cupcakes with Crackly Tops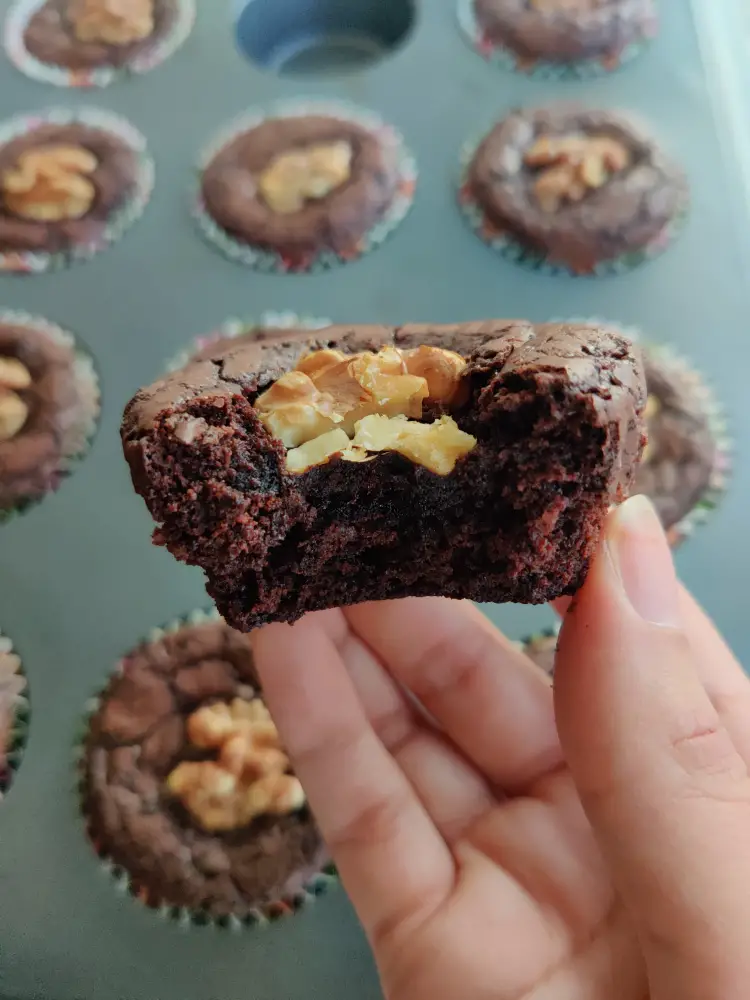 Super easy recipe of Dark Chocolate Walnut Brownie Cupcakes with crackly tops! Almost impossible to mess up, can easily be doubled, and tested to perfection! Made using dark cocoa powder and dark chocolate, topped with crunchy toasted walnut halves, this recipe is hands-down the best!
I can not even begin to count the number of times I have made this recipe. It is so easy that I have taught it to my little cousins just recently. It comes together in a jiffy and never, ever disappoints.
If you loved my dark chocolate cake and super moist dark chocolate banana bread, then you are sure to love this one!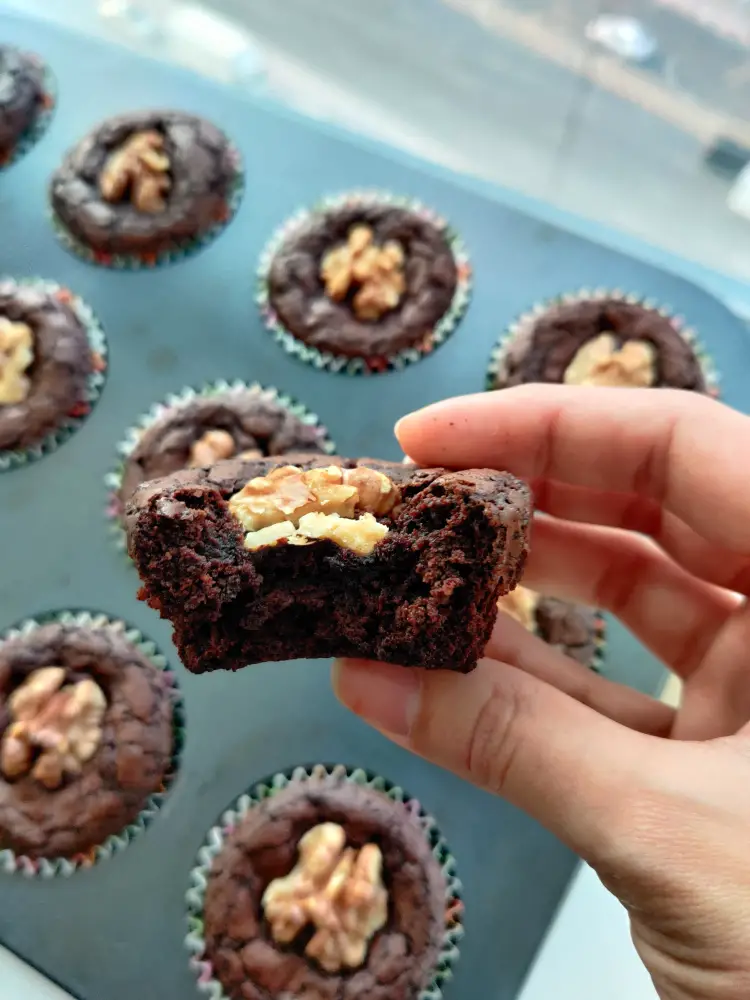 I really don't know why it took me forever to share this recipe with you guys.
It should have been among the first ones I posted up here, because of how perfect it is.
What makes an awesome dark chocolate walnut brownie cupcake? Using BOTH, dark chocolate and dark cocoa powder.
These little cups of heaven are super fudgy, nicely chewy and oh-so chocolatey!
From a shiny, crackly top, to fudgy centers, and chewy sides, it's everything a brownie cupcake should be. You could easily eat 2 in a go…or 3..4…(not pointing fingers).
With a rich, fudgy mouthfeel, intense dark chocolate goodness, they are so hard to not love.
These homemade chocolate walnut brownie cupcakes will be your new best friend.
And so will I, if you try it 🙂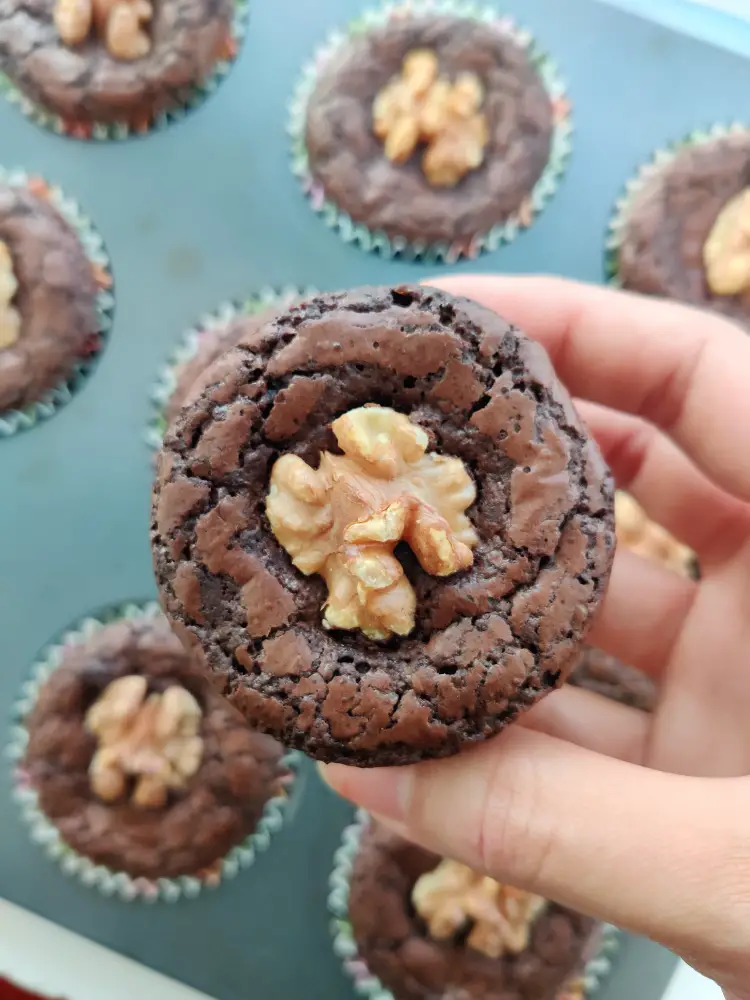 What are chocolate brownie cupcakes?
When you want mini brownie versions for easy picking and no-cutting, brownie cupcakes are your saviour. Cutting brownies can be tricky and messy, so you get to skip that part with these little cups of heaven. Two classic favorites paired together in perfect harmony.
What makes these the best dark chocolate walnut brownie cupcakes
The quickest ever recipe of brownie: no kidding! Active prep time in under 10 minutes! Almost as simple as a box-mix but sooo much better.
So easy that even your little ones can help you throw a batch together.
So so delicious that you will always find your self coming back to this recipe; a keeper I swear!
It's dark, intensely rich chocolate flavor but nothing bitter
Has those signature perfect crackly tops that must tick any brownie recipe.
Has just the right amount of soft to chewy ratio (so important for me!)
Everyone, and I mean everyone, loves it!
Incredibly forgiving recipe
One bowl recipe! Wait, don't hold me to that- I do use a smaller separate bowl to melt my butter and chocolate 😛
Let's jump right into the recipe, shall we!
Easy Chocolate Brownie Cupcakes Ingredients
Sugar: I use either fine granulated sugar or caster sugar. If you have regular granulated sugar, just pulse it for some seconds in a food processor. I have even made this recipe with homemade powdered sugar.
Eggs: 2 large eggs! Not medium, not small! Room temperature is good but I never pre-plan. I just use them directly from the fridge, doesn't really make a difference considering the steps required in this recipe.
Butter: We all know butter tastes a gazillion times better than oil, hence this recipe only uses butter! If you have salted butter, just skip the salt.
Dark chocolate: Use any of your favorite baking chocolate, not regular chocolate!
All-purpose flour: Either weigh the flour or use the spoon and level method. We don't want gloopy brownies, and we don't want dry cakey brownies. This recipe has just the right amount of flour to keep it fudgy!
Dark cocoa powder: My personal favorite is Hintz Fine Dark Cocoa Powder. Any good quality dark cocoa powder will fit right into this recipe. Hershey's Special Dark Dutch-Processed Cocoa Powder is also an excellent option.
Regular cocoa powder: I used Cadbury, easily found in supermarkets all over UAE. Any unsweetened cocoa powder will do.
Salt: Just regular table salt to balance out the sweetness and bring out the flavors.
Vanilla extract: If you use pure vanilla extract, that is best. But I often use vanilla powder or vanilla essence, still turns out perfect!
Walnut halves: No need to toast if you are only using it just for the tops of each brownie cupcake, like I do. If you want to mix chopped walnuts into the batter, you will probably get a better flavor by toasting them a bit beforehand.
Now lets mosey onto the method.
HOW TO MAKE DARK CHOCOLATE WALNUT BROWNIE CUPCAKES
Making brownie cupcakes from scratch is super easy!
Step 1: Heat the oven and prepare your cupcake tray with cupcake liners.
Step 2: Melt together your butter and dark chocolate in a microwave-safe bowl.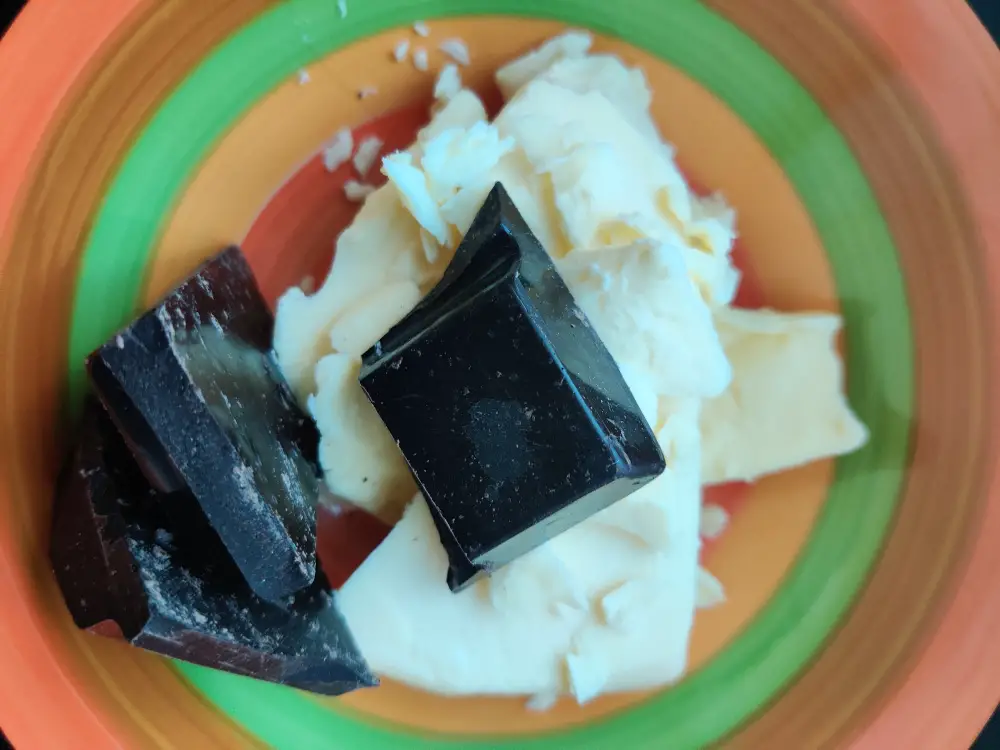 Meanwhile, beat sugar and eggs.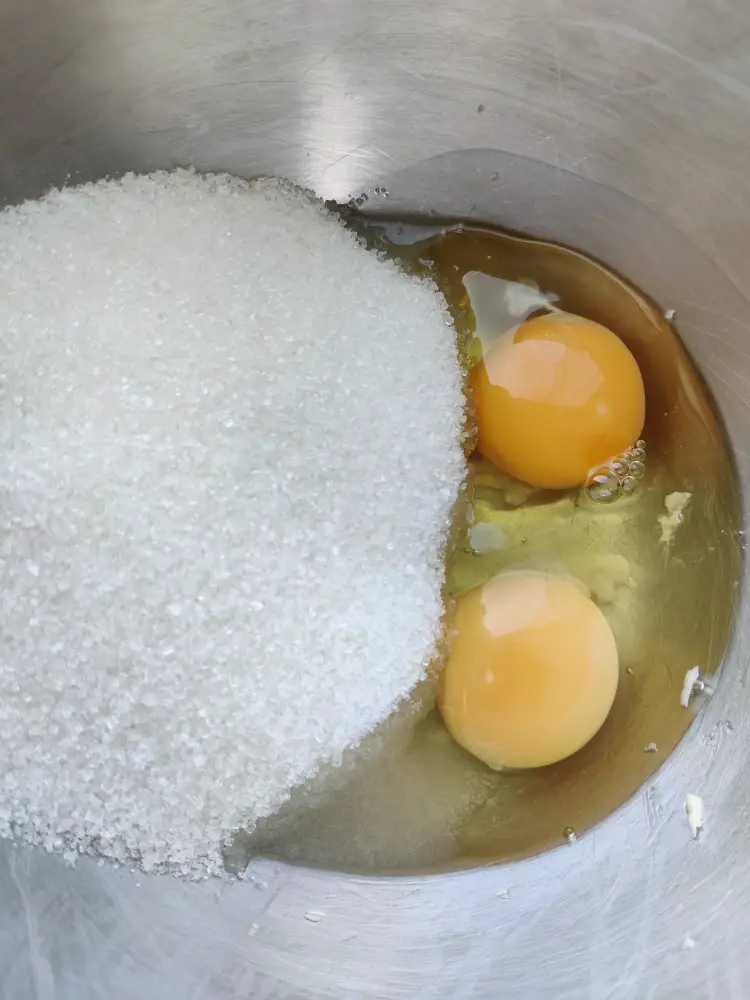 Till they look like this.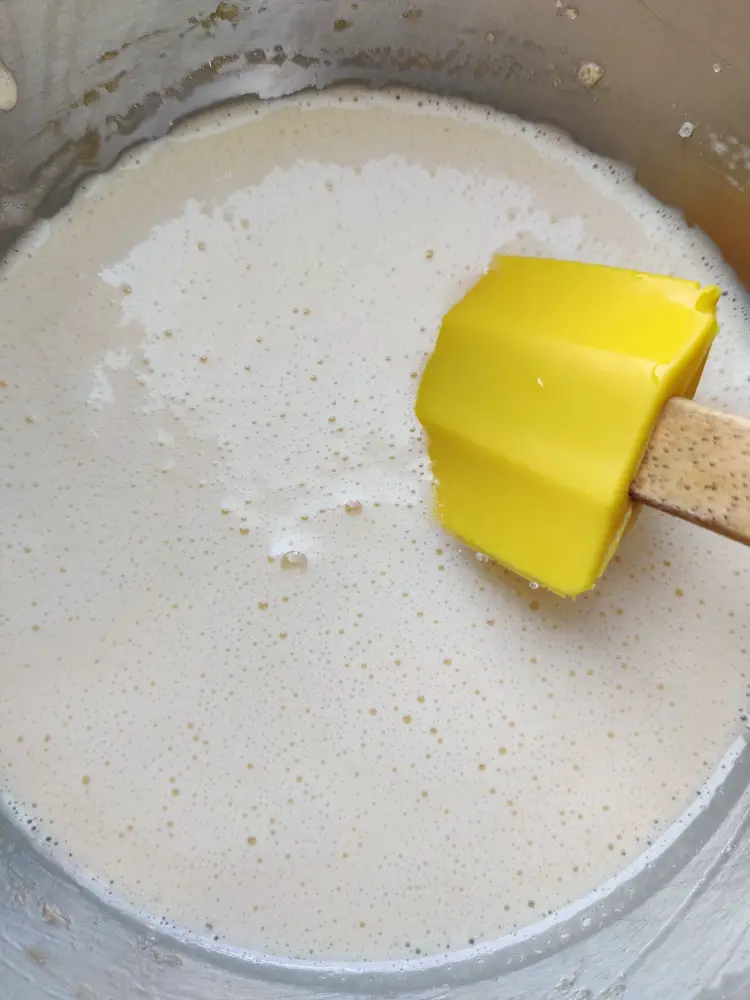 Step 3: Add the melted butter-chocolate mixture and vanilla and sift in the dry ingredients.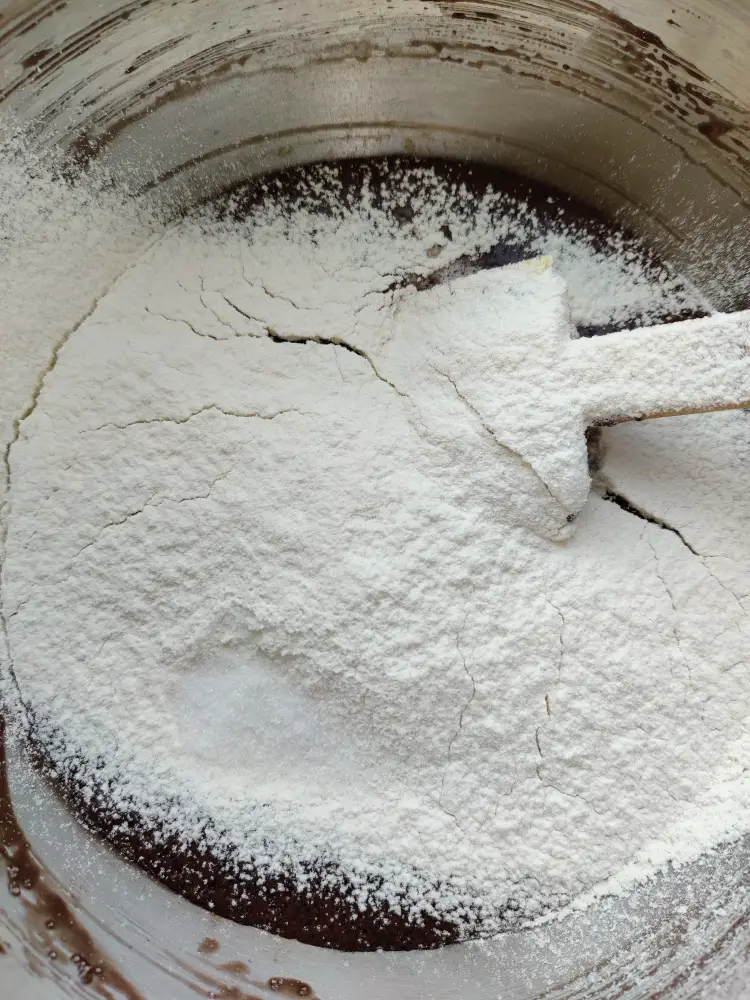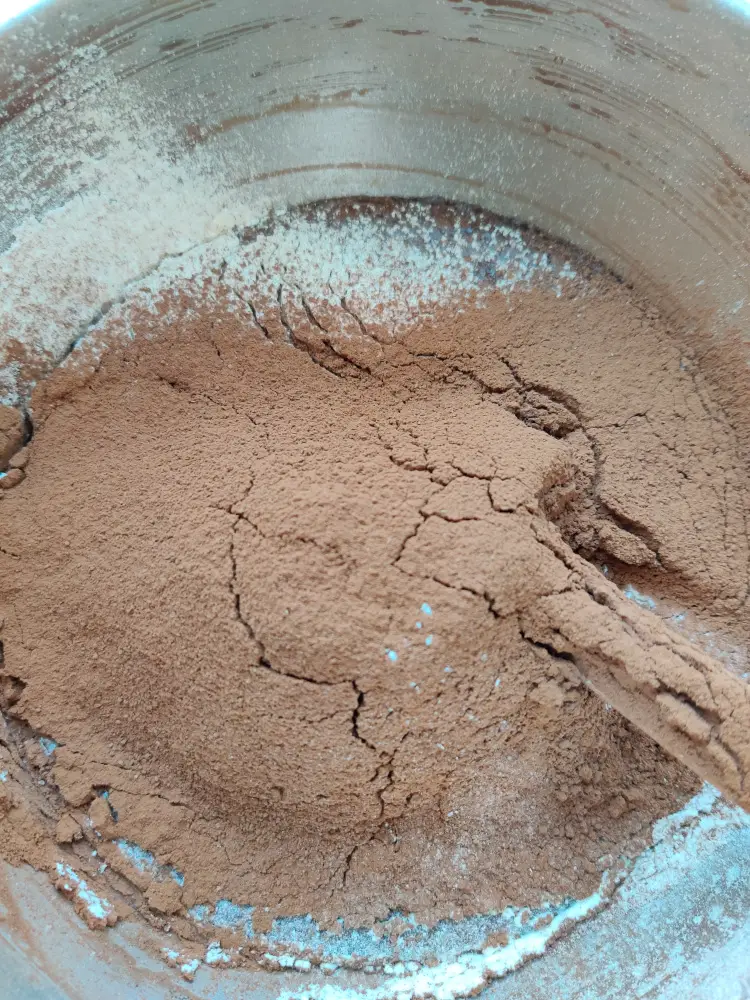 The batter should look like this.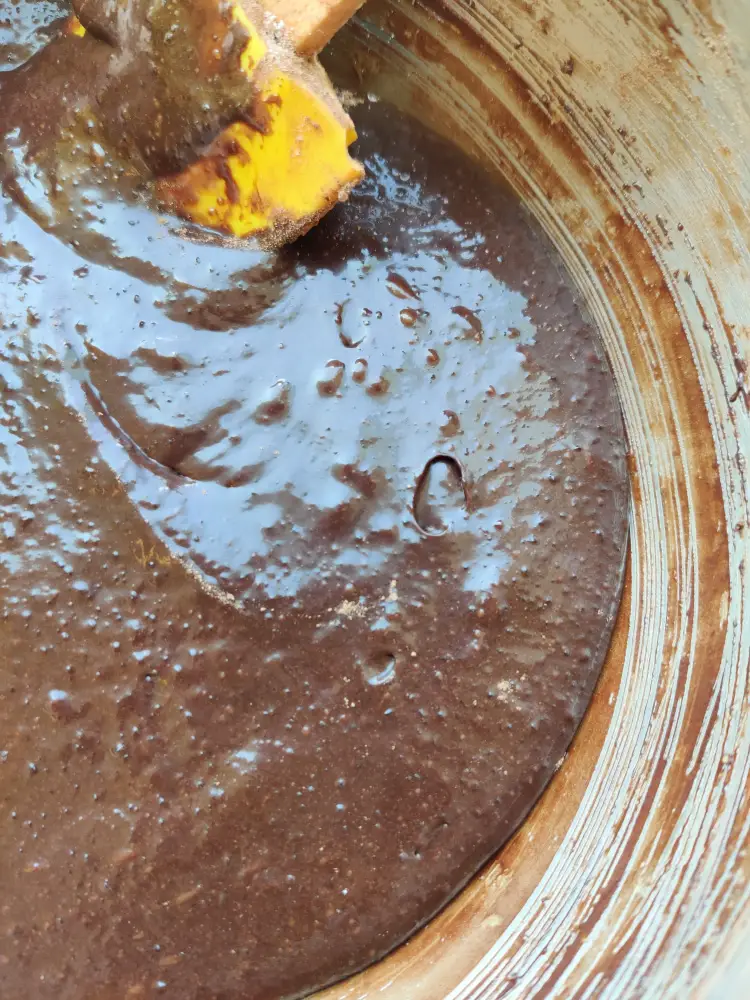 And it's ready to pop in the oven!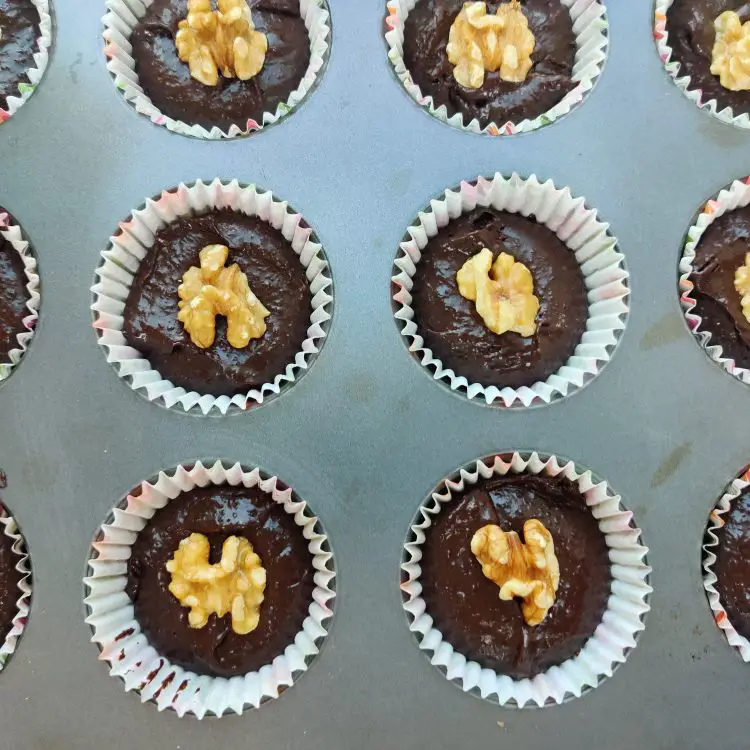 THAT'S IT! There you go – dark chocolate walnut brownie cupcakes with crackly tops! I love having these when they are freshly baked, just out of the oven (even if it means I burn my palate a bit).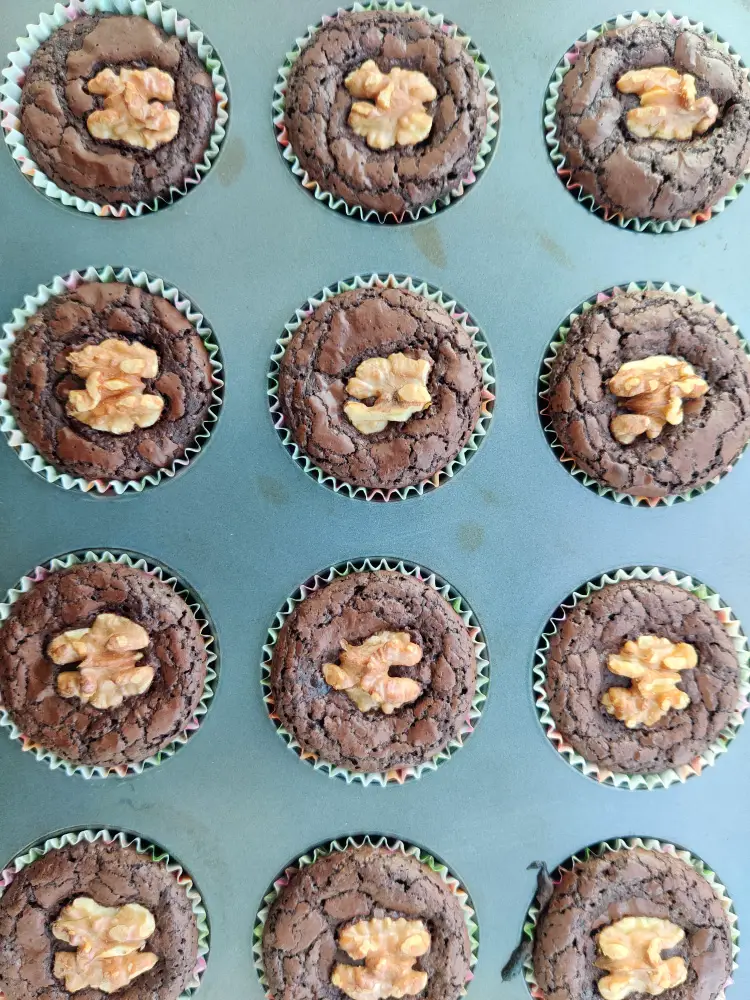 From your taste buds to your family…everybody will be giving you stamps of approval. I'm 99.5% sure of it.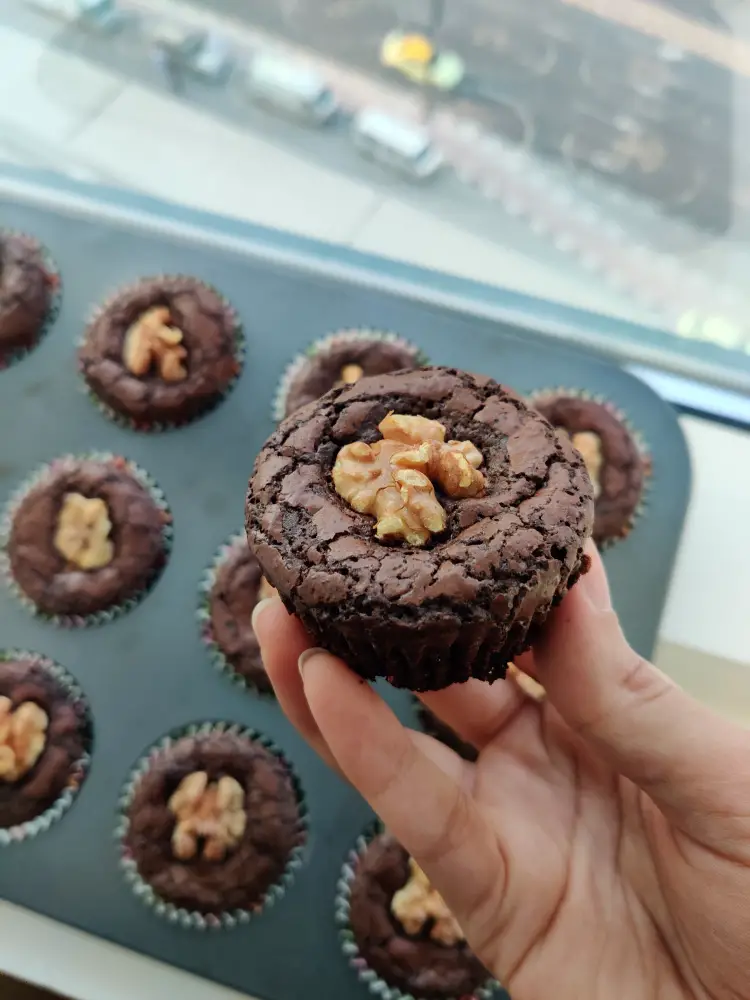 HOW TO TELL WHEN CHOCOLATE BROWNIE CUPCAKES ARE DONE
Insert a toothpick in a brownie cupcake that is in the center of the pan and then take it out. If it comes out clean, it is done- cooked through. If it comes out with some gooey crumbs, that's okay!
But be careful not to over bake. You are supposed to take these brownies from the oven just when the center is set. Do the toothpick test after 15 minutes, then after 17 minutes, then 20 minutes, and so on till you get the desired result.
TIPS FOR THE PERFECT BROWNIE CUPCAKES
Dark Chocolate: Use the baking chocolate or cooking chocolate that you find in the baking aisle of the supermarket. NOT the regular chocolate in chocolate section.
Beating the eggs and sugar together: The most important step of this recipe! Take your time and beat on high speed for 3-4 minutes before you go on with the recipe.
Weight your ingredients: Weighing your ingredients makes it almost impossible to get any recipe wrong! Using a kitchen scale for baking is highly recommended over measuring by cups. It takes the guess work out of the recipe because a gram will always be a gram, but a cup won't always measure out to be the same. And the difference… does make a difference!
Measuring dry ingredients: If not using a weighing scale, use the spoon and level method to measure out your flour and cocoa powder. To measure by cup, simply spoon the flour into your (1/2) measuring cup and level it off with a flat edge such as the back of a knife. Please don't shake it or pack it down into the cup and don't scoop directly from the flour bag or container, because this could leave you with more flour than required in the recipe.
Use good quality cocoa powder and dark chocolate: which is the secret to the ultra chocolatey brownie cupcakes. This will determine whether your brownie cupcakes are utterly decadent or not.
Sift the dry ingredients: Make sure to sift the dry ingredients for a lump-free batter.
Don't over bake! Don't underbake! It's still better to take it out slightly undone, than overbaking and getting a dry, way too chewy brownie.
HOW TO ENSURE FUDGY BROWNIE CUPCAKES
Recipes that use cocoa powder, less flour and more fat (like butter in this case) do result in a fudgy brownie. Here are some more tips to get a fudgy brownie cupcake:
Melting the butter and chocolate together enhances the fudgy texture and creates shiny crackly tops.
Adding extra flour or mixing too much after adding the flour, both result in the opposite of a fudgy brownie!
Don't overbake. (With my memory and occupied mind with a 6-months old clingy baby, I tend to roam near the oven till they're done 😛) I suggest you start checking your brownies a little before the baking time is up. You can start testing with a toothpick after15 minutes.
Beat sugar and eggs very well.
CAN I USE REGULAR UNSWEETENED COCOA POWDER?
You may, it will still give you really good results, just not as intensely chocolatey.
YOU MAY ALSO LIKE
ARE THESE DOUBLE CHOCOLATE BROWNIE CUPCAKES?
Yesss! This recipe includes dark cocoa powder and dark chocolate, making these brownie cupcakes double chocolate. This also means every little bite is loaded with flavor that your taste buds will forever cherish.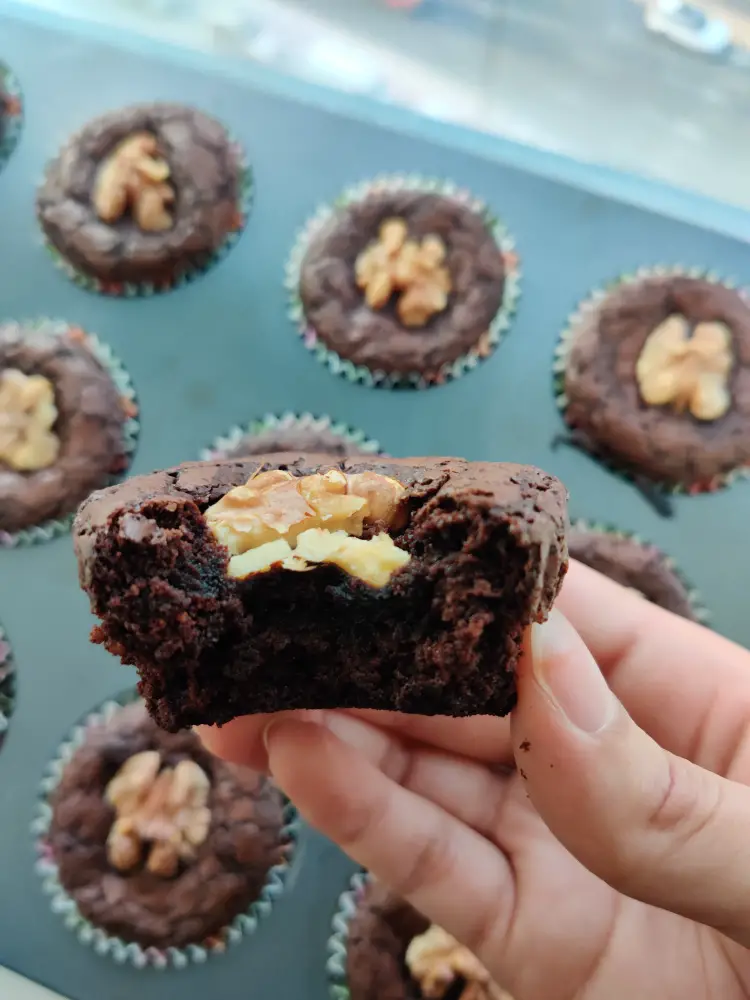 BEST ADD ONS FOR CHOCOLATE BROWNIE CUPCAKES
CHOCOLATE CHIPS
To really take your brownies a whole level ahead, you can add chocolate chunks, which not only give little molten pockets of silky oozing chocolate as you bite into it, but also add greatly to fudginess and moistness! Chips are also a great option but are more likely to hold their shape and add a slight bite to your brownie cupcake.
| | | |
| --- | --- | --- |
| Mini Chocolate Chips | Caramel Chips | White Chocolate Chips |
| Cinnamon Chips | Peanut Butter Chips | Milk Chocolate Chunks |
| Dark Chocolate Chips | Dark Chocolate Chunks | Semi-Sweet Chocolate Chips |
CRUNCHY NUTS
What kind of nuts can be used in brownies, you ask?
So I know not everybody enjoys nuts in their brownies, but I love, love them! It's the perfect contrasting texture to fudgy-ness of these cupcakes. But yes, brownies are amazing either way- nuts or no-nuts.
The crunch, especially of toasted walnuts is to die for. Slightly toasting the nuts intensify their natural flavor and enhance their texture. Also, don't forget to throw some on the top (maybe even press down a bit into the batter) for an extra appealing appearance. Nothing more beautiful than a studded brownie cupcake!
Walnuts
Macadamia
Peanuts
Candied nuts
Pecans
(next best option!)
Almonds
Pistachios
Salted nuts
Brazil nuts
Hazelnuts
Cashews
Combination
Some nut options you can add atop or mix into the brownie batter.
OTHER ADD ONS
| | | |
| --- | --- | --- |
| Mini Reese's | Edible Cookie Dough | M&Ms |
| Oreo Chunks | Kitkat Chunks | Cacao nibs |
HOW DO I STORE DARK CHOCOLATE WALNUT BROWNIE CUPCAKES
Pop them in an airtight container or a good-quality zip-lock bag and you are good to go. You can store them at room temperature for 3-4 days, or refrigerator for up to a week (but only if it's really hot where you live), and freezer till you die. Just kidding. But you know what I mean 🙂
Personally, I do not like storing them in the fridge. And frankly, they vanish the day they are baked. However, freezer brownie stash is perfect when you need a quick chocolate fix.
Some of my other similar reader-favorite recipes are fudgy chocolate brownies and chocolate chip walnut blondies. You can even try a quicker box mix recipe of cream cheese oreo brownies!
How to serve walnut brownie cupcakes?
You can serve it as a
Snack (any time, any day!)
Office Lunch Box Item
Kids' Lunch Box Item
Potluck Item
Dessert (Make it fancy topping it with a scoop of vanilla ice cream and drizzling warm fudge sauce)
What can I serve brownie cupcakes with?
Nutella!
Ice cream
Chocolate fudge sauce
Caramel Sauce
Dollop of whipped cream
Cream cheese frosting
Cup of coffee or milk
A little dusting of powdered sugar
Frosting of your choice (These cupcakes are great without frosting though)
Ready to make DARK CHOCOLATE WALNUT BROWNIE CUPCAKES with crackly tops you've been dreaming about? Ready to kick-start your week with unforgettable brownies!?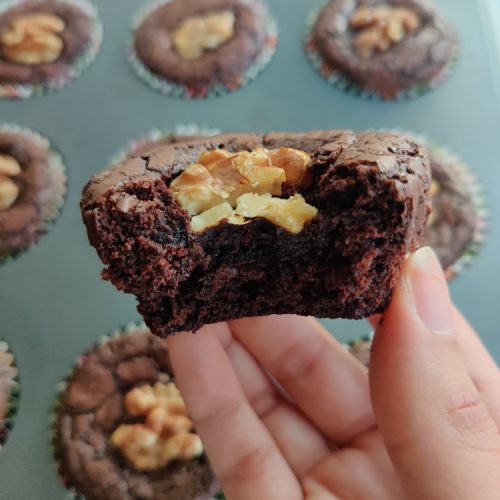 Dark Chocolate Walnut Brownie Cupcakes with Crackly Tops
Super easy recipe of Dark Chocolate Walnut Brownie Cupcakes with crackly tops! Almost impossible to mess up, can easily be doubled, and tested to perfection! Made using dark cocoa powder and dark chocolate, topped with a crunchy toasted walnut halve, this recipe is hands-down the best!
Ingredients  
1¼

cups

fine granulated sugar or caster sugar

(250 grams)

2

large

eggs

60

grams

dark chocolate

100

grams

unsalted butter

½

cup

all-purpose flour

(60 grams)

½

cup

dark cocoa powder

(35 grams)

¼

cup

regular unsweetened cocoa (I used cadbury)

(15 grams)

½

teaspoon

table salt

1

teaspoon

vanilla extract

12

walnut halves

(for tops)
Instructions 
Preheat oven to 350°F (175°C). Line a 12 cup cupcake pan with cupcake liners and set aside.

Melt chocolate and butter in a small microwave-safe bowl. You can microwave them together in 15 second intervals, mixing thoroughly after each interval just till melted and combined. Let it cool a bit till it's warm or room temperature (it should only take a minute or two if you don't heat the mixture too much in the microwave.

Meanwhile, place sugar and eggs in a medium sized bowl. Using a hand-mixer, beat sugar and eggs on high speed till light in color and heavy (around 3 minutes).

Now, add the melted butter-chocolate mixture to the sugar-egg mixture along with vanilla extract. No need to mix.

Sift the dry ingredients into the wet ingredients ( all purpose flour, salt and cocoa powder).

Using a rubber spatula, stir JUST till combined. Do NOT over mix!

Evenly scoop the batter into the prepared cupcake liners either using an ice-cream scoop or regular tablespoon.

Bake for 25 minutes, or just until toothpick comes out clean. Baking time may differ a bit depending on your oven.
Notes
THE COCOA POWDER
You can use only one type of cocoa powder if you like if you do not want to combine dark and regular unsweetened cocoa powder.
STORING BROWNIES
Pop them in an airtight container or a good-quality zip-lock bag. You can store them like this at room temperature for 3-4 days, or refrigerator for up to a week (but only if it's really hot where you live), and freezer till a couple of months.
MAKE AHEAD INSTUCTIONS
You can definitely prepare a batch a day or so in advance. In fact they taste even better the next day.
REHEATING
If you want to reheat these brownie cupcakes, you can easily microwave them in 10 second increments, up to 30 second.
FREEZING BROWNIE CUPCAKES
Once the brownie cupcakes are cool completely, just wrap each cupcake tightly with a cling wrap and place in a zip-lock bag or airtight container. You can freeze brownies for up to 3 months.  Thaw them overnight in the fridge, and then bring to room temp before serving.
FREQUENTLY ASKED QUESTIONS
CAN I SKIP THE WALNUTS IN THIS RECIPE?
Sure thing! You'll still get irresistibly good brownie cupcakes.
WHAT IF I DON'T HAVE CUPCAKE LINERS?
You can bake these in a cupcake pan without the liners, just be sure to grease the cups really well. Cool completely before removing from pan, and use a butter knife to loosen the sides.
Can I make a regular brownie in a pan using this recipe?
I have, and I can definitely recommend it. Use a square (8 inch) or rectangular pan.
HOW DO I ENSURE A CRACKLY TOP?
Guys, only one secret to a crackly top in this walnut brownie cupcake recipe: BEAT THE SUGAR AND EGGS FOR 3 MINUTES AT LEAST SO THE MIXTURE BECOMES LIGHT IN COLOR AND HEAVY IN CONSISTENCY! This brownie recipe always gives those crinkly tops.
CAN I DOUBLE THIS WALNUT BROWNIE CUPCAKE RECIPE?
Yes, you sure can double it for two 12-cups cupcake trays.
CAN I HALVE THE RECIPE?
Yes, this recipe can also easily be halved to produce a small batch. Super perfect for 1-2 persons!
CAN I FREEZE BROWNIE CUPCAKES?
Totally! Nothing better than having some brownie stash ready in the freezer for sudden midnight chocolate cravings. Just warm 'em up in the microwave.
RECENT POSTS
# dark chocolate walnut brownie cupcakes with crackly tops
---
---