No-Bake Chocolate Cake [Home Cooking Adventure]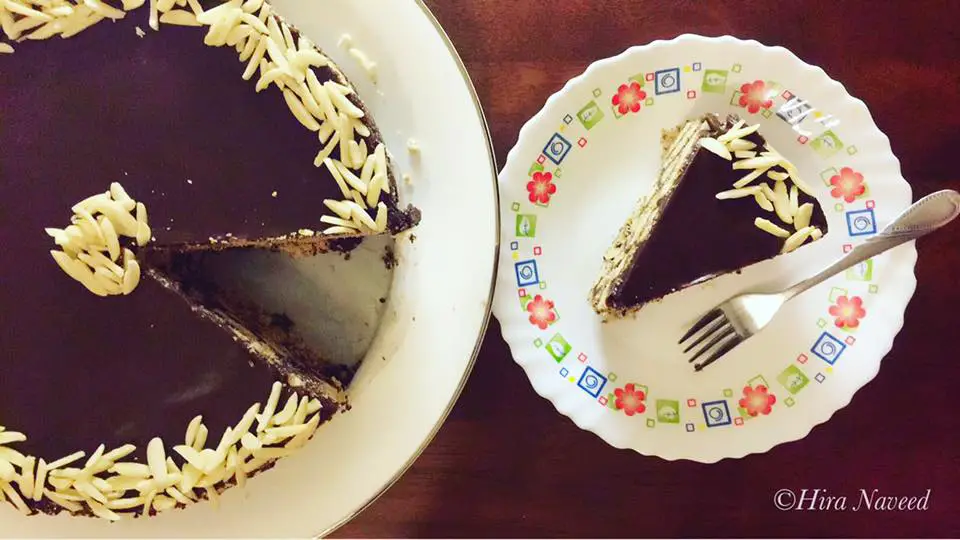 No eggs, no flour, minimal ingredients and simple steps, but you can still get a pretty good-looking-great-tasting cake! If you have a roll of biscuits lying around in your house, you can easily make this no-bake chocolate cake out of it. All you need to do is toss some biscuits in chocolate syrup and press them into a cake pan!
We have all had some version of biscuit cake growing up. (For me it was in the shape of a log cut into thick round slices, which I hear is the traditional way). These cakes are known by different names all over the world; chocolate fridge cake, cold cake and biscuit cake.
No-bake desserts are time-saving, easy and hassle free. If baking isn't your thing, but you'd still like to make a presentable cake for your loved one, then this recipe has your back.
Which biscuits should I use?
Any plain tea biscuits work great with this recipe, but the most popularly used are Graham crackers, Digestive biscuits and Marie biscuits.
Which kind of nuts can I use?
My choice of nuts for this chocolate cake are toasted walnuts, but hazelnuts, almonds, pecans should also go well. Not a big fan of nuts? No problem! Leave them out, there's plenty of flavor here without them too.
Chocolate ganache or chocolate frosting?
In this chocolate biscuit cake recipe, you pour a chocolate ganache on the cold cake and top it with toasted slivered almonds. This technique saves time, ingredients and effort. However, if you'd like, go ahead and decorate this cake with your favorite frosting.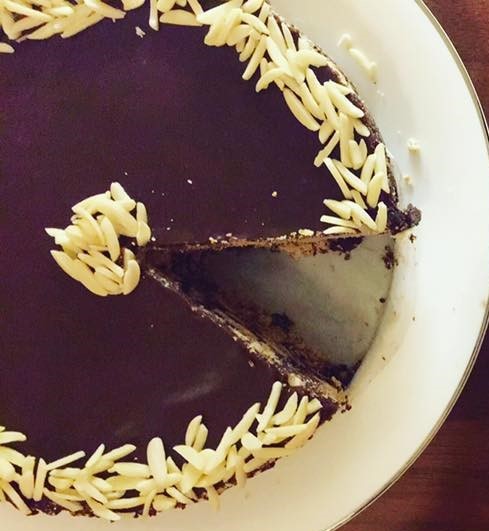 No-Bake Chocolate Biscuit Cake [Home Cooking Adventure]
No eggs, no flour, minimal ingredients and simple steps, but you still got a pretty good-looking-great-tasting cake!
Ingredients
790

grams

Digestive biscuits or tea biscuits

1

cup

Nuts (walnuts, hazelnuts), toasted, slightly chopped

(100g)
FOR THE CHOCOLATE SYRUP
1

cup

Sugar

(200g)

½

cup

Unsweetened cocoa powder

(60g)

1

cup

Water

(240 ml)

⅔

cup

Butter

(150g)

1

teaspoon

vanilla extract
Chocolate Ganache
½

cup

Whipping cream (35% fat)

(120g)

120

grams

Bittersweet chocolate, chopped
Instructions
Lightly butter a 9-inch spring form pan, and line with parchment paper.

In a large bowl, break the digestive biscuits or tea biscuits. Keep aside.

Over medium heat, place a frying-pan, add the nuts to it and stir them continuously till they are toasted (around 5 minutes). Add these to the biscuits.
FOR THE CHOCOLATE SYRUP
Add sugar and cocoa powder to a medium saucepan and mix. Add water gradually and stir to combine. Place the saucepan over medium heat and add butter. Let it boil for 7-8 minutes, and stir continuously. Add vanilla after removing from heat. Let it cook for 10-15 minutes.

Once it has slightly cooked, pour the chocolate syrup over the nuts and biscuits in the bowl. Mix well.

Transfer this mixture into the prepared spring-form pan and using an offset spatula or back of a spoon , press the top til it is even.

Cover with cling wrap. Place it in the fridge for 30-50 minutes. Then make the chocolate ganache.
FOR THE CHOCOLATE GANACHE
Place chopped chocolate in a bowl.

Place a small saucepan over low heat, pour cream into it, and let it heat till it just begins to boil. Stir continuously.

Pour this chocolate ganache over the chocolate biscuit cake. Refrigerate the cake for 3-4 hours. Overnight is better. Top with extra toasted nuts, if desired.
Notes
You can crush the biscuits using a zip lock back and rolling pin
Don't crush the biscuits too much, you don't want to end up with crumbs.
Recipe Credits & Source: Home Cooking Adventure
Did you try this recipe?
I would love to know how it turned out for you! Leave a comment below and post a picture on Instagram with the hashtag #theovenist.
Looking For More?
---
---