No Bake Chocolate Biscuit Cake (Small Batch)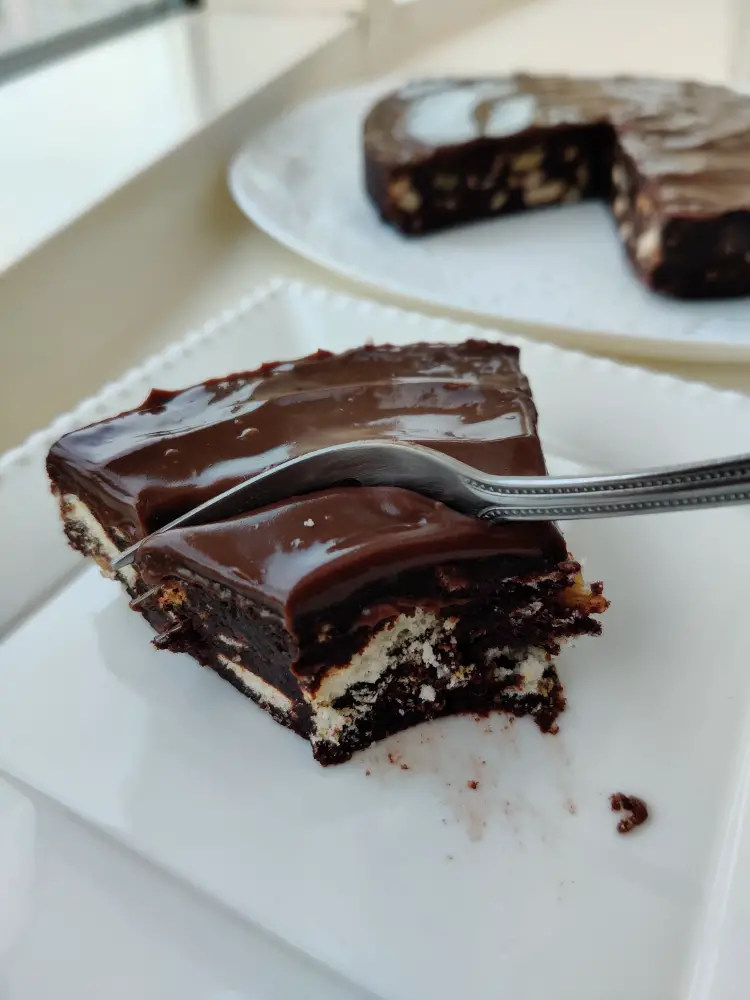 No eggs, no flour, minimal ingredients and simple steps, but you can still get a pretty good-looking-great-tasting cake! Made with dark cocoa powder, this intensely rich small batch no bake chocolate biscuit cake is a thing of heaven.
If you have a roll of biscuits lying around in your house, you can easily make this no-bake chocolate cake out of it. All you need to do is toss some biscuits in chocolate syrup and press them into a cake pan!
We have all had some version of biscuit cake growing up. (For me, it was in the shape of a log cut into thick round slices, which I hear is the traditional way).
These cakes are known by different names all over the world; chocolate fridge cake, cold cake, lazy cake and biscuit cake.
This no bake chocolate cake recipe is adapted from Home Cooking Adventure– my go-to channel for fool-proof recipes!
If you like my Fudgy Chocolate Brownies and Chocolate Malt Drip Cake, you will almost certainly love this recipe.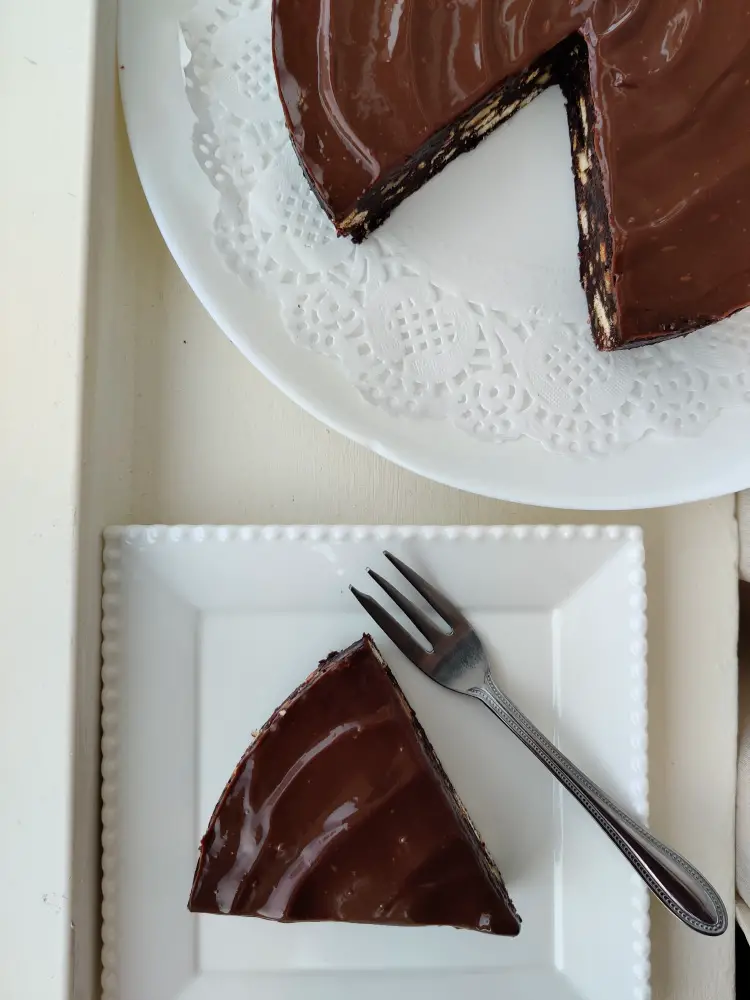 What are Biscuit Cakes?
Biscuit cakes are made using either:
biscuits coated in a chocolate sauce mixture and pressed into a pan
biscuits layered between chocolate sauce in a pan
There is no batter that needs to be cooked in the oven which is what makes the biscuit cake no bake.
Some recipes do use raw eggs which are cooked in the sauce before the sauce is mixed with the biscuits.
Which ever technique you use, this cake goes directly in the fridge for setting. Once set and chilled, it can be cut into slices or pieces, which is when it looks like a cake.
About No Bake Biscuit Cakes
No Bake Biscuit Cakes tend to be firmer in texture compared to regular cakes.
No-bake desserts are time-saving, easy and hassle free.
If baking isn't your thing, but you'd still like to make a presentable cake for your loved one, then this recipe has your back.
This biscuit cake is made with Marie biscuits, homemade chocolate sauce and topped with a silky chocolate ganache- a chocolate biscuit cake recipe with cocoa powder!
I know that digestive biscuit cake recipes are family favorites in many homes.
It's about time I share my recipe with you guys! 🙂
Reasons to love this biscuit cake no bake recipe
Super easy
It's in the name…No-bake! (We can all agree that a no-bake recipe has come to our rescue at least once in our party-hosting lives!)
Made with easily available ingredients
Can be prepared ahead of time
Kids loveee it.
Makes for a fancy, presentable dessert without all the hassle
Quick to prepare
You only need cocoa for the cake part.
Rich chocolate flavor
Fool-Proof Recipe!
Its a chocolate biscuit cake recipe with cocoa powder!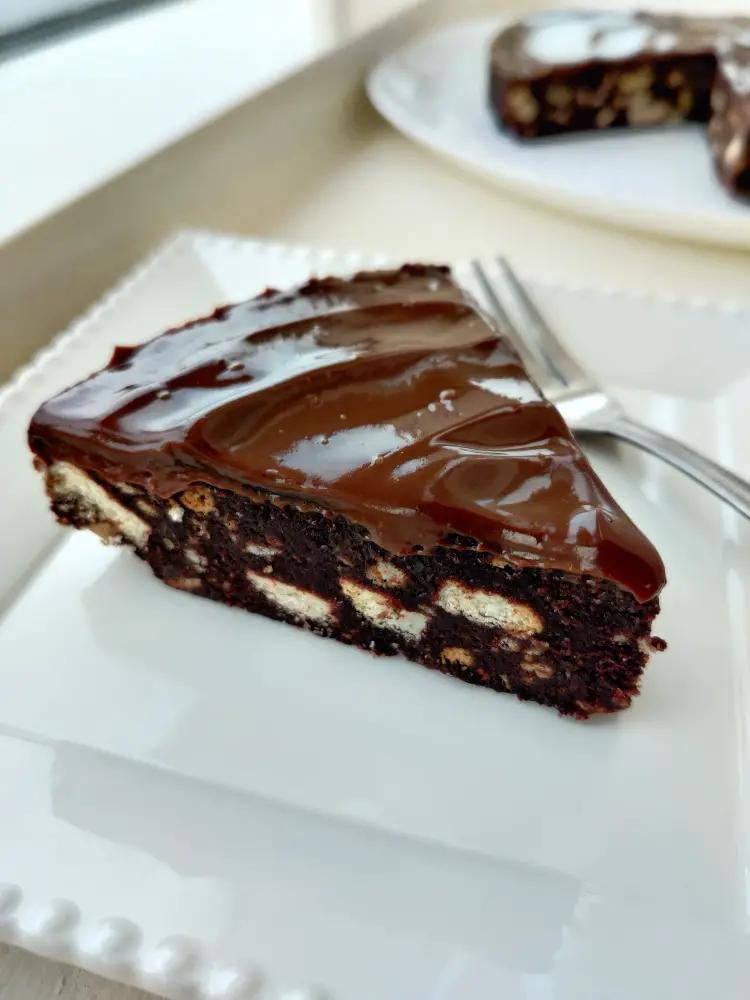 Ingredients for No-Bake Chocolate Biscuit Cake
Before you make this chocolate lazy cake recipe, let me quickly walk you through the ingredients.
For The Easy Biscuit Cake
Biscuits: I used Marie biscuits here, but you can use digestive or any of your favorite tea biscuits.
Nuts: I use toasted walnuts in the mix. However. the choice of nuts is entirely up to you. Just toast the nuts a bit beforehand, to enhance their flavor and texture.
Sugar: Use regular granulated white sugar.
Dark Cocoa Powder: Since this is a chocolate biscuit cake recipe with cocoa powder, you don't need chocolate for the cake. For a deep, intense chocolate flavor, use dark cocoa powder. My Favorite is Hintz Fine Dark Cocoa Powder. You second option would be any Dutch processed cocoa powder, but any unsweetened cocoa powder is also fine.
Water: Use room temperature water to mix into your cocoa-sugar mixture.
Butter: Use unsalted butter.
Vanilla extract: As in almost all desserts, vanilla extract is essential in this biscuit cake recipe. Swap with vanilla essence or vanilla powder incase you do not have extract on hand.
For The Ganache
Whipping cream: Full fat heavy cream, whipping cream or heavy whipping cream – any of these will work.
Milk chocolate chips: or dark, semi-sweet or bittersweet chocolate chips. It should go without saying that use good quality chocolate for a rich chocolate flavor. I use Hershey's chocolate chips most of the time.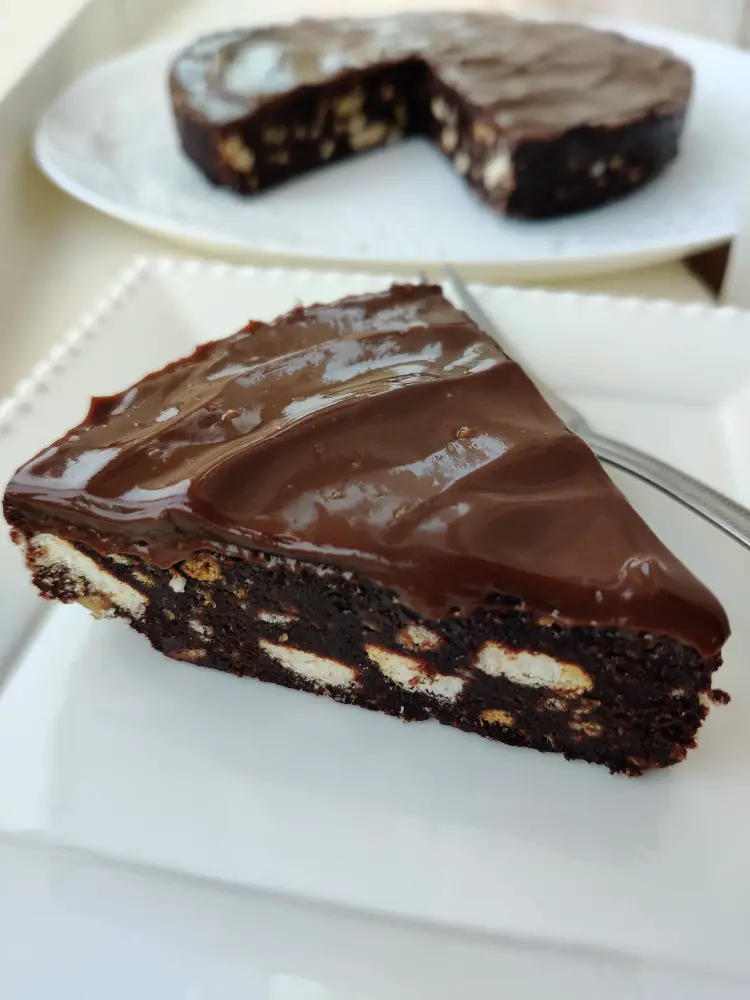 How to make Biscuit Cake (No Bake)
To Make The Cake
Start by assembling all the ingredients in one place. Makes this recipe a lot quicker!
Prepare your pan by lightly buttering it and then lining it with a round parchment paper.
Break the biscuits into pieces and place them in a large bowl along with the toasted nuts.
Prepare the easy chocolate sauce in a saucepan and once it is slightly cool, pour over the biscuits and toasted nuts and mix so that all the biscuits are evenly coated.
Press them down into the prepared springform pan using an offset spatula and refrigerate.
To Make The Ganache
To make the ganache, pour heated heavy cream over chocolate and mix to combine. Pour it over the refrigerated cake. Cover with cling wrap and let it sit in the fridge for 4 hours to overnight.
Top with toasted nuts of your choice if desired.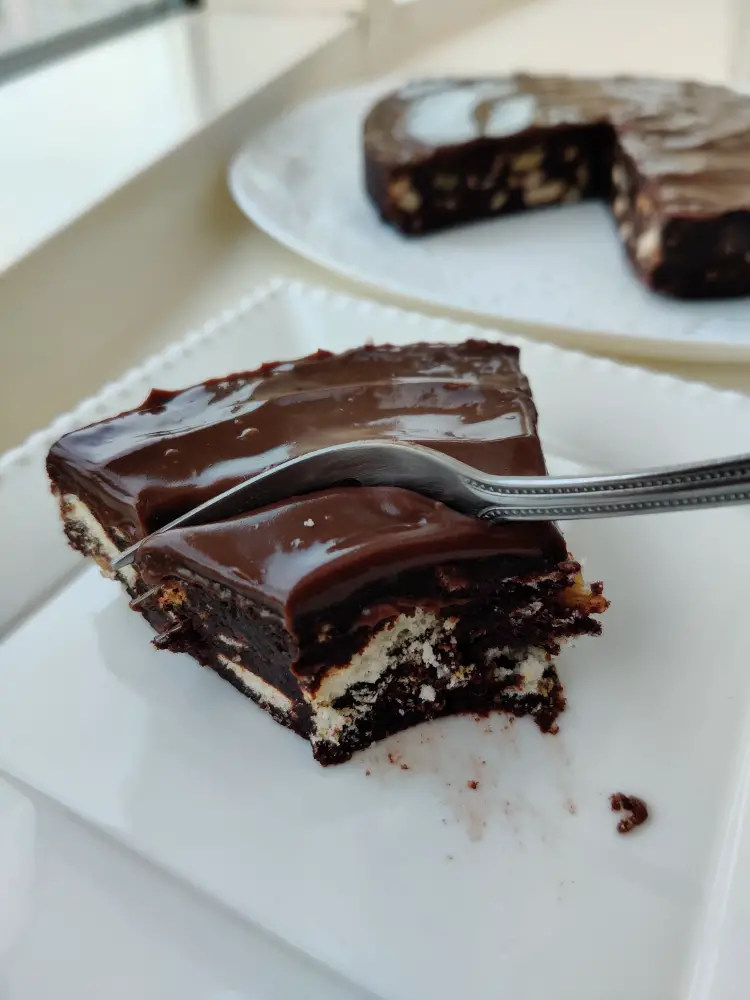 Tips
Line your cake pan with a parchment paper to prevent the cake from sticking
Press the biscuit mixture properly to make the top of the cake even
If you love dark chocolate recipes, try my
What kind of add ons can I use?
Instead of, or in addition to the chopped nuts, you can add any of your favorite:
Mini Chocolate Chips
M&Ms
Reese's
Chopped Kitkat
Chopped Kinder
Chopped Caramels
Cacao nibs
Dried cranberries
Peanut butter chips
Toffee
White chocolate
Shredded Coconut
Variations
Biscoff Chocolate Biscuit cake: add in 2 tablespoons of Biscoff (cookie butter) spread to the sauce
Nutella Biscuit Cake: add in 2 tablespoons of Nutella to the sauce.
Peanut Butter Chocolate Biscuit Cake: add in 2 tablespoons of peanut butter to the sauce
When can I serve this cake?
Dessert (top each slice with a dollop of whipped cream and throw on some chocolate shavings for a fancy presentation)
Tea-Time Snack
Lunch Box Snack
Potluck Item
Kids Lunchbox
(When you are lazy, it is a lazy cake after all…)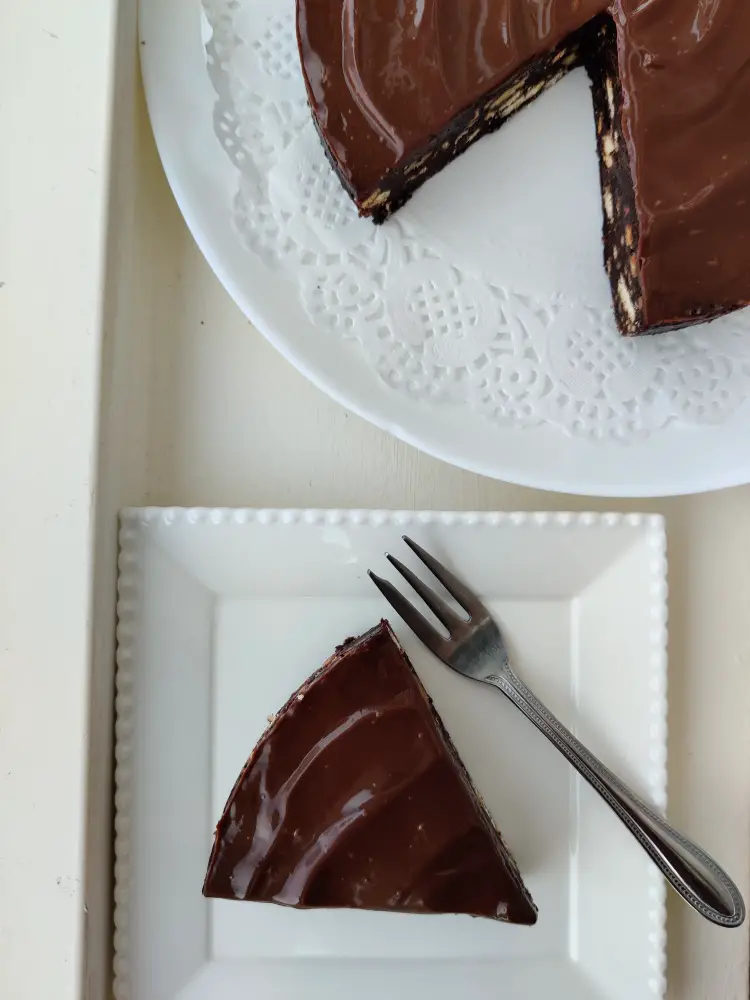 FRENQUENTLY ASKED QUESTIONS
1) Which biscuits should I use in no bake chocolate biscuit cakes?
Any plain tea biscuits work great with this recipe as long as they are sturdy, but the most popularly used are:
Graham Crackers
Digestive biscuits (when it's known as digestive biscuit cake recipe)
Marie Biscuits
Sweet Crackers
Glucose Biscuits
Vanilla Biscuits
Vanilla wafers
Vanilla Tea Biscuits
Your favorite cookies or crackers
If you enjoy biscuits in dessert, try the best blackberry cheesecake recipe.
2) What kind of nuts can I use?
My choice of nuts for this chocolate cake are toasted walnuts, but hazelnuts, almonds, cashews and pecans should also go well. They add a crunch that contrasts amazingly well with the texture of biscuit cake.
Not a big fan of nuts? No problem! Leave them out, there's plenty of flavor here without them too.
3) What Kind of Pan can I use?
While I make this in round spring-form pan, you can use any rectangular/square dish, or a loaf pan. As long as it has some height and depth, you are good to go.
4) Chocolate ganache or chocolate frosting?
In this chocolate biscuit cake recipe, you pour a chocolate ganache on the cold cake and smooth using an offset spatula. This technique saves time, ingredients and effort. However, if you'd like, go ahead and decorate this cake with your favorite frosting.
5) Can I use regular cocoa powder?
I use fine dark cocoa powder or Dutch processed cocoa powder. But any unsweetened cocoa powder will work with this no bake cake recipe.
6) How do I store a chocolate biscuit cake?
Storing it in an airtight container in the refrigerator will keep the cake fresh and tasty, even 4-5 days after it's made!
You can store it in an airtight box at room temperature for 1-2 days.
Alternatively, you may cover it with plastic wrap or foil.
7) Can I freeze biscuit cakes?
Wrap each slice tightly with plastic wrap and place wrapped slices in an airtight container or a zip-lock bag.
Thaw in the refrigerator overnight or at room temperature for an hour, whenever your sweet tooth demands.
8) Can I make this into a gluten free no-bake biscuit cake?
Yess! Just swap the biscuits with gluten-free version.
9) Can I make this into a dairy-free no bake chocolate cake?
Replace butter with vegan butter such as Earth Balance.
Use dairy free chocolate and heavy cream.
10) Can I double this recipe to make a regular sized biscuit cake?
Yes! Just double or quadruple the recipe and make it in an 8-9 inch springform pan.
11) Can I halve this recipe for an even smaller batch?
You could actually as long as you have a smaller than 6 inch round pan.
Ready to try this easy biscuit cake recipe? Here we go!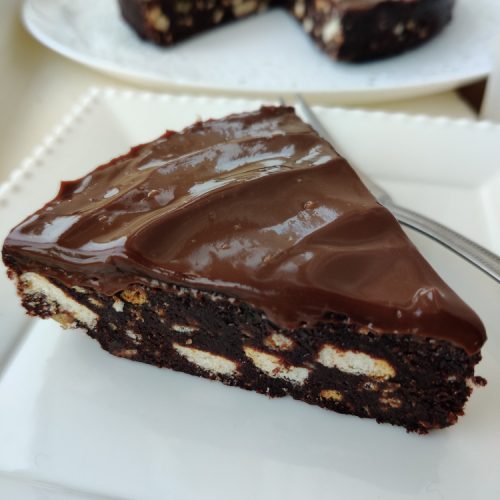 No-Bake Chocolate Biscuit Cake (Small Batch)
No eggs, no flour, minimal ingredients and simple steps, but you can still get a pretty good-looking-great-tasting cake! Made with dark cocoa powder, this intensely rich small batch no bake chocolate biscuit cake is a thing of heaven.
Ingredients  
200

grams

Digestive biscuits or any tea biscuits

¼

cup

walnuts, toasted and roughly chopped

(25g)
FOR THE CHOCOLATE SYRUP
1/2

cup

granulated white sugar

(100g)

¼

cup

dark cocoa powder

(30g)

½

cup

Water

(120 ml)

⅓

cup

Butter

(75g)

½

teaspoon

vanilla extract
Chocolate Ganache
30

grams

Whipping cream or thick cream

30

grams

milk chocolate chips
Instructions 
Lightly butter a 6-inch spring form pan, and line with parchment paper.

In a large bowl, break the digestive biscuits or tea biscuits. Keep aside.

Over medium heat, place a frying-pan, add the nuts to it and stir them continuously till they are toasted (around 5 minutes). Add these to the biscuits.
FOR THE CHOCOLATE SYRUP
Add sugar and cocoa powder to a medium saucepan and mix. Add water gradually and stir to combine. Place the saucepan over medium heat and add butter. Let it boil for 4-5 minutes, and stir continuously. Add vanilla after removing from heat. Let it cool for 10 minutes.

Once it has cooled, pour the chocolate syrup over the nuts and biscuits in the bowl. Mix well using a rubber spatula.

Transfer this mixture into the prepared spring-form pan and using an offset spatula or back of a spoon , press the top till it is even.

Cover with cling wrap. Place it in the fridge for 30 minutes. Then make the chocolate ganache.
FOR THE CHOCOLATE GANACHE
Place the chocolate chips in a bowl.

Place a small saucepan over low heat, pour cream into it, and let it heat till it just begins to boil. Stir continuously.

Pour this chocolate ganache over the chocolate biscuit cake. Refrigerate the cake for 3-4 hours. Overnight is better. Top with extra toasted nuts, if desired.
Notes
You can crush the biscuits using a zip lock back and rolling pin 
Don't crush the biscuits too much, you don't want to end up with crumbs.
Instead of dark cocoa powder, you can use any unsweetened cocoa powder.
Digestive Biscuit Cake Recipe Adapted From: Home Cooking Adventure
Easy Biscuit Cake Recipe: Video Tutorial Here
Did you try this recipe?
I would love to know how it turned out for you! Leave a comment below and post a picture on Instagram with the hashtag #theovenist.
Looking For More?
dark chocolate # small batch biscuit cake # no bake chocolate biscuit cake # small batch no bake chocolate biscuit cake # small batch biscuit cake recipe # easy cake # lazy cake # cold cake # pakistani cold cake # home cooking adventure # quick dessert # dessert for two # dark chocolate no bake cake # biscuit cake no bake # chocolate biscuit cake recipe with cocoa powder # no bake chocolate cake # digestive biscuit cake recipe # easy biscuit cake recipe
---
---