Fudgy Chocolate Brownies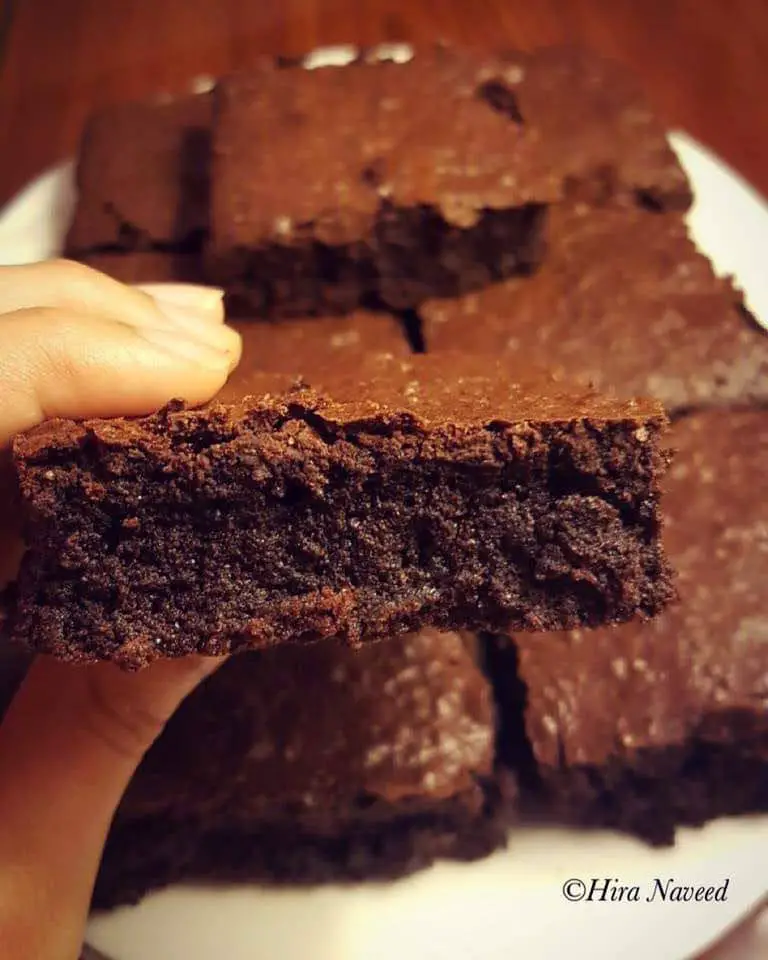 Chewy on the sides, fudgy in the center and crackly on the top: The three doors to the ultimate brownie heaven! This fudgy chocolate brownies recipe creates super chocolate-y, loaded with flavor brownies.
I've tried plenty of recipes and this chocolate brownie recipe (by Thomas Joseph) is among my favorite ones.
I love how the edges are slightly crispy and chewy and centers more gooey. This recipe is just that, and it caters to my intense chocolate cravings.
There are some really good recipes out there for brownies, combining sugar, butter and chocolate in different ratios to get equally amazing but unique-in-their-own-way brownies. Some recipes skip the chocolate all together, and use cocoa powder instead. I like chocolate brownies that use both.
Why do I love these fudgy chocolate brownies?
They have the crackly tops that brownies are meant to have and they're the right amount of fudgy and chewy. There's a thin line between still-raw-batter and perfectly fudgy brownies and this recipe understands that!
What if I do not have bittersweet chocolate?
No problem. This chocolate brownies recipe calls for bittersweet chocolate but I normally use semi-sweet chocolate instead and they always turn out great.
What variations can I try?
If you'd like, you can even mix in chocolate chips, nuts or marshmallows into the batter or scatter them on top before baking. They're so good as they are though, you don't need any add-ins.
Cakey Brownies or Fudgy Brownies?
I'm not sure if there's even a contest. Universally, the scales almost always tip towards the fudgy side. Try this recipe and decide! (Hint: there's only one right answer, and it ends with udgy 😛 )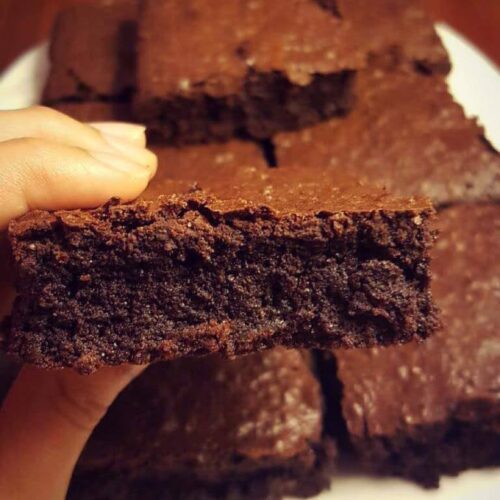 Fudgy Chocolate Brownies
Ingredients  
Ingredients

170

g

bittersweet chocolate

1

stick butter

(115 grams)

1

cup

granulated white sugar

½

cup

brown sugar

3

eggs

¼

cup cocoa powder

¼

teaspoon

salt

½ cup + 2 tablespoons

all purpose flour
Instructions 
Place chopped chocolate and butter in a heat proof glass bowl. On a double boiler, melt butter and chocolate. Remove from heat, clean the wet bottom of the bowl with a tissue.

Gradually add sugar while whisking.

Add one egg at a time, whisk well before adding another egg. This is a crucial step to develop the paper thin upper crust of a brownie.

Now add cocoa powder and salt. Whisk. Fold in the flour using a rubber spatula just until well combined. Don't over mix!

Spray a 9 by 9 square pan lightly with cooking spray. Place parchment paper on it so it sticks. Pour the batter. Bake for 35-40 minutes at 175°c.

Store in an airtight container.
Notes
Recipe credits : Thomas Joseph
Did you try this recipe?
I would love to know how it turned out for you! Leave me a comment below, and post a picture on Instagram with the hastag #theovenist
Looking for more?
---
---