Classic Tiramisu (Chef Dennis)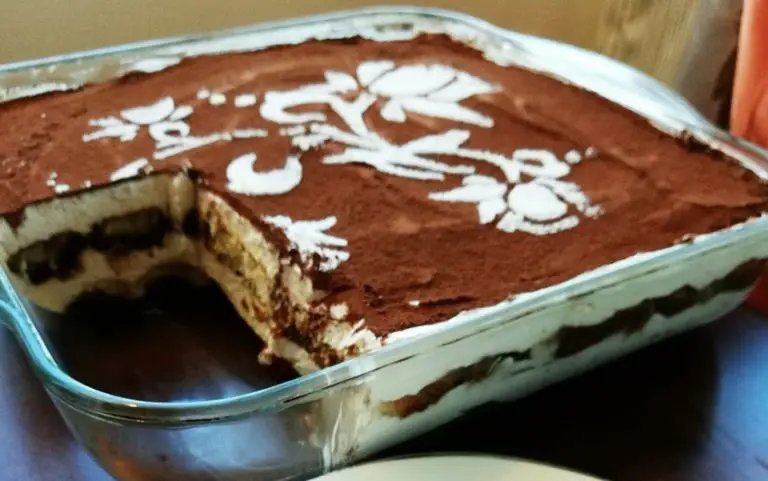 I've had my fair share of tiramisus, be it restaurant versions or homemade, and this classic tiramisu was the very first one that I made from scratch. It is so simple to make and tastes SO GOOD!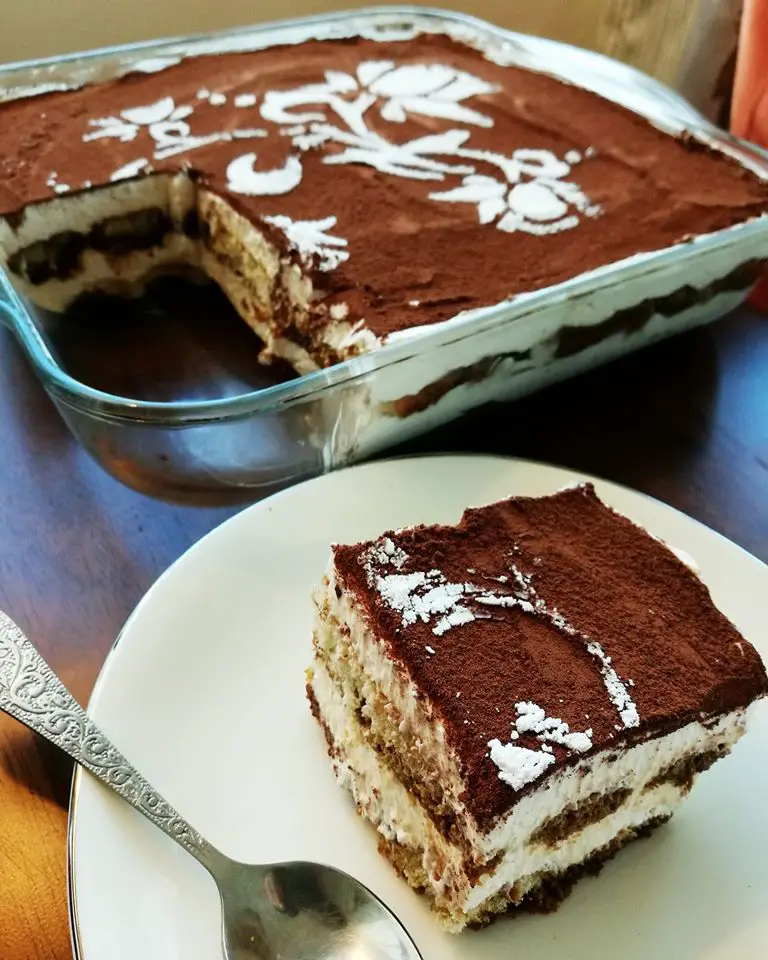 It's hard to not like coffee-flavored desserts and Tiramisu has to be the most popular coffee dessert in the world. So..
What is Tiramisu?
A classic tiramisu, consists of espresso soaked lady fingers, and this is where the coffee flavor comes from.
These are layered with a light and airy mascarpone mixture. And no tiramisu looks like a tiramisu unless it is dusted with cocoa powder 🙂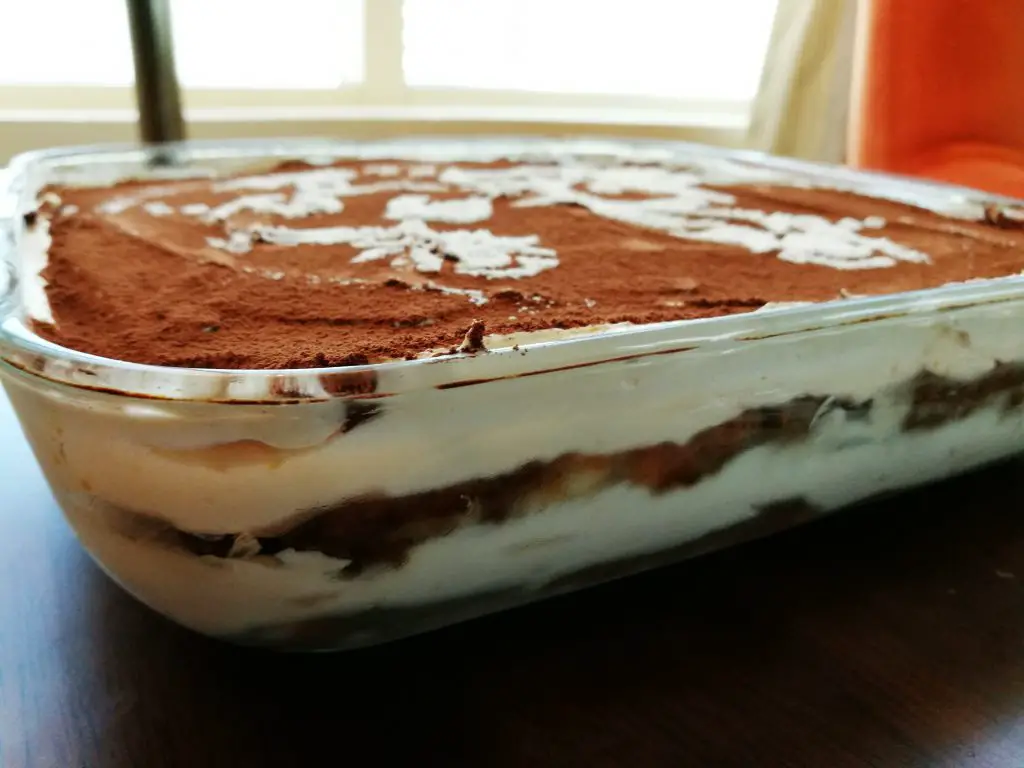 How long do I need to refrigerate it?
It is best to let the tiramisu sit in the fridge before serving for at least 6 hours, or even better overnight.
This means it's great as a make-ahead dessert for parties because it needs the time to set and for the flavors to really blend in.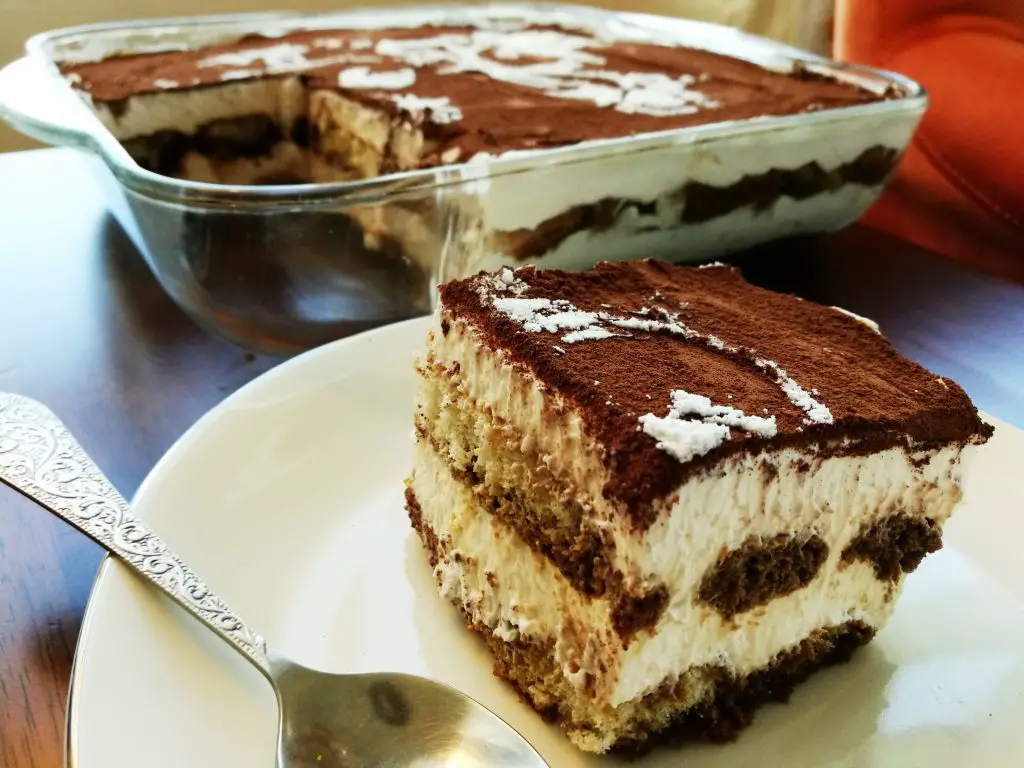 What if I do not have mascarpone?
While mascarpone gives the best flavor, you do not always have it on hand. Lucky for you, Chef Dennis has provided a mascarpone substitute recipe, which does not taste exactly like mascarpone but comes close enough!
230 grams full-fat cream cheese
1/4 cup whipping cream
2 tablespoons softened, unsalted butter
Whip all these ingredients in a large bowl till well combined, and tadaa! Your mascarpone substitute is ready!
Tips to make a good tiramisu
1) Only soak the lady fingers for two seconds
2) Do NOT over-whip the whipping cream
3) Refrigerate at least 6 hours or overnight
4) Take the above tips seriously 🙂
Here goes the best tiramisu recipe!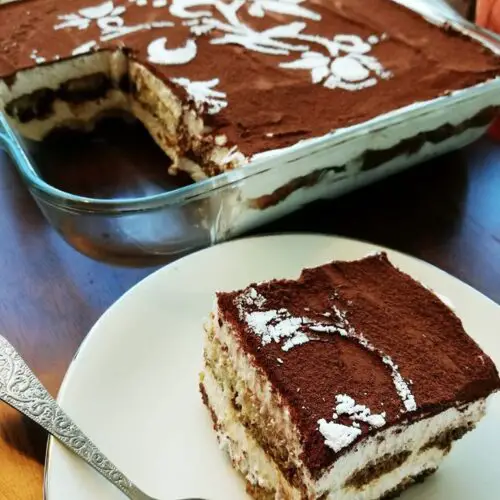 Chef Dennis' Classic Tiramisu
A classic, coffee flavored Italian dessert
Ingredients  
6

large egg yolks

1

cup

sugar

201 gm

1 ¼

cup

mascarpone cheese – room temperature

284 gm

1 ¾

cup

heavy whipping cream

420 ml

2

(200g) packets of Italian Lady fingers

(I used Savoiardi brand)

1

cup

cold espresso or strong coffee

240 ml

½

tsp

coffee essence

½

teaspoon

vanilla extract

30

grams

cocoa powder for dusting
Instructions 
In a medium sauce pan, fill water 2-inches up the sides. When the water simmers, place a large heat proof bowl over it. Reduce flame to low. Add 6 egg yolks and 1 cup of sugar to this bowl, and stir constantly as it cooks for 10 minutes. Remove the bowl from the heat.

Use a beater to whip yolks until they look thick and lemon-colored. Allow to rest for 5 minutes.

Add mascarpone to this bowl, and beat again till it is well combined.

Whip heavy whipped cream in a separate large bowl until still peaks form. Do NOT over beat or you will compromise the creaminess of this tiramisu!

Add this whipped cream into the yolk mixture, and fold gently using a rubber spatula.

In a cup, add 1 cup water, 2 tablespoons of instant coffee, coffee essence and vanilla extract. Dip the lady fingers, one at a time, into this coffee mixture, only for 2 seconds.

Layer them in the bottom of a 9-inch square dish. Put half the mascarpone mixture over it and smooth out using an offset spatula. Soak more lady fingers and arrange them over the mascarpone layer. Put the remaining mascarpone mixture over it and smooth out using an offset spatula.

Refrigerate for 4 hours or overnight.

Dust with cocoa, and serve.
Notes
Recipe credits and link: Chef Dennis Tiramisu
(I skipped the liquor in the original recipe and added vanilla extract and coffee essence.)
Did you try this recipe?
I would love to know how it turned out for you! Leave a comment below and post a picture on Instagram with the hashtag #theovenist.
Looking For More?
---
---