Chocolate Chip Walnut Blondies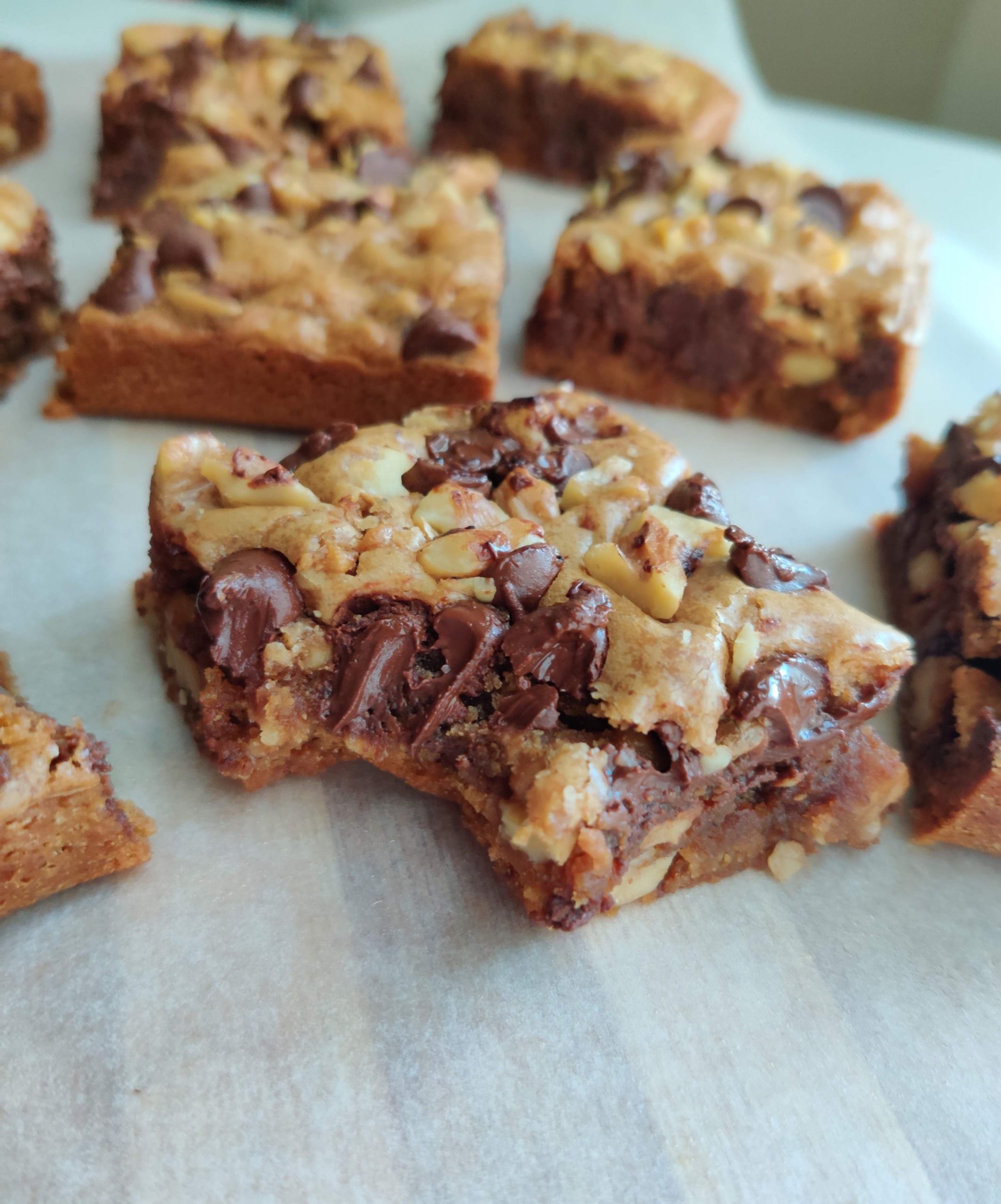 These Chocolate Chip Walnut Blondies are the ultimate dense and fudgy goodness! Made with brown butter, these blondies host a blissful nutty flavor, with crunchy walnuts and goeey pockets of melting chocolate in every bite.
Perhaps I can describe these as the combination of chocolate chip cookies and nutty blondies. It also has those chewy crisp sides that I absolutely adore in any brownie/cookie. In other words…
This blondie recipe is the best. Period.
What are blondies?
Blondies are rich dessert bars that are fudgy, chewy, slightly dense and loaded with complex butterscotch flavor. Kind of like the first cousin of brownies, but without chocolate.
I mean, if there was any dessert that can taste good after removing chocolate, this has to be it!
If brownies are more your thing, here's a brownie recipe you may like.
Unlike brownies, which get their flavor from cocoa powder or chocolate, the predominant flavor in blondies comes from vanilla extract and brown sugar.
Fun Fact: the first brownie was actually a blondie!
Blondies existed at least 10 years before the coming of what we now call brownies. Back then, a blondie was called a brownie even though it did not have any chocolate in it.
In fact, chocolate made an appearance in 1906 and blondies existed way before that!
Why are these my favorite Chocolate Chip Walnut Blondies?
1) Brown butter
The nutty flavor of brown butter is really the star of the show here. It enriches the blondies with a deep, caramel-ish flavor that is truly incomparable. More on what is brown butter and how to make it coming below.
2) Very quick and easy to make
This blondie recipe is great for the days when you crave something comfortingly warm and rich. Since they require only a couple of always-at-hand ingredients, they are in the oven within 15 minutes!
3) No need to wait for the butter to soften up
We all know that waiting for butter to reach room temperature is, simply put, annoying. Because we are going to melt and brown the butter, you can use it straight from the refrigerator or freezer.
What is browned butter?
Brown butter is just butter that has been heated till it browns.
The first time I tried browned butter was in Brown Butter Chocolate Chip Cookies, and I was AMAZED at what a game changer it was.
With a subtle nutty flavor and toasty aroma, brown butter can make anything taste like a mix between hazelnuts, butterscotch and caramel.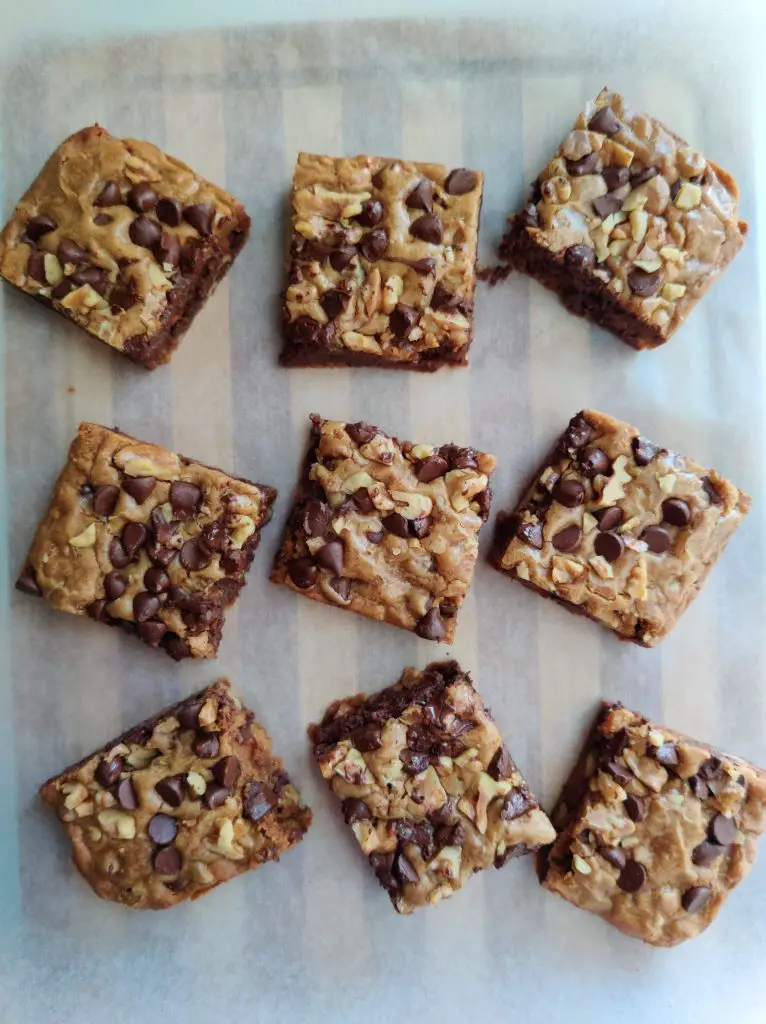 How to brown butter
Making brown butter is very easy. In a small saucepan on medium flame, heat butter till it melts and then turns golden amber in color.
It is as simple as that!
There is a catch though; browning butter should have your full, undivided attention. It goes from browned butter to burnt butter REAL FAST!
The process takes about 3-5 minutes (after the butter melts) and leaves amazing aromas wafting through your home. You can expect to see little brown solids (a.k.a milk solids) at the bottom of the saucepan; that is okay.
I was almost going to name these Blondies 'Brown Butter Chocolate Chip Walnut Blondies' but that's a name just too long!
Ingredients in Chocolate Chip Walnut Blondies
Some very basic ingredients make up a traditional blondie recipe.
BUTTER: Butter gives a blondie a tender, moist texture and also helps it rise. On the other hand, melted butter also makes them fudgier and denser. Although this recipe uses browned butter, a classic blondie just uses regular butter.
SUGAR: While granulated sugar and the brown sugar both add sweetness and retain moisture, the latter also adds caramel notes and keep blondies soft, chewy and dense. Dark brown sugar means even deeper flavors, but I like to use a mix of light brown sugar and white sugar.
EGG: The egg in this blondie recipe acts as an emulsifier; helping the dry ingredients incorporate well into the butter. The role of eggs here also includes binding, setting and leavening (helping the blondie rise).
FLOUR: In general, flour keeps everything together in baked goods. The less flour in the recipe, the denser and fudgier the blondie will be. If you add too much, blondies will turn out dry. So, if you are not weighing the flour (which is the most accurate approach), use the Spoon and Level Technique to make sure you are not packing too much flour into your measuring cup.
VANILLA EXTRACT: As Emma Christensen says from The Kitchn, "The role of vanilla in sweet baked goods is like the role of salt on the savory side: it enhances all the other flavors in the recipe. Without it, cookies and cakes tend to taste flat and bland. "
ADDITIONAL INGREDIENTS: Cinnamon powder (for some extra warmth), chocolate chips (because, chocolate.) and walnuts (for the crunch).
How do I make chocolate chip walnut blondies?
This blondies recipe is the easiest recipe you will ever find. Just a couple of steps and you are done!
1) First, brown the butter and then add sugar. Sugar will mix well into the butter when the butter is hot or warm.
2) Wait for this mixture to cool a bit before you add eggs, which should take about 6-10 minutes. You risk scrambling the eggs if you put them in while the butter-sugar mixture is still hot.
Mixing melted butter with sugar and eggs this way creates a perfectly dense, chewy blondie.
3) Whisk the dry ingredients in a small bowl, and then sift them into the above mixture. Stir just until combined. Don't mix more than that; it can overdevelop the gluten in the flour. 
4) Finally. throw in some chocolate chips and walnuts. And BAKE!
It's better to let them cool for a couple of hours before you cut into these. Or even better, cut and devour them the next day, when the flavors get even more concentrated.
That being said, I confess I do not have that kind of patience and love these blondies when they are warm, with the chocolate chips being all melty and gooey.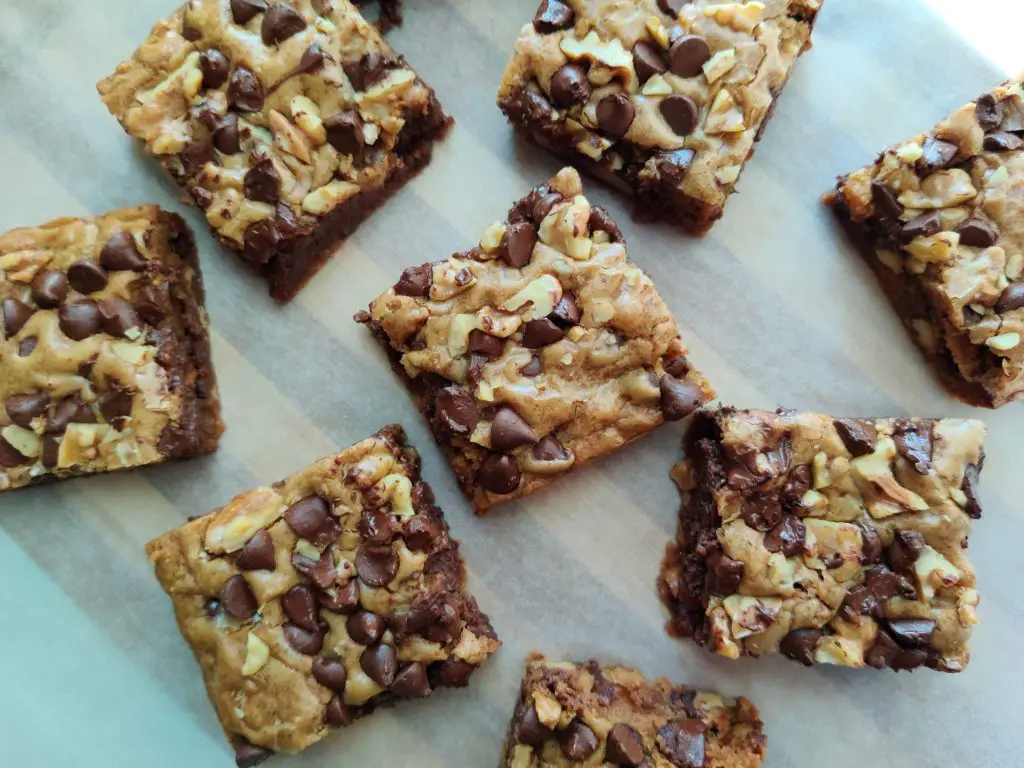 How do I know the blondies have baked through?
The edges should look golden and crisp even if the center is not entirely set. After you take them out of the oven, they still continue to cook from their own heat.
As it cools the center will set, and you will have perfect fudgy centers. Be very careful with the baking time. You risk drying them out if you over-bake (been there, done that).
Set the timer and start checking 10-15 minutes before the suggested time. You can insert a toothpick in the center to test for doneness.
If the toothpick comes out wet, the brownies are not done.
If it comes out dry, they might be overdone.
If the toothpick comes out with tiny fudgy dots, it's done.
Troubleshooting Blondies
Why are my blondies like cake?
This can happen in blondie recipes that involve creaming the butter and sugar together. This recipe does not have that step. Over-mixing can also give you a cakey result.
Why did my blondies sink in the middle?
A blondie is supposed to sink a little in the middle and be crisp on the edges. If it sinks too much, it can be either because your oven is too hot, you are taking them out too soon, or the recipe is just not good.
Why are my blondies raw in the center (or gooey)?
Blondies are supposed to be a little fudgy in the center, but definitely not raw. If it is raw in the center, that can happen due to two reasons.
One, you are using a glass pan and taking it out too soon (since glass pans can take longer to bake).
Or, two, you are not beating the mixture long enough (before adding the flour!). The butter-egg-sugar mixture should turn from dense, dark and runny to a fluffy and thick mixture, that is much lighter in color.
Sometimes, baking the blondies a little longer at a slightly lower temperature can fix this issue.
It is also possible that you are cutting them too early. While I admit, it is tempting to dig in immediately, you should give the blondies some time to set (around 2 hours) before cutting.
If you can strike out all of the above reasons, it may just be that you do not have a liking for fudgy dessert bars.
Why are my blondies greasy?
This can happen if either your blondies recipe calls for too much butter or you add too much butter to the recipe. In baking, it is best to weigh the ingredients (including butter), so your measurement is always exactly right.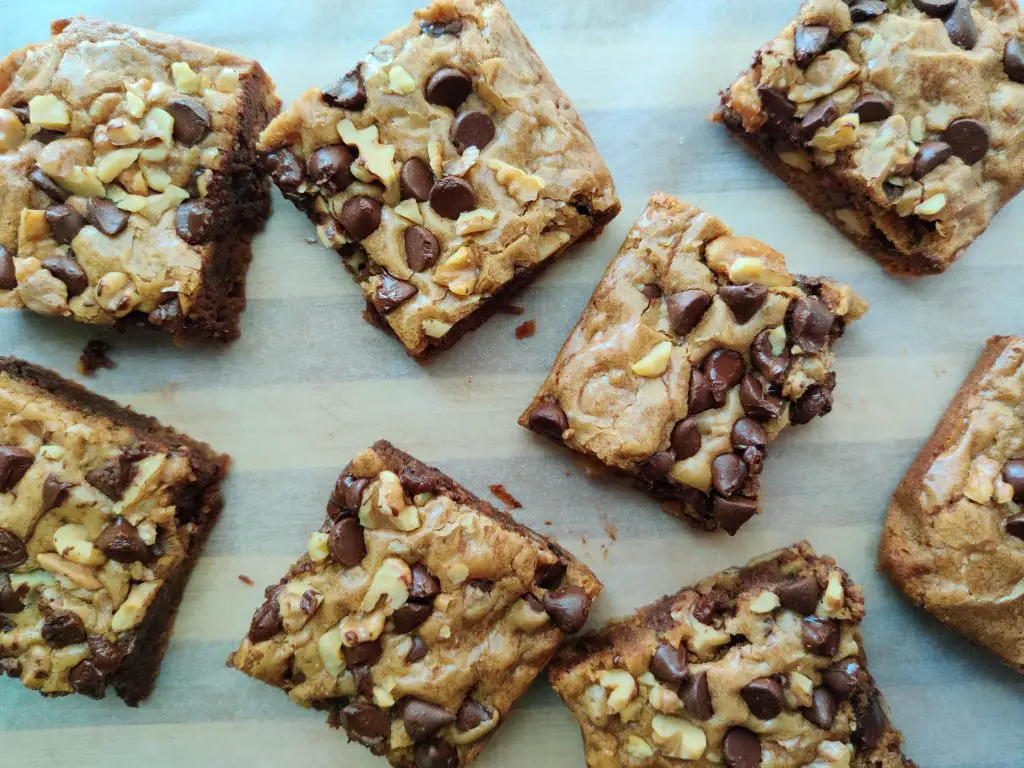 Should I bake blondies in a glass or metal pan?
METAL PANS: Metal bakeware (like aluminum) are the ideal choice for blondies because they conduct heat well. They also cool more quickly once removed from the oven.
GLASS PANS: Once glass gets hot, it remains hot for a long time, meaning your blondies will take much longer to cool. In a glass pan, blondies (or any baked item) take longer to bake and are also more likely to burn on the outsides.
How can I serve them?
Cut them into squares and serve them like a snack. They keep well outside and so are the perfect no-mess-travel-item for potlucks, picnics, camping trips, lunch boxes, etc.
On the fancier side, you can make them into a blondies dessert by cutting into wedges (after baking in a round pan) and serve warm with vanilla ice-cream.
You can even drizzle a sauce on top: caramel or hot fudge (yumm!).
What Variations Can I Try?
Swap out chocolate chips for cinnamon chips, chocolate chunks, dark chocolate chips, white chocolate chips or peanut butter chips.
Swap out the nuts for any nuts of your choice. I believe pecans would add buttery richness and even candied pecans would go wonderfully!
You can even try toffee and caramel bits. Honestly, the variations in a blondie recipe are truly endless.
However, they are sweet on their own, so they don't really need a frosting.
BONUS TIP: If you use chocolate chunks or chop up a chocolate bar, you will get amazing pools of melty chocolate. Chocolate chips are generally made with a lower amount of cocoa butter, which makes them more resistant to heat, so they do not always melt.
How do I store blondies?
You can store blondies in an air-tight container for three days. (If they last that long, that is).
Can I freeze blondies?
Yes! First cut the Chocolate Chip Blondies into squares and freeze for some hours in a large tray (so they don't stick to each other). Then put them into a zip-lock bag or an airtight container and freeze. They keep well frozen for 2 months. Thaw and enjoy whenever you crave them.
It would be terribly sad if I don't have you convinced by now! Here goes the recipe 🙂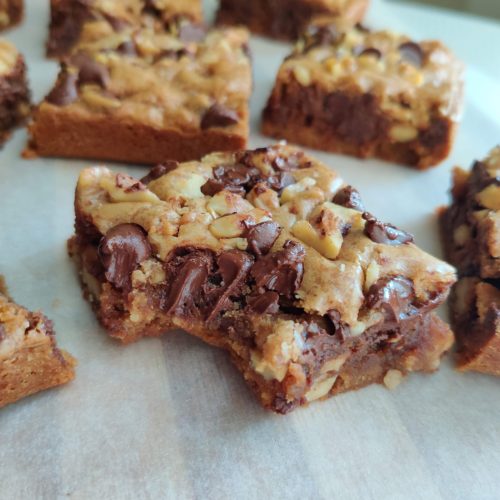 Chocolate Chip Walnut Blondies
These Chocolate Chip Walnut Blondies and chewy and crisp on the sides with dense fudgy goodness in the centers. With crunchy walnuts and melty chocolate chips!
Ingredients  
113

grams

unsalted butter

150

grams

brown sugar

¼

cup

granulated white sugar

1

large egg

1

teaspoon

vanilla extract

120

grams

flour

(1 cup)

¼

teaspoon

salt

½

teaspoon

cinnamon powder

½

teaspoon

baking powder

½

cup

chocolate chips

1/3

cup

walnuts

toasted and roughly chopped
For the top
Extra Chocolate Chips and Walnuts
Instructions 
Preheat oven to 180°c. Butter and flour 8-inch square pan and line the bottom with parchment paper, bringing the parchment paper up along the sides of the pan (around 2 inches) so it sticks out a little bit from the sides. This will help you in easily removing blondies from the pan.

In a small saucepan, heat the butter while stirring continuously, till it turns amber in color and smells nutty. The moment this stage is reached, remove saucepan from the stove because it goes really fast from this stage to burnt stage! Let it cool for 5 minutes.

In a medium bowl, place brown sugar, granulated white sugar, egg, vanilla extract and browned butter and beat for 5 minutes on medium-low speed.

Mix flour, salt, cinnamon powder and baking powder in a small bowl. Sift these dry ingredients into the batter. Add chocolate chips and walnuts, and use a rubber spatula to gently fold the mixture just till combined. Do NOT over mix.

Pour the batter into the prepared pan and smooth using an offset spatula. Top with extra walnuts and chocolate chips if desired.

Place the pan into the oven and bake for 25-30 minutes. Check doneness by inserting a toothpick in the center, it should come out clean (or with tiny morsels of fudge!).

Do not over-bake!

Remove pan from the oven and let sit for 10 minutes. Run a butter knife along the sides of the pan to loosen the blondies. Remove blondies from the pan by pulling the parchment paper up. Let cool for 2 hours at least.

Cut the blondies using a very sharp knife. Dip in hot water and dry with paper towel before cutting to get neat pieces. ENJOY!
Notes
1. You can swap out walnuts for any other nuts, or skip nuts altogether.
2. You can increase the quantity of walnuts or chocolate chips, if desired.
Did you try this recipe?
I would love to know how it turned out for you! Leave a comment below and post a picture on Instagram with the hashtag #theovenist.
Looking For More?
---
---