Chicken Yakhni Pulao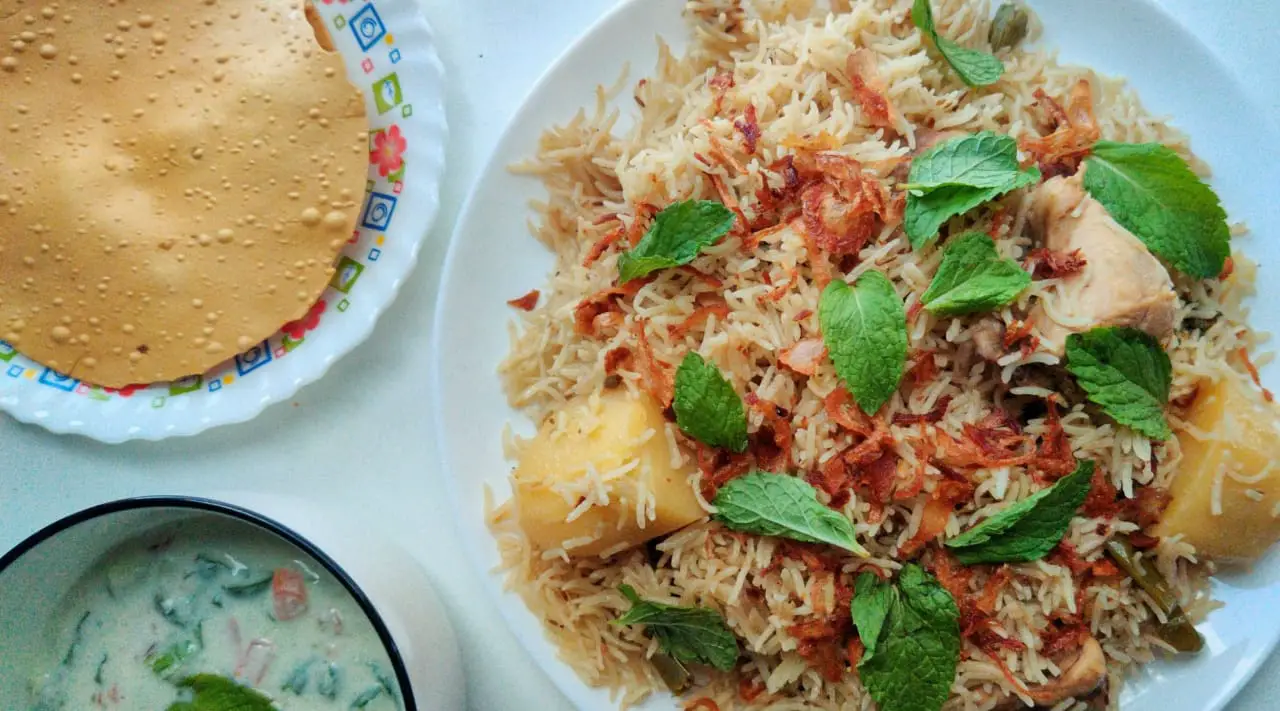 Chicken Yakhni Pulao: jam-packed with flavor and among my family's most cherished foods.
Pulao is popular in pretty much the whole subcontinental world, with every country, or rather, every household having their own special version. It also goes by the names pilaf, or pilao.
Here, I present you guys, my family's forever favorite chicken pulao. It's loaded with flavor and imparts an aroma that's to die for!
This chicken pulao was among the very first recipes I learned from my mum. I remember trying so hard to not let her get away with "a little bit of this" "a little bit of that!" If your mom is anything like mine, you know exactly what I'm talking about.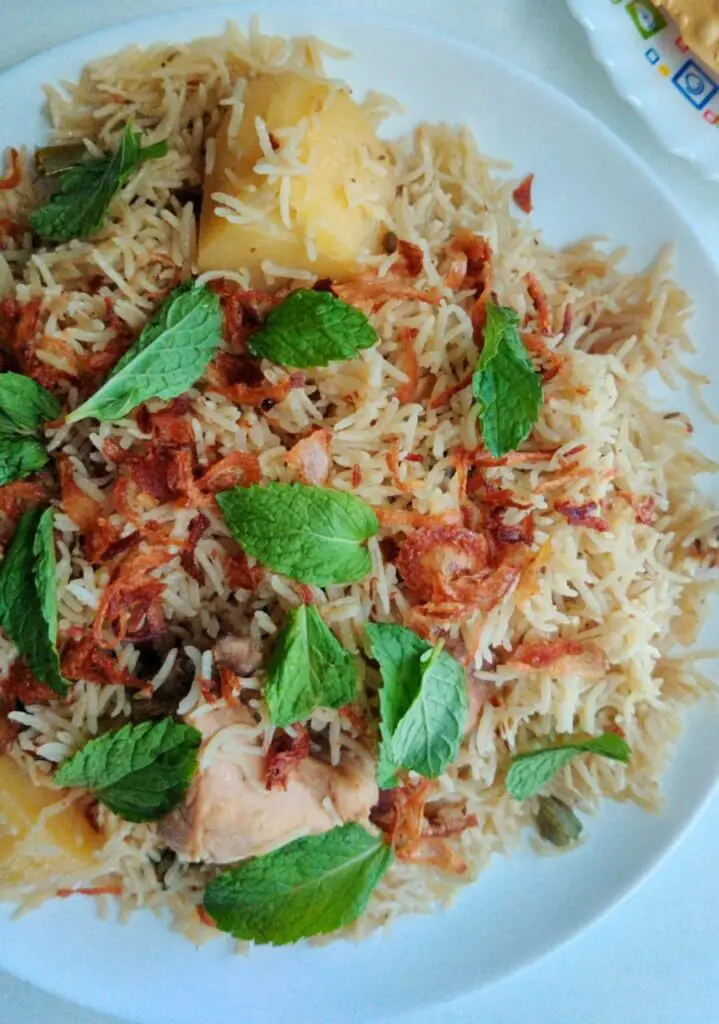 In my house, it's quite difficult to chose between chicken pulao and chicken biryani, because these are two absolute family favorites.
Types of Pulao
These days many types of pulaos are exist to name some popular ones:
Mutton Pulao
Beef Pulao
Matar Pulao
Kabuli Pulao (Afghan Pulao)
Vegetable Pulao
Tahiri
Kashmiri Pulao
Which kind of rice should I use?
Pulao is best made with long-grain Basmati rice, that are fragrant.
As goes for any rice dish, While people differ in their preference of whether rice is al dente or soft, rice should never be overcooked, broken or mushy.
Each grain should be fluffy and separate from the other, and that's some thing that takes practice and understanding the rice you get. Generally, soaking the rice beforehand and the correct rice to water ratio gets your rice properly cooked.
Difference between Chicken Pulao and Chicken Biryani
1) Chicken pulao tends to be mildy spiced, and biryani definitely belongs on the spicier end of the spectrum.
2) In a chicken pulao, uncooked rice is added to the chicken stock mixture, and the rice is fully cooked in that stock (no layering required). On the other hand, rice in biryani are boiled (or par-boiled), separately then layered with the biryani masala. Both are put on dum (covered tightly, and left on low flame for 10-15 minutes at the end).
How to make chicken yakhni pulao
Making Yakhni/Stock
A chicken yakhni pulao gets most of it's flavor from whole spices and meat/poultry that is cooked in the stock (yakhni). I do not prefer adding chicken to yakhni though.
In this recipe, you first make a stock that is infused with loads of flavor. Whole coriander seeds, fennel seeds, cumin seeds, onion, ginger and garlic go into this stock along with whole spices, such as star anise, black peppercorn, peppercloves, cinnamon stick and bay leaf.
I love the aroma that cardamoms add, so I throw in green cardamoms and black cardamoms. Adding chicken bones to the this stock, really adds life to the pulao, but to be honest, I rarely have that on hand.
This stock is reserved and everything else is discarded.
Making Chicken Pulao
In this step, I cook the chicken with some whole spices, onion and yogurt, then I add the prepared yakhni. Rice is cooked in this flavorful stock. And the next thing you know, your whole smells heavenly!
I tend to use a lot of green chilies because I love a spicy pulao. Some recipes call for red chili powder, and those are really good too.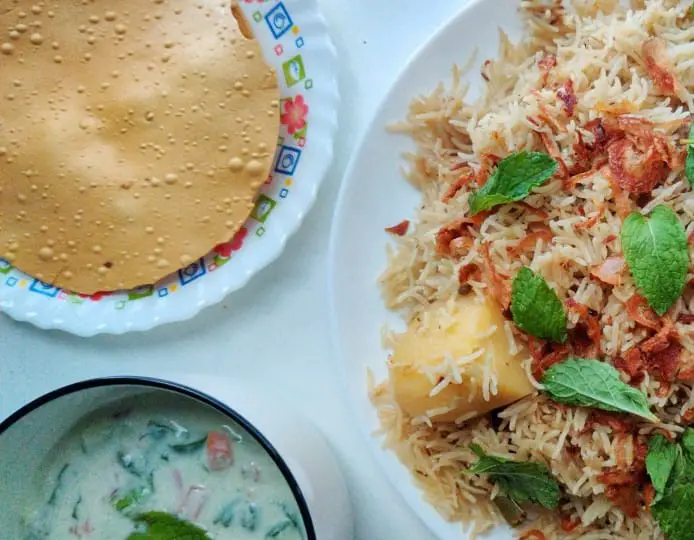 The chicken pulao recipe below may seem a little lengthy, but it really does not take long to prepare. And I'm saying this as a person who's often taunted for being as slow as a snail in the kitchen. *insert awkward face*
What can I serve it with?
Yogurt dip, shami kababs, chapli kababs, papar (papadums), a simple salan or a variety of chutneys and achaar.
Are you ready to make this amazing chicken yakhni pulao?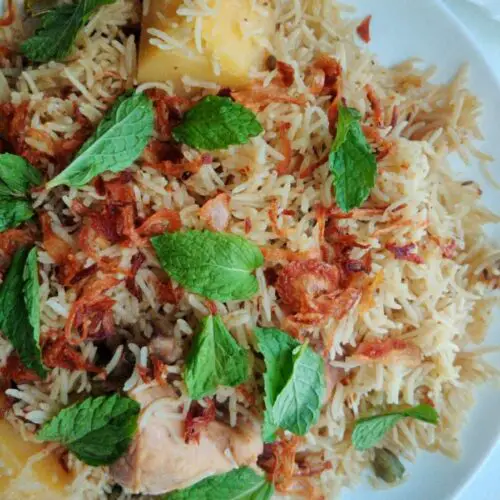 CHICKEN YAKHNI PULAO
Chicken Yakhni Pulao: A traditional dish that is aromatic, jam-packed with flavor and among my family's most cherished foods.
Ingredients
YAKHNI INGREDIENTS
4

tablespoons

Whole coriander

(sabut dhanya)

3

tablespoons

Fennel seeds

(sonf)

1

tablespoon

Cumin seeds

(safaid zeera)

1

Large onion

5

Star anise

(badian ke phool)

8

Black peppercorn

8

Black pepper cloves

(long)

12

Green cardamoms

2-3

sticks

Cinnamon sticks

( dar chini)

2

Bay leaf

2

big

Black cardamom

5

cups

Water

Bones

if available

4

green chilies

1

teaspoon

Salt

2

inch

Piece of ginger

5

cloves

Garlic
PULAO INGREDIENTS
1

cup

Oil

2

Onion

sliced

1

whole

Chicken (12 pieces)

(1kg)

2

Potatoes

each cut into 4 pieces

1

tablespoon

Ginger Garlic Paste

1

tablespoon

Shan pulao masala

heaped

2

Chicken stock cubes

2

Cinnamon sticks

5

Black pepper cloves

5

Black peppercorn

2

Bay leaves

10

Green cardamoms

5-6

green chilies

½

cup

Yogurt

2

teaspoons

Salt

or as needed

1

cup

Fresh mint leaves

1/4

teaspoon

All spice powder

garam masala

1/4

teaspoon

Green cardamom powder

1/4

teaspoon

Nutmeg and mace powder

mixed

3

cups

Rice

Washed and soaked
Instructions
FOR YAKHNI
Put all the ingredients on yakhni into a medium pot. Bring to boil. Then cover and cook for 30 minutes on medium-low flame. Strain the yakhni and keep liquid aside. You may prepare this a day before.
FOR PULAO
Put oil in a large pot. Add sliced onion to it, and cook till translucent. Add chicken and cook for two minutes. Now add ginger garlic paste, chicken cubes, salt, pulao masala, black peppercorn, black-pepper cloves, cinnamon sticks, bay leaves, green cardamoms, green chilies and potatoes. Cook, stirring continuously for 10 minutes. Then add yogurt and mint, and continue to stir till oil comes up. Pour strained yakhni into the pot, cover and cook for 15 minutes on medium-low flame. Add all spice powder, green cardamom powder and nutmeg mace powder.

Now, add rice to the pot and cook. Add salt 2 teaspoons or as needed. Water should be an inch above rice. Cook it till water is at the level of rice and there is some bubbling. Place the pot on heated tawa. Put extra mint and fried onions on top. Cover and cook for 15 minutes (for dum).
Did you try this recipe?
I would love to know how it turned out for you! 🙂 Leave a comment below, and post a picture on Instagram with the hashtag #theovenist.
Looking For More?
---
---