Cheese Muffins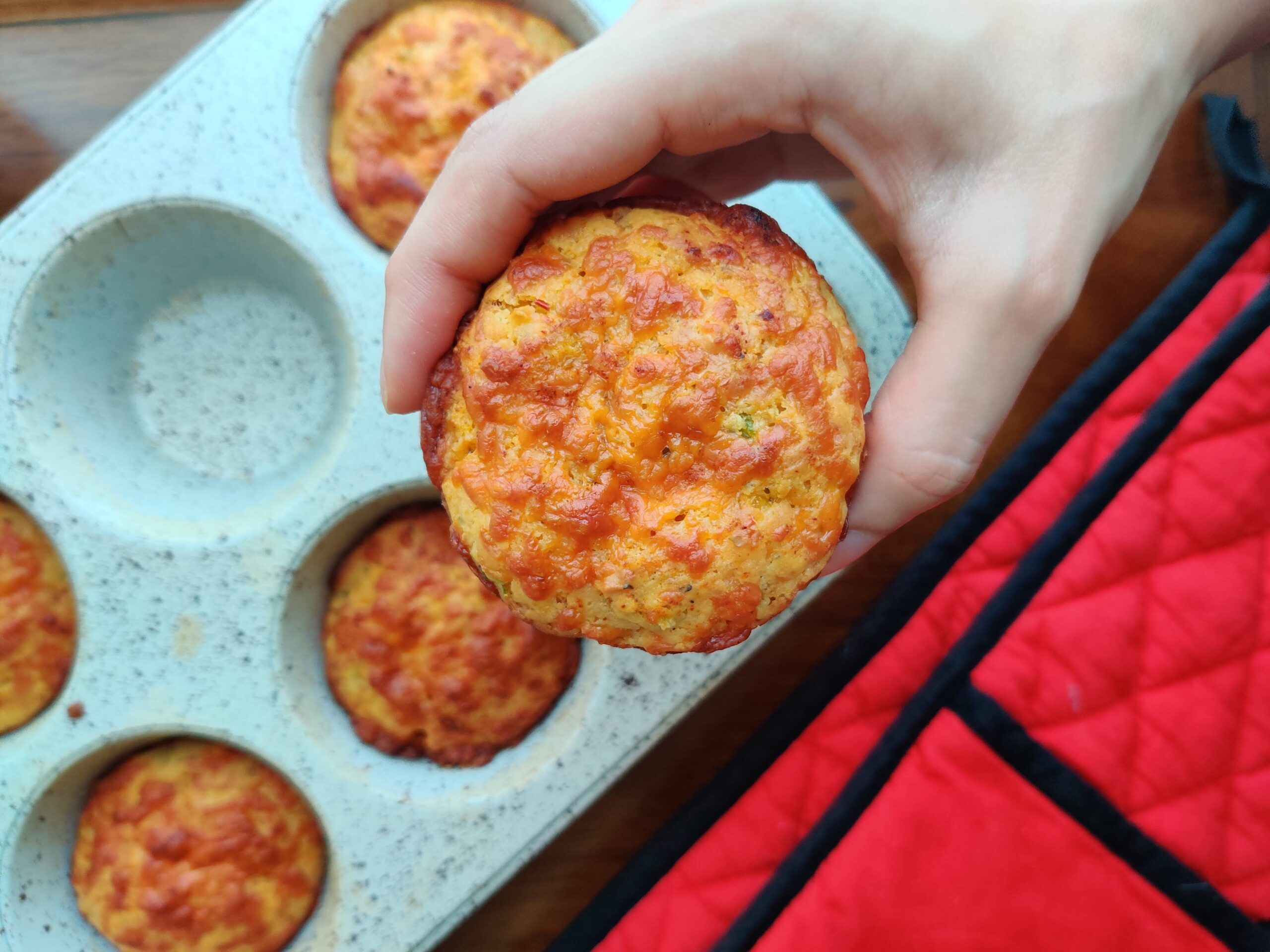 If cheesy garlic bread and cheddar biscuits had a baby, this is what it would be like. These cheese muffins tick all the boxes a perfect savory muffin should tick. Crisp and golden brown edges? Check! Crusty tops? check! Perfect mix of fluffy and chewy on the inside? Check!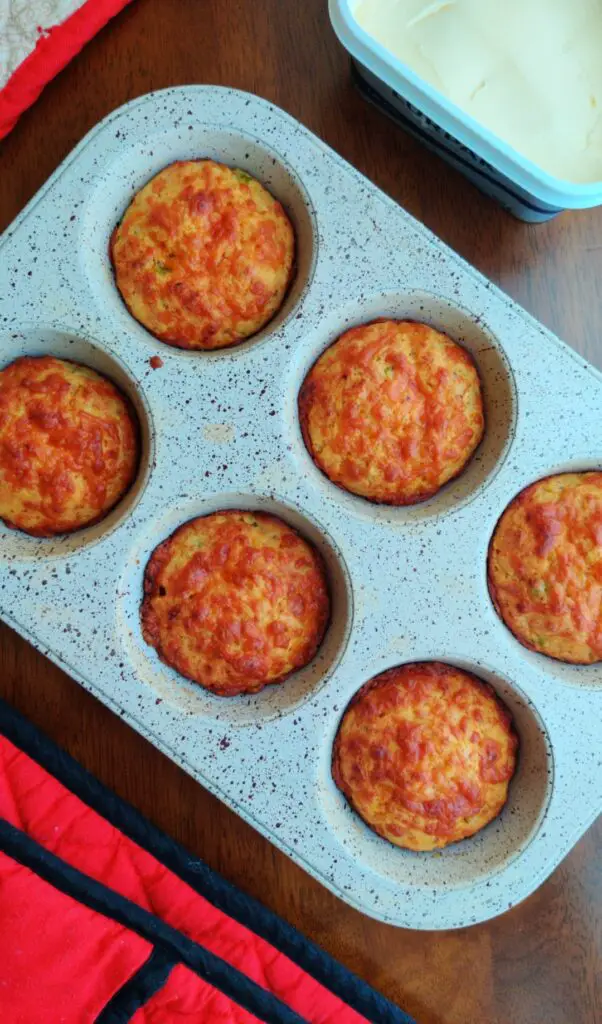 Bake a batch of these beauties in the morning; not only will your kitchen smell A-M-A-Z-I-N-G, the aroma lingering to the furthest corners of you house is bound to draw out all the sleepyheads to see what's cooking! (:
This cheese muffins recipe is unbelievably easy, super quick, and downright delicious! Let me walk you through it, just so you know exactly what I'm talking about.
Making Cheese Muffins
You start off by mixing your dry ingredients.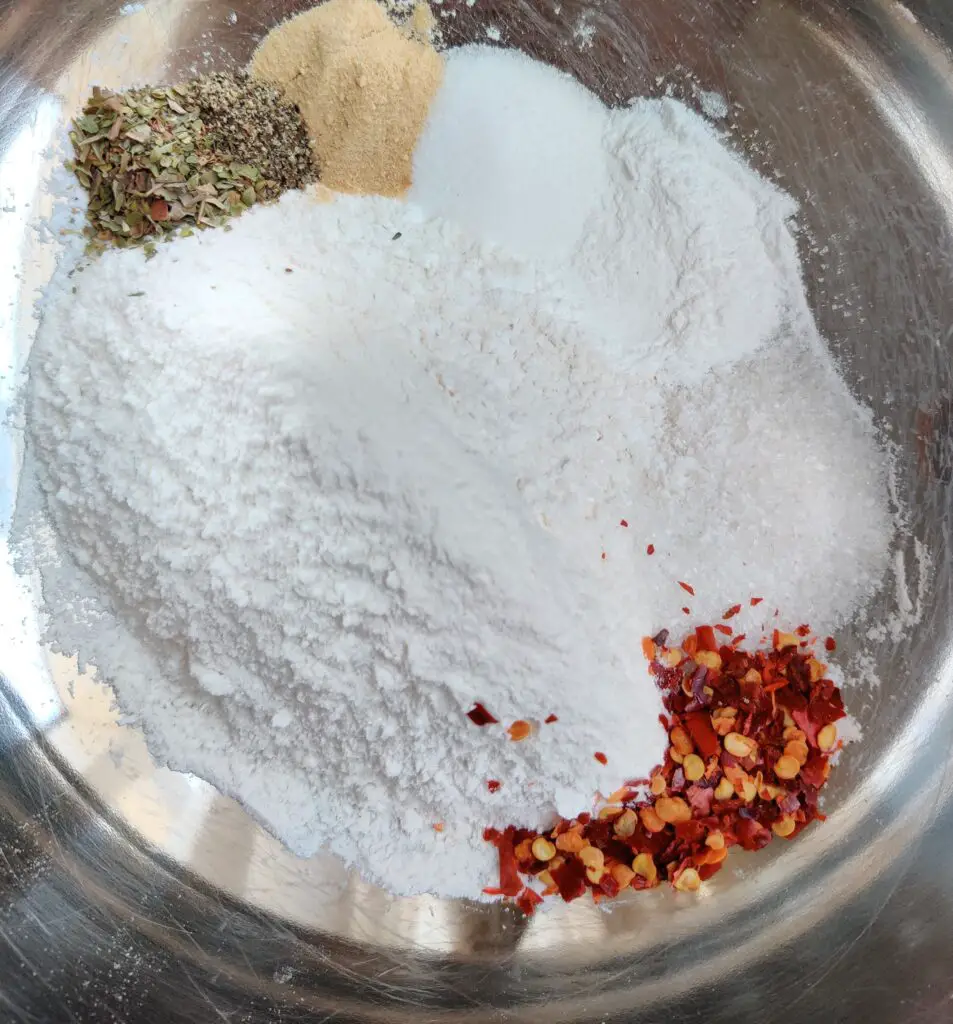 Next, mix in the cheddar cheese and green chilies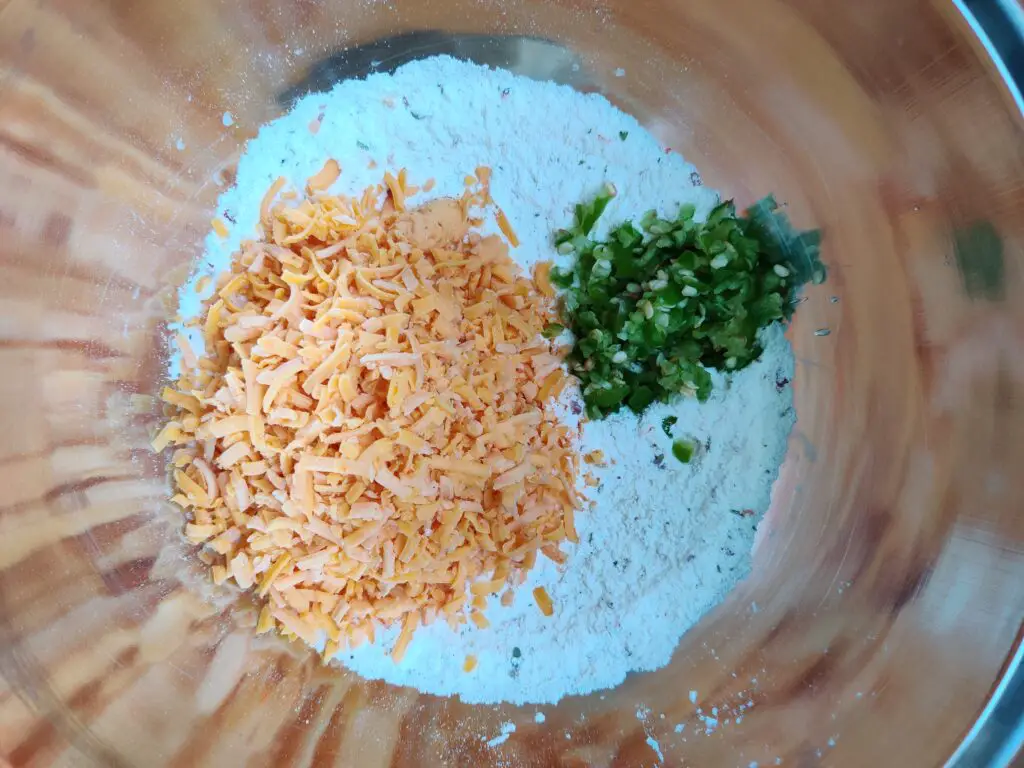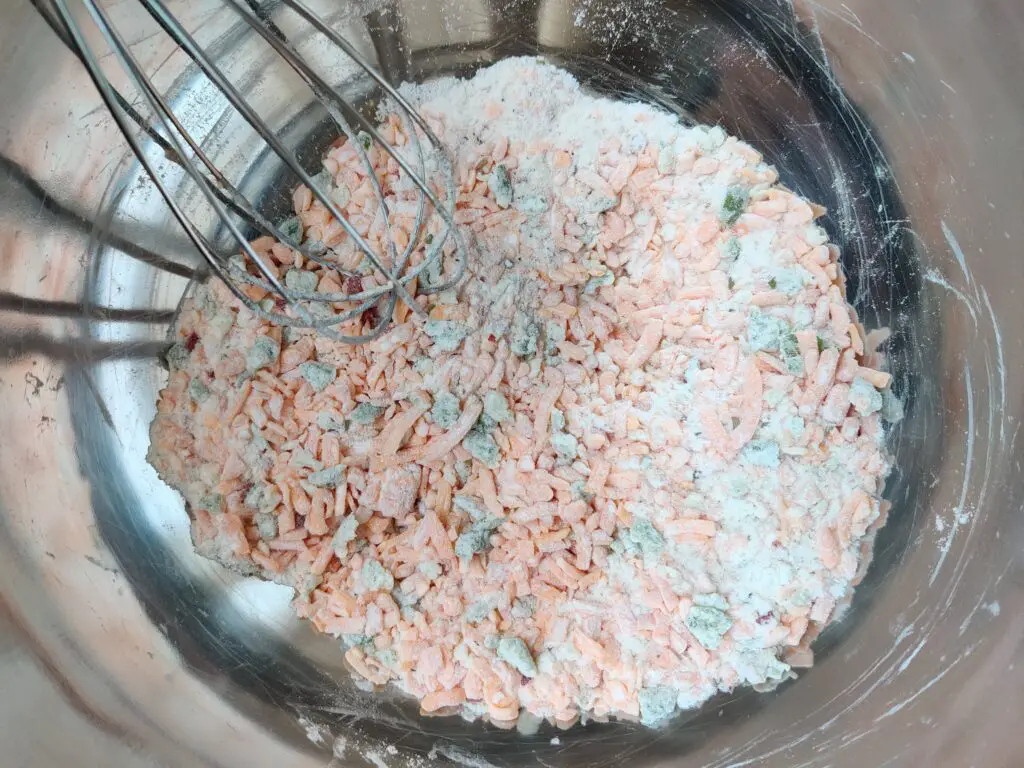 Then, fold in the wet ingredients.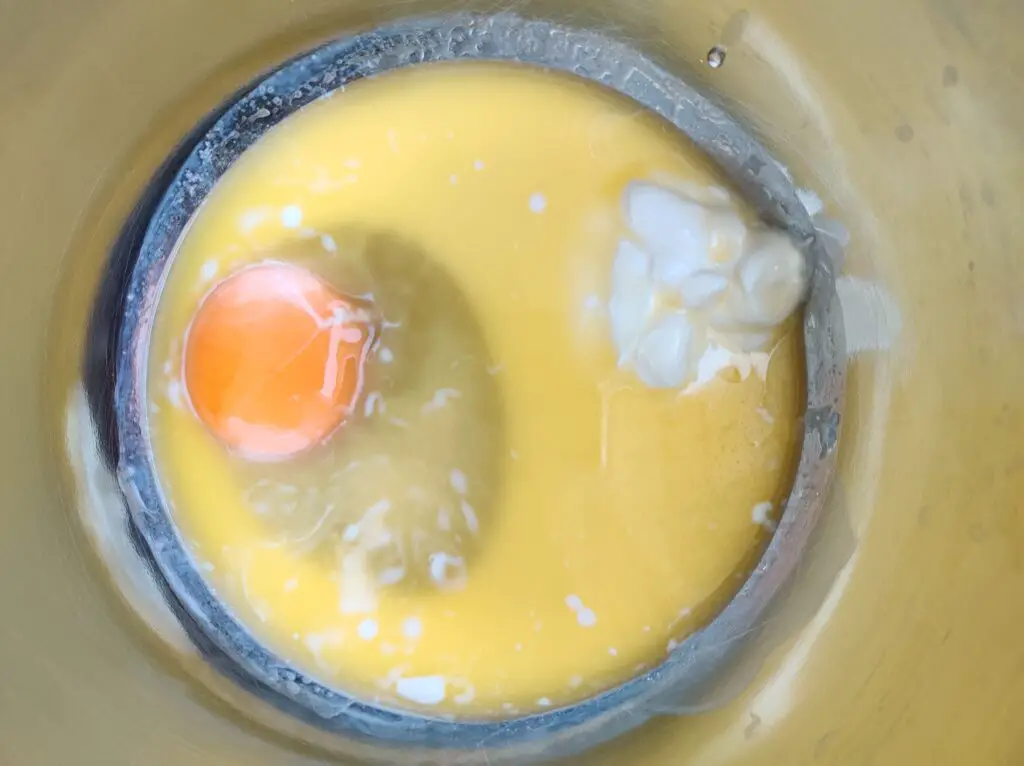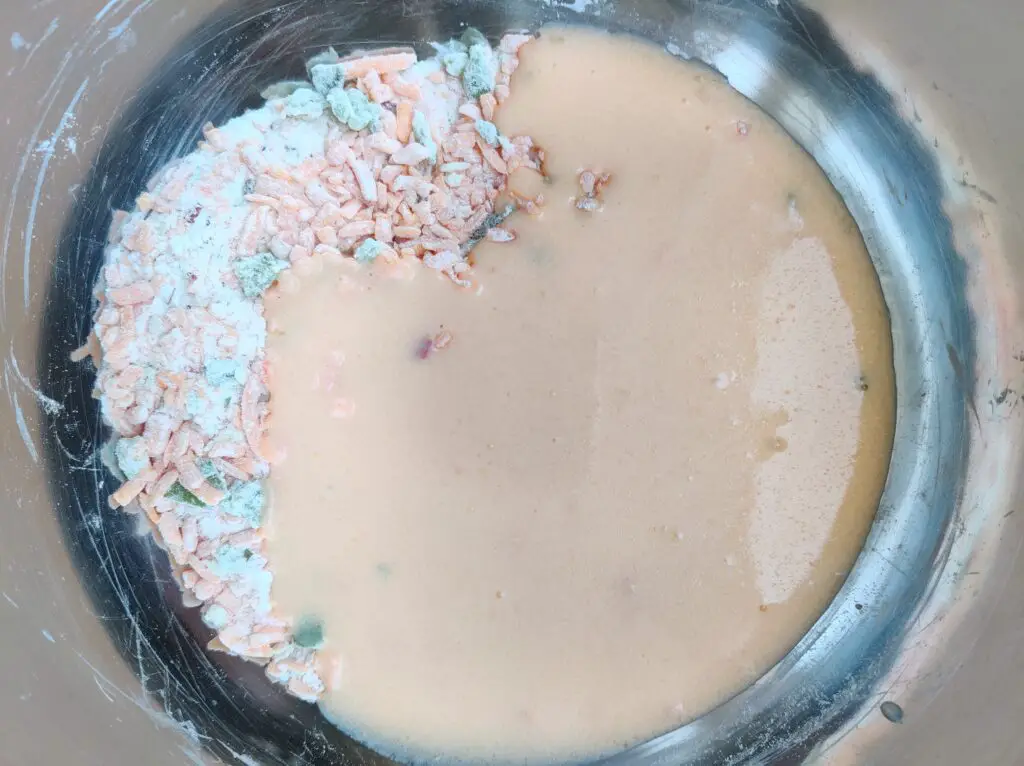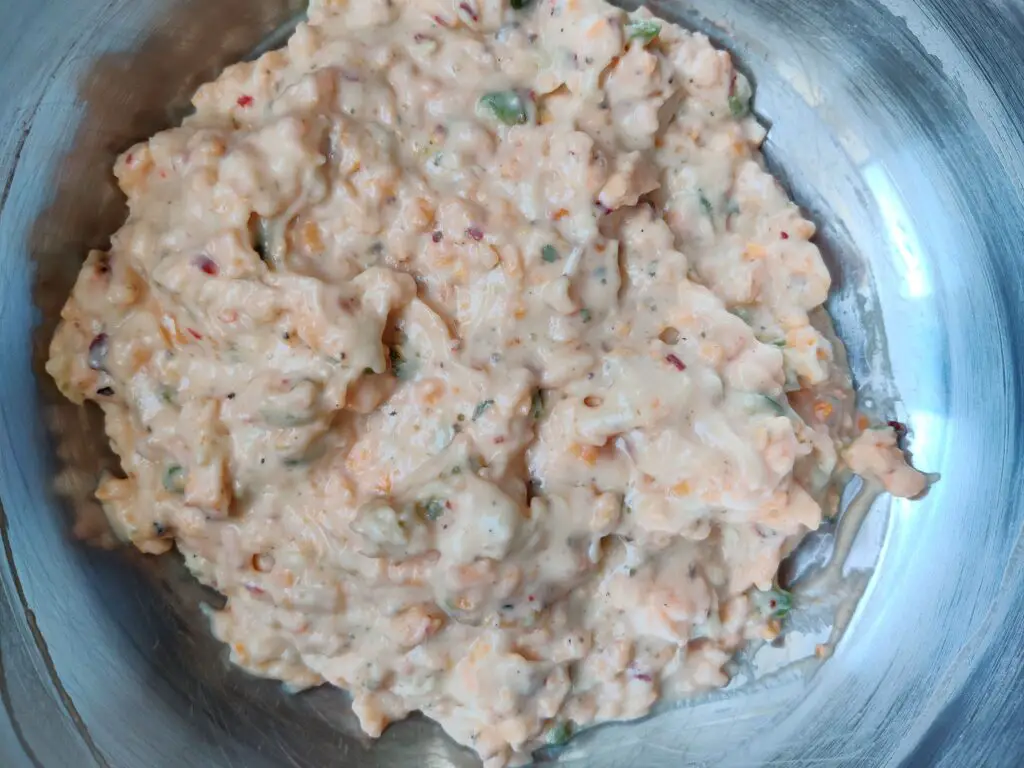 Spoon them into muffin cups and throw on some shredded cheddar.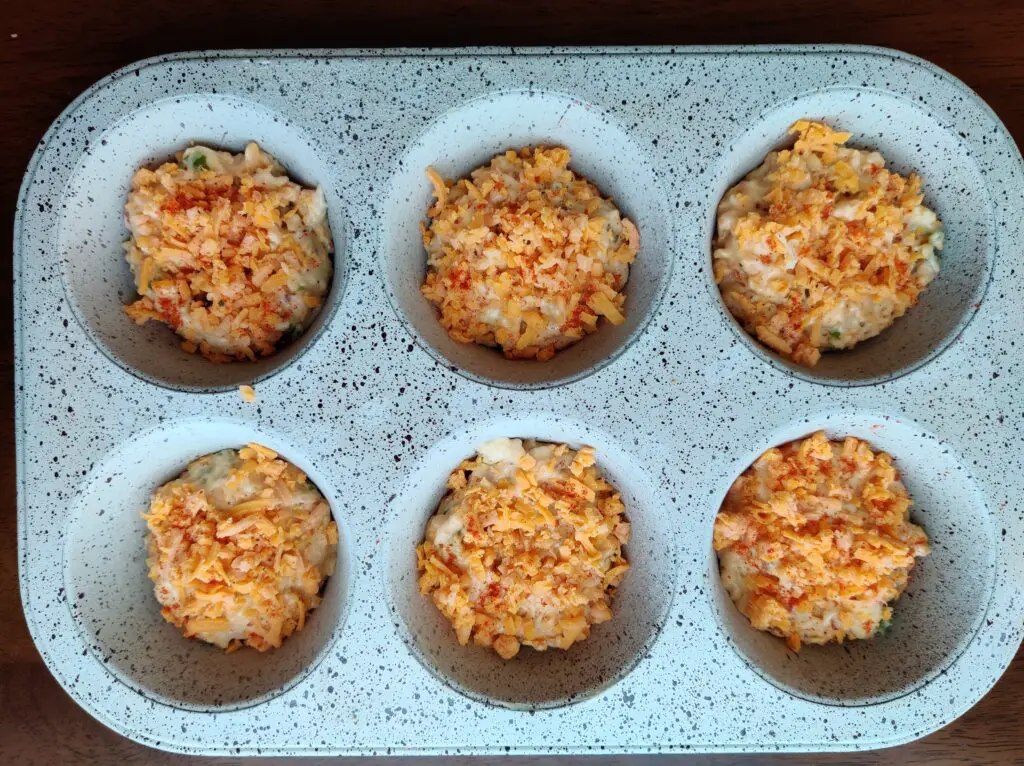 Your work's done! They go into the oven for 25 to 30 minutes.

And there you have it; some fine, flavorsome cheese muffins!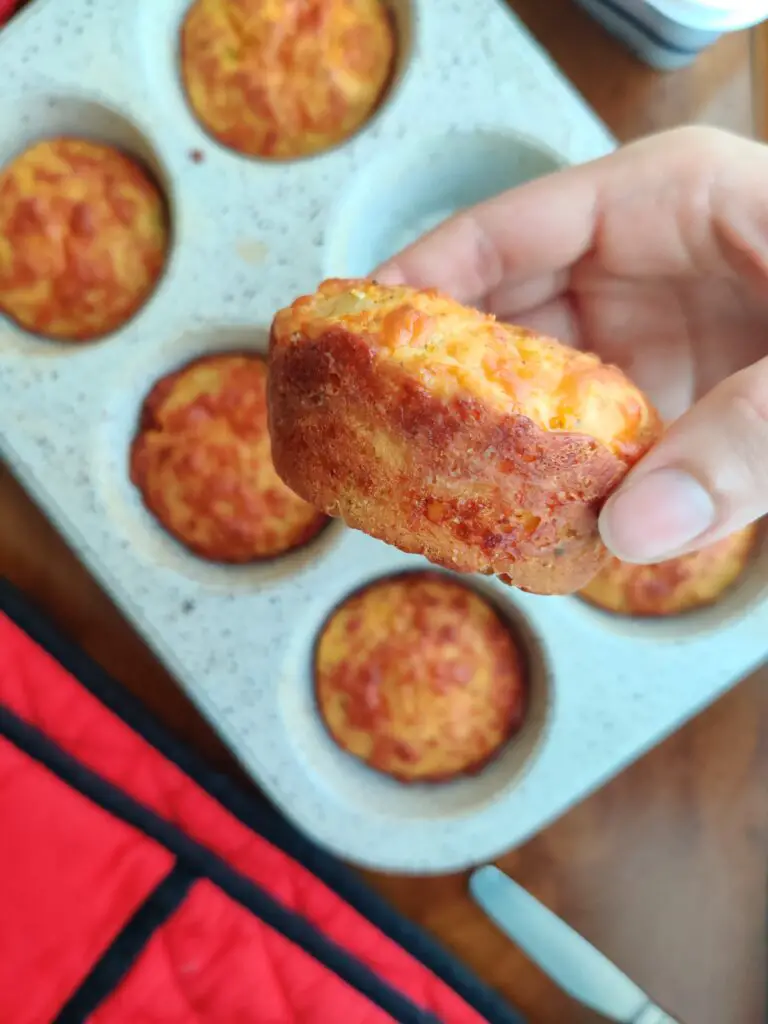 When they are fresh out of the oven, I love to slather them generously with butter and lose myself in a cheesy day-dream.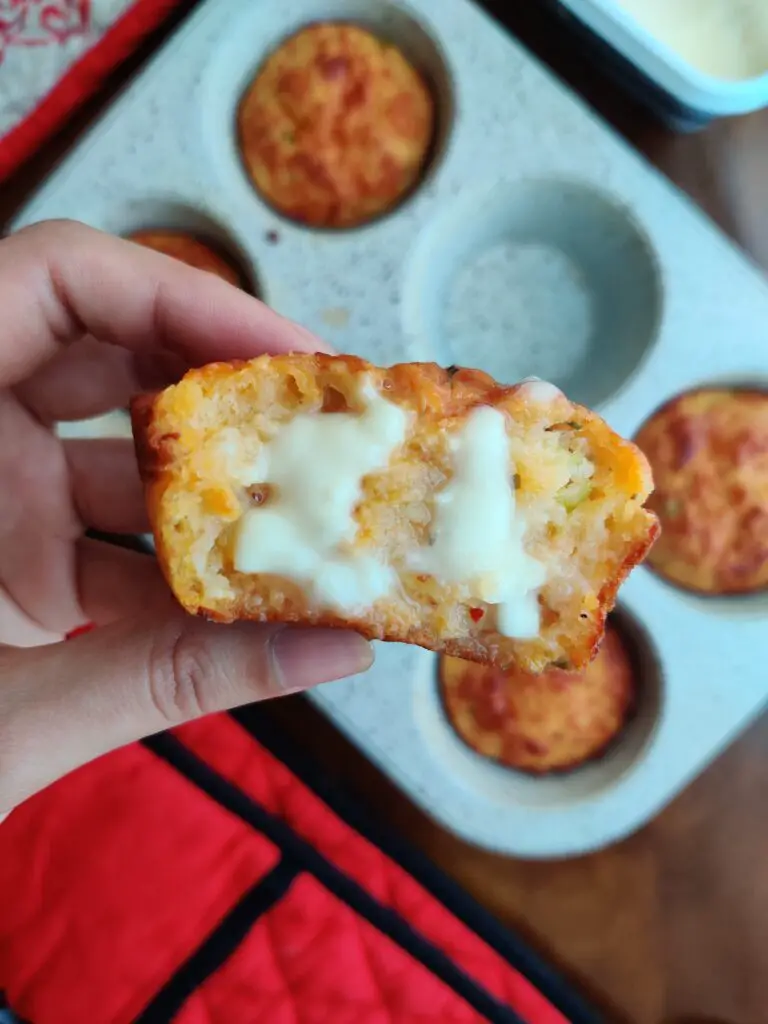 Variations and Add-ins
Not that these muffins aren't phenomenal on their own, but there can be endless add-ins to step them up a notch.
Cooked chicken
Chopped jalapenos
Chopped spinach
Grated potatoes
Grated carrots
Chopped onion/spring onions
Olives
Mushrooms
Chopped capsicum/bell peppers
More herbs (1/2 teaspoon of dried basil, thyme, rosemary)
Tikka Chunks (MY FAVORITE!)
When can I serve these cheesy muffins?
They make a great, quick breakfast, even better for on-the-go breakfast, kids' lunchbox item, as an evening or midnight snack, as a side-dish with soup, grilled chicken or stir-fry vegetables. Aaand, they go really well in tea parties.
What kinds of cheese can I use?
I love the taste of sharp red cheddar cheese so I always find myself reaching out for it when I make these. (To be exact, I used chili-lime red cheddar in this recipe.)
That being said, other flavorful types of cheese will also fit quite well in this recipe. You can try yellow cheddar and gouda; basically any cheese you love. Just don't use mozzarella cheese; you will really be compromising on the flavor. 
How can I get the dome-tops that every muffin deserves to have?
If you like your muffins with dome-tops (and you should, my friend.), this recipe will make you between 5-6 large muffins with beautiful round domes.
If you are using a cupcake tray, you should be able to make 7-8 muffins. And if you are making for a crowd, this recipe can quite easily be doubled or tripled. Now go ahead, and try it! Trust me;
You. Won't. Regret. It.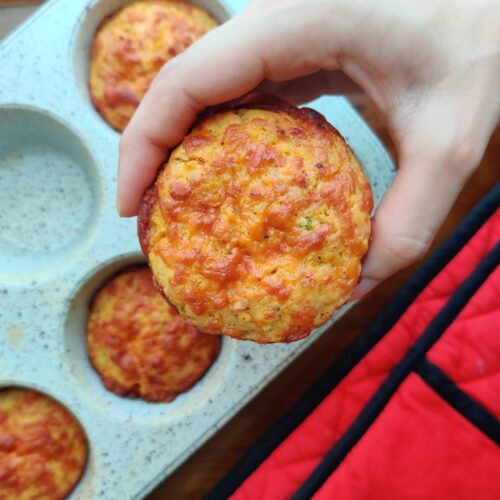 Cheese Muffins
The best cheese muffins you will ever taste! These muffins are literally everything a savory muffin should be; they tick all the boxes! Crisp and golden brown edges? Check! Crusty tops? check! Perfect mix of fluffy and chewy on the inside? Check!
Ingredients
95

g

all-purpose flour

2

teaspoons

baking powder

1

teaspoon

salt

1/2

teaspoon

garlic powder

1/4

teaspoon

freshly cracked black pepper

1

tablespoon

granulated white sugar

1/2

teaspoon

dried oregano

1

teaspoon

red chili flakes

1

large

egg

30

g

butter

(melted)

2

tablespoons

yogurt

full fat

1/4

cup

milk

full fat

2

green chilies

chopped finely

1

cup

red cheddar

shredded

Red chili powder or paprika

for topping

Extra shredded cheddar cheese

for topping
Instructions
Preheat oven to 190°c. Butter and flour a muffin tray. Invert and tap out the excess. Keep aside.

In a large bowl, combine all purpose flour, baking powder, salt, garlic powder, black pepper, sugar, oregano, red chili flakes.

In this dry ingredients mixture, mix in shredded cheddar and finely chopped green chilies.

In another bowl, combine egg, yogurt, milk, and egg. Whisk well.

Add the wet ingredients to the dry ingredients, and mix using a rubber spatula just until the dry ingredients are wet and there are still some lumps.You should NOT mix this batter until smooth; that will give you tough muffins and nobody likes that. Your batter will be thick, that is okay.

Using a tablespoon, divide the batter evenly between 6 muffin slots in the muffin tray. Lastly, top them with shredded cheddar cheese and pinch of paprika.

Bake in the oven for 25-30 minutes. You may use the broiler in the last 5 minutes to get extra browning on the tops, if desired. (This toasts the shredded cheddar on the tops of the muffins which gives the most amazing flavor.)

Remove the muffins from the oven and give it a minute. Then, using a butter knife, go around the edges to make sure the muffins are not stuck to the sides. Take them out and INDULGEEEE!
LEFTOVERS
These cheese muffins are best the same day they are made. You may store the leftovers in an airtight box and consume within 2 days.

Freezing: You may freeze these by wrapping individual muffins in plastic wrap, and storing in an airtight container, in the freezer, for up to two months. When you'd like to serve them, just reheat in the microwave till they're warm.
Notes
 I used measuring cups and spoons for this recipe.
Drizzle them with cheese sauce to fancy them up
Instead of whole milk, you may use low-fat, skimmed milk, or soy milk.
Did you try this recipe?
I would love to know how to turned out for you! Leave me a comment below and post a picture on Instagram with the hashtag #theovenist.
Craving for more cheesy recipes?
---
---