Cake Rusks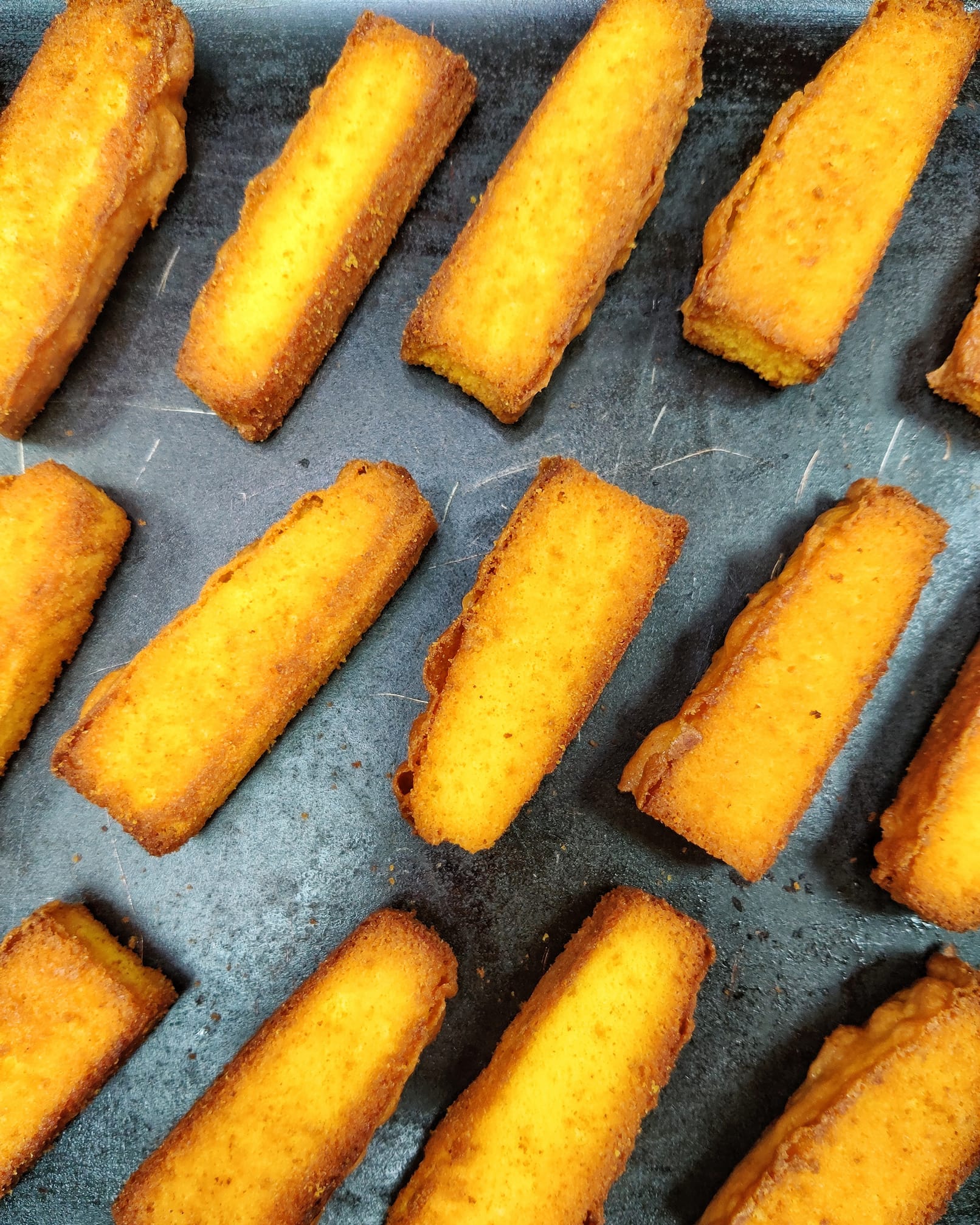 Crisp, golden brown, homemade cake rusks that are so, so easy to make! They have been a regular favorite breakfast, or tea time snack, for many households for a long, loooong time.
Cake rusks are basically just cake, baked to crispness (or twice baked cakes!). They are generally bought from bakeries, and are one those things I strongly feel finish too soon!
When I was a kid, I would see all the adults dunking rusks in tea at…well, tea time. In those days, my grandma had a strict no-tea-for-kids rule (I mean I totally understand that, we kids would be running around her house even without that additional caffeine dose).
On the other hand, we kids considered it as a special treat, perhaps more to do with the fact that we were not allowed to have it! So she would occasionally fill a cup one-fourth way up with tea, and then pour in plain milk to the brim!
Excitedly (and innocently), we accepted her gesture and went about dunking our rusks. aah..happy times. Of course, we did notice that the version of tea given to us was weirdly lighter than the adults' cups but, we'd be too-over-the-moon to complain!
It goes without saying, we have a laugh about it whenever we remember those days 🙂
What is rusk?
There are basically two types of rusks. One that is made from a loaf of bread and one that is made from a cake. Either of these have to be baked twice for them to become rusks. It is also known as biscotti or melba toast in some countries.
How do I make rusks?
Honestly, cake rusks are among the easiest things to make. Once you make them, you will be wondering why you never tried home made cake rusks before. All you have to do is bake a regular cake, cut it into strips and bake again till you get crisp, golden brown rusks!
How do I serve cake rusks?
Dunking cake rusks in milk tea and then eating it has to be the only right way to eat it. At least, I have never seen someone eating them any other way. There's a certain skill required in this dunking business, wouldn't you say?
Seeing that the contact time should be long enough to soften the rusk without it falling into the tea BUT not so short that the rusk hasn't collected enough tea in it's crevices 😀
Alright, let me put an end to my melodrama and give you this amazing cake rusks recipe!
P.S. I am going to warn you, the cake smells amazing when out of the oven and you will be tempted to eat it right away, but it's the cake rusks you are here for!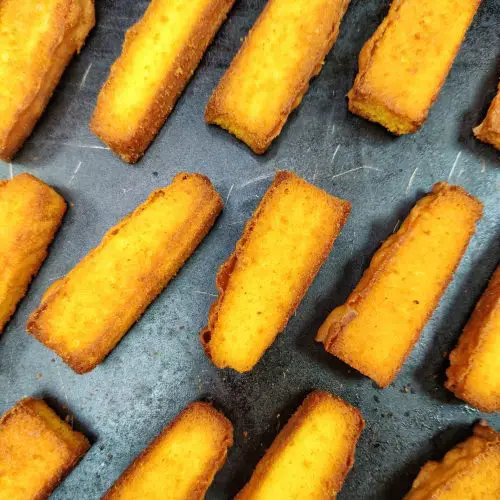 Cake Rusks
Crisp, golden brown, homemade cake rusks that are so, so easy to make! Everyone's favorite breakfast or tea time dunking snack.
Ingredients  
226

grams

unsalted butter (at room temperature)

1½

cup

white granulated sugar

6

drops

of yellow food color

or as needed

2

teaspoons

vanilla extract

6

eggs

2

cups

all-purpose flour

¼

teaspoon

salt

2

teaspoon

baking powder
Instructions 
Preheat oven to 180°c. Butter and flour one large rectangle baking pan or two 10 x 10 inches square baking pans. Line the bottom with parchment paper.

In the bowl of a stand mixer with a paddle attachment, or using a hand beater, beat the butter and sugar until it is light and fluffy (about five minutes).

Now add the yellow food color and vanilla extract and beat till combined. Add the eggs, two at a time, beating for 1 minute on medium speed after each addition.

Mix the flour, baking powder and salt in a bowl and sift this dry mixture into the batter.

Beat on LOWEST speed JUST UNTIL COMBINED. Or fold the dry ingredients by hand using a rubber spatula just until combined.

Pour the batter into the pans and bake for about 15-20 minutes (if using two 10×10 inch square pans) or for 30-35 minutes (if using one large tray). Test if your cake is done by inserting a toothpick in the center of the cake. If it turns out clean, your cake is ready.

Remove the cake from oven and let it cool to room temperature. Run a butter knife along the sides of the cake to loosen the cake. Carefully invert onto a cutting board. Using a sharp knife, cut the cake into 1 inch strips lengthwise and then cut each piece through the middle.

Preheat oven to 150°c. Transfer the cake pieces onto a large baking tray, keeping a little gap between each piece. Bake in the oven for 30 minutes, and change the side after 15 minutes. Your cake rusks are done when they are crisp and golden brown.
Did you try this recipe?
I would love to know how it turned out for you! Leave a comment below, and post a picture on Instagram with the hashtag #theovenist.
Looking For More?
---
---